Review: Carnitas El Momo in Boyle Heights serves pork in its most perfect form
Restaurant Critic
My first time at a Carnitas El Momo food truck, parked in the lot of a Mobil gas station in Boyle Heights, I ask for each of the four tacos listed on the sidewalk placard menu: maciza (chopped pork shoulder), cuerito (plush, translucent slivers of pork skin), buche (tender, wishbone-shaped slices of pork stomach) and carnitas mixtas, a combination of all three. "Our tacos are big," warns the woman taking the order. "This is too much food for one person." I hear her repeat the words to almost every customer after me. No one much heeds the advice.
Individually, the cuts of meat are all impressive. Mixed together on the fourth taco, the trinity merges into something far greater. The Acosta family, which runs El Momo, sometimes brands its carnitas mixtas as the "Aporkalypse." It's more of a wonder than a calamity, though the different textures — lacy, hunky, slippery, soft-crisp — do tumble around the taste buds like clothes in a dryer.
The pork braises in copper cauldrons called cazos for hours in lard and a secret mix of other ingredients: a homemade brown sugar syrup lurks in there. Whatever the wizardry, the pig parts emerge caramelized and herbaceous and generously salted but not overly so. I'd studied El Momo's Instagram account enough to know the family suggests trying at least one taco dressed with only pickled vegetables. I split open a whole jalapeño with my thumb and squeeze its vinegary juices over the meat. That addition sets off pinwheels and sparklers, a light show of acid and sugar and richness. In the quiet center is the freshest, purest flavor of pork.
Anyone who lives in Los Angeles and partakes of pig should know the splendor of El Momo's mixta at least once. Certainly many regional and wonderful versions of carnitas are available throughout the city, but the superiority of these meats — you'll know it when you taste it — distinguishes them as one of our lifeblood foods.
Romulo "Momo" Acosta learned the art of exceptional carnitas from his father, a farmer and carnitero from Salamanca, a town about 200 miles northwest of Mexico City in the state of Guanajuato. Acosta moved to Southern California and began selling carnitas on weekends in the mid-1970s as a side gig from his job as a welder. His porcine mastery didn't become a citywide phenomenon until his children, including his daughter, Adriana Acosta, and son, Juan "Billy" Acosta, mobilized the family business with a food truck, and occasionally street stands, beginning in 2013.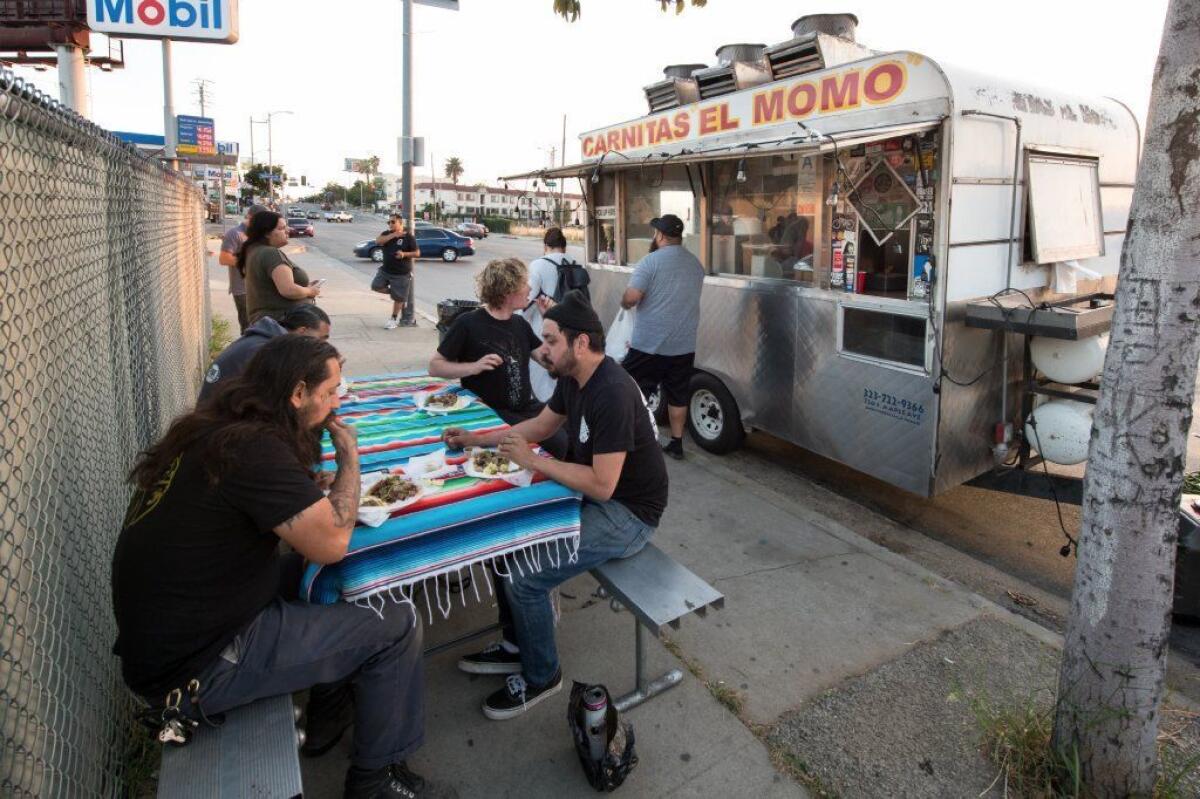 El Momo has popped up across far-flung stretches of the metro area over the years; lately the Acostas have been setting up closer to home in Boyle Heights. They post their daily locations faithfully on Instagram, frequently appearing at one spot during the day and another at night. In the evenings, lines typically form and the carnitas sell out. I find the truck often in the afternoon near the intersection of North Soto and Fairmount streets, with only a few souls gathered around a shaded table. I'm amazed there aren't larger crowds, but I gladly relish a transcendent lunch that takes 15 minutes start to finish.
If I'm feeling like a purist, I'll stick to the mixta zapped only with pickled jalapeño and carrots. Plenty of others around me ask for their tacos with onion and cilantro, painting the meats in red or green salsa from squeeze bottles. When hedonistic urges strike, I go for a mulita, with the carnitas sandwiched between two tortillas and sealed with queso blanco that oozes and seizes on the griddle; the orangey streaks of cheese look like bursts of energy blazing from a bad guy's fingertips in a TV superhero cartoon. I'm a goner.
Once you grasp the El Momo basics, it pays to speak up and ask what else the kitchen has on hand: Perhaps it'll be bronzed pork rib or a taco de surtido compiled from other offal cuts (the tradition of carnitas is one of snout-to-tail economy; little goes to waste). We're here for the pork, but occasionally the Acostas meander into other culinary territories as rotating specials: beef barbacoa, braised oxtails, more lately a riff on carnitas made with salmon. These are pleasant enough divertissements.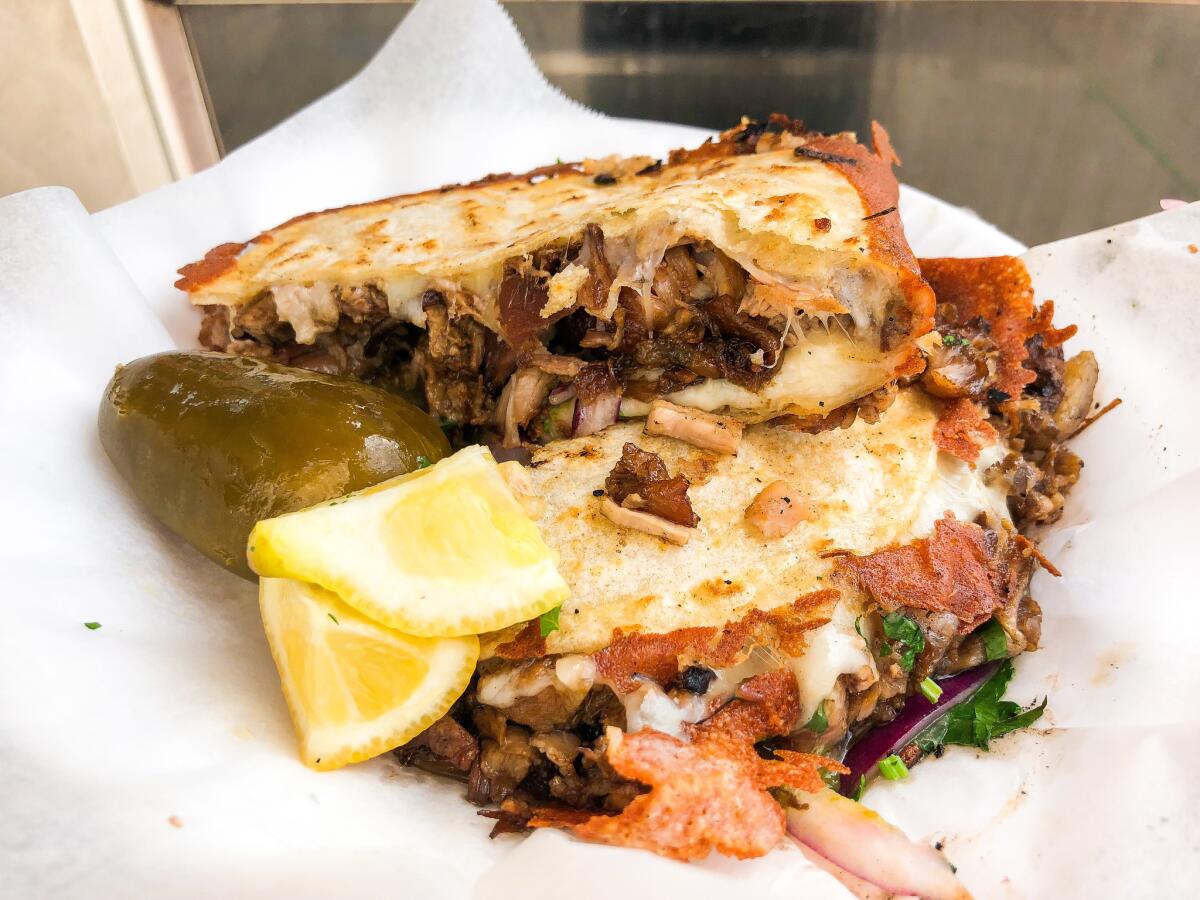 One essential dish beyond carnitas does stand out: birria, stewed goat meat, electric with chile, that stains tortillas a shade somewhere between the colors of Bing cherries and stop signs. It's a recipe honed by the family's matriarch, Inocencia Acosta. Ask for a cup of the birria broth alongside. It warms you in a way that has nothing to do with the temperature outside.
The Acostas serve this specialty — along with carnitas, of course — on mornings and early afternoons on Saturdays and Sundays at the address where they usually park the food truck on weekdays. You can smell the pork rendering a block away; follow the scents and the neighbors walking up the driveway to the semi-enclosed space with the menu written on the wall and tables covered in mismatched oilcloths. Family members might be standing at stoves or weighing out carnitas by the pound before wrapping them in aluminum foil. Spanish is the default language, though younger Acostas will switch to English in a blink.
It's a heartening scene, always, this multigenerational gathering of customers, with perhaps a hung-over reveler or two wearing shades in the corner, eyes fixed on whatever fútbol game is blaring from the television. Sadly, the setting has lately been missing its figurehead. Romulo Acosta suffered a heart attack in March while vacationing in Jerusalem and is recovering. His relatives have been turning out food as consistently and poetically as ever. Nonetheless, it's a moment to be extra thankful for the pickly, lush, salty-sweet Salamanca-style carnitas Acosta gave Los Angeles — and to maybe swing by, for the first or 50th time, to experience how truly incredible they are.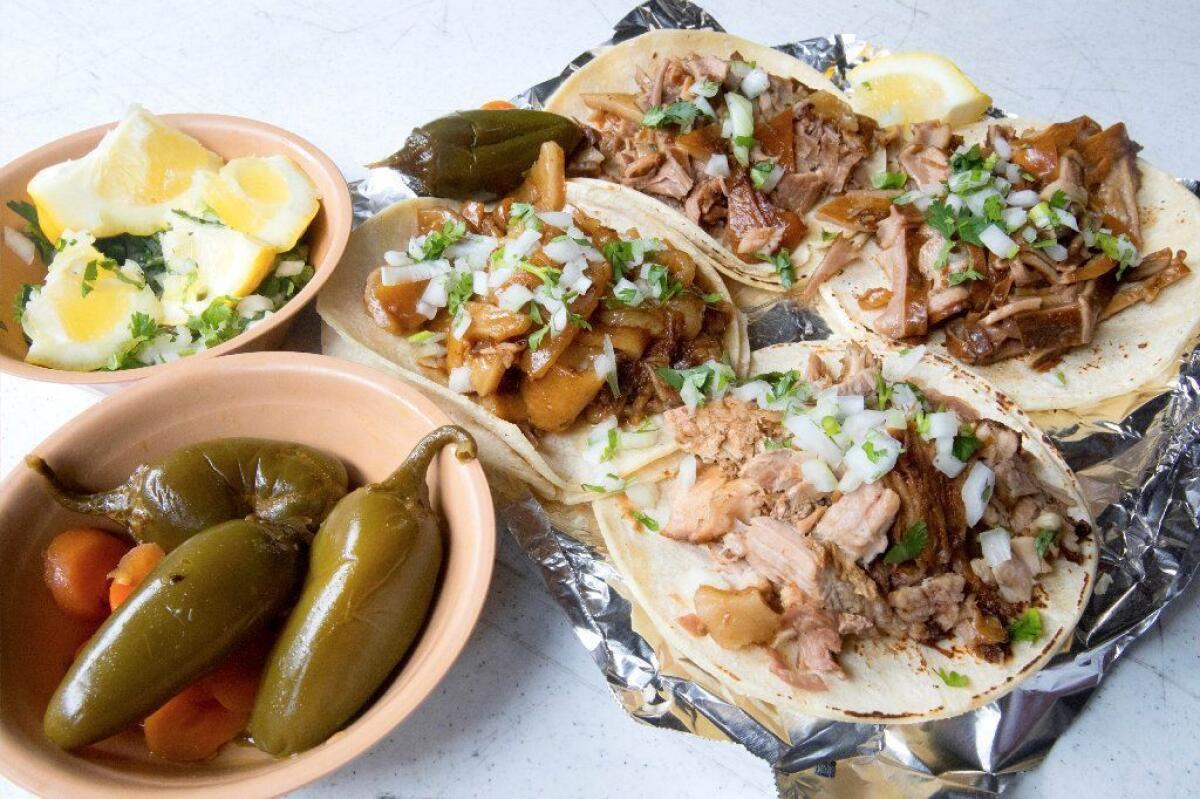 If You Go
Carnitas El Momo
The food truck (and weekend restaurant) that sets the bar for carnitas in Los Angeles.
Prices: Carnitas tacos $2.50; carnitas per pound $12; birria tacos $3; mulitas $5.

Details: Credit cards accepted. No alcohol. Street parking. Food truck wheelchair accessible.

Recommended dishes: Carnitas mixta; birria tacos and broth.
Get our L.A. Goes Out newsletter, with the week's best events, to help you explore and experience our city.
You may occasionally receive promotional content from the Los Angeles Times.