Review: At Joy in Highland Park, the name says it all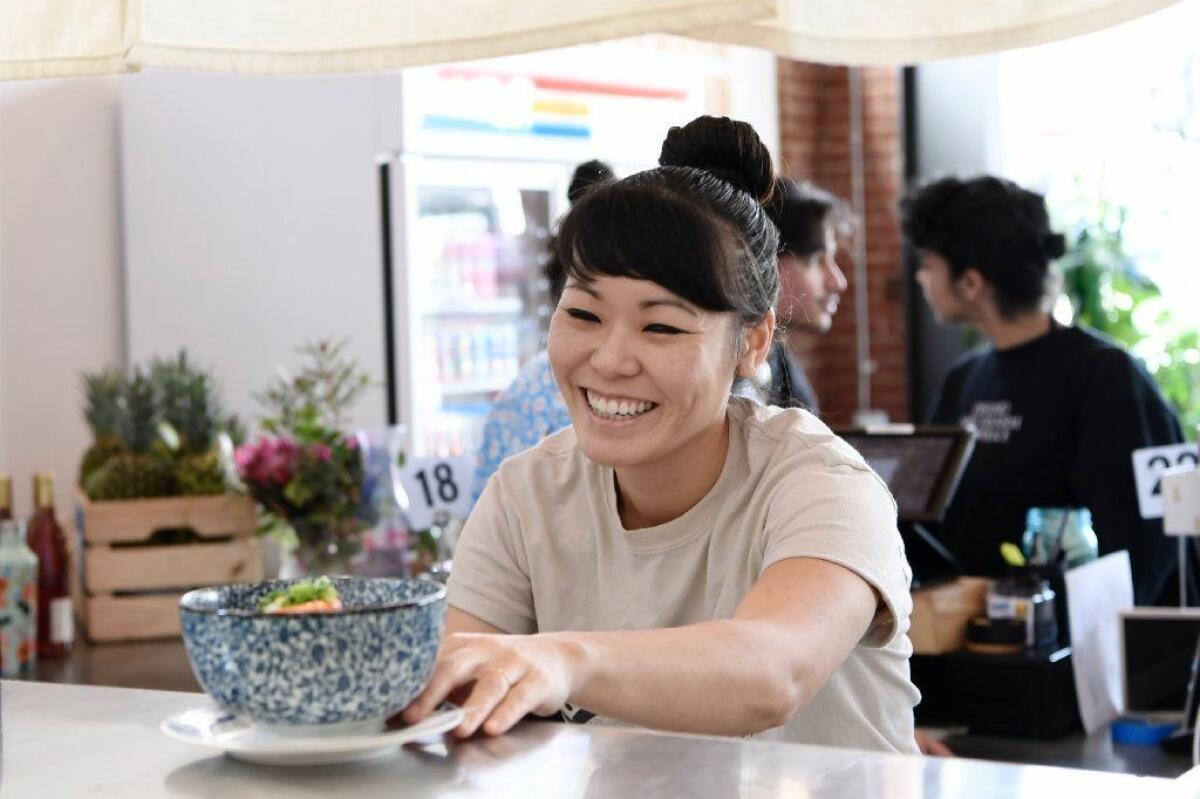 Restaurant Critic
Joy, a year-old Highland Park treasure, is at once remarkable and unremarkable. Remarkable in its Taiwanese menu's immense appeal; balanced, like too few things are these days, in the scales of justice between virtue (this food feels very fresh and bright) and indulgence (this food is seriously comforting). And unremarkable in the most loving sense: I'm not putting Joy on a list of the top 20 places a visitor to Los Angeles should dine right now. But as a local? I'm meeting a friend here once a week, or I'm having dinner delivered from Joy as an antidote to handicapping California's forthcoming Michelin guide. With most dishes priced under $10 and a tirelessly cheerful staff, the place is a 2019 paradigm of a terrific neighborhood restaurant.
The menu stretches across the wall, banner-style, behind the counter where you order. It's concise: a few wonton soups and bowls of noodles, a handful of rice dishes, half a dozen riffs on sandwiches. Just below it sits a case full of cold appetizers, the family of dishes that most distinguish this restaurant.
In rows of unceremonious metal bins you'll spy wood-eared mushrooms, curled and inky; bamboo shoots, resembling a jumbled pile of woodwind reeds; pig ears, sliced into squiggles; a seaweed number made with early-spring-green kelp; and, my favorite of the lot, braised peanuts. Not that anyone wants to skip wontons, but, mixed and matched in restrained portions, these salads alone would make for an energizing meal. Shared seasonings often meander through the dishes — garlic, ginger, five spice, chile oil, soy sauce — though each comes off as distinct, particularly in the crunch or chew or satisfying squish of their textures.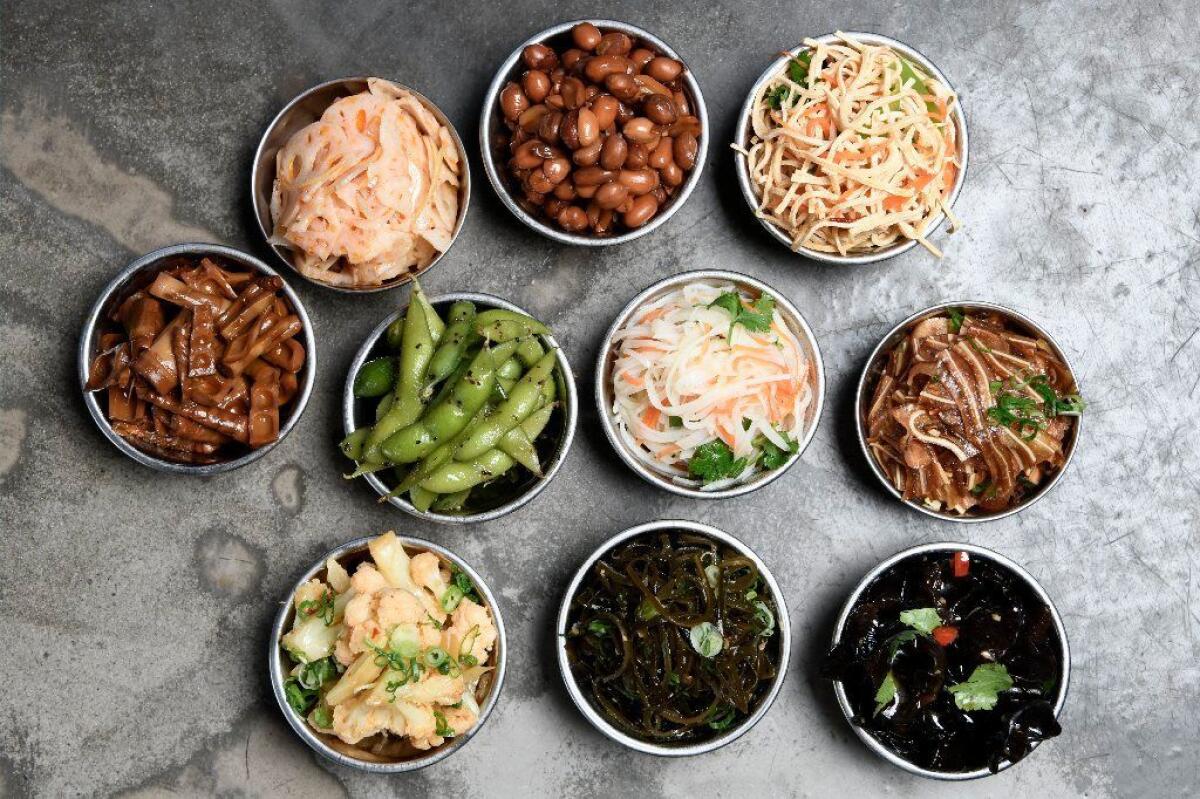 The changing array of salads has become a signature for Joy's owner, Vivian Ku; a similar spread greets customers at the counter of Pine & Crane, Ku's first restaurant, which opened in Silver Lake in 2014. At both places Ku channels the lighter, cleaner flavors preferred by her grandmother, who immigrated to Taiwan from China in 1949 before the family moved to America, and also the memories of meals at Taiwanese restaurants in the San Gabriel Valley, where she gathered with relatives growing up. Some of the vegetables on prominent display are harvested from her cousin's farm in Rowland Heights.
Rarely does the place calm down. The line to order can snail along, 20 minutes or longer, during prime lunch and dinner hours; dishes tend to come rapid-fire once your order number is in hand and a server points you to an available table. But it's not the restaurant's style to rush or prod people out the door. I like the familiar, edited scruff of the room: brick walls scrubbed clean of their previous whitewash, splotchy concrete floors stained sepia, knotty wood panels racing across the ceiling.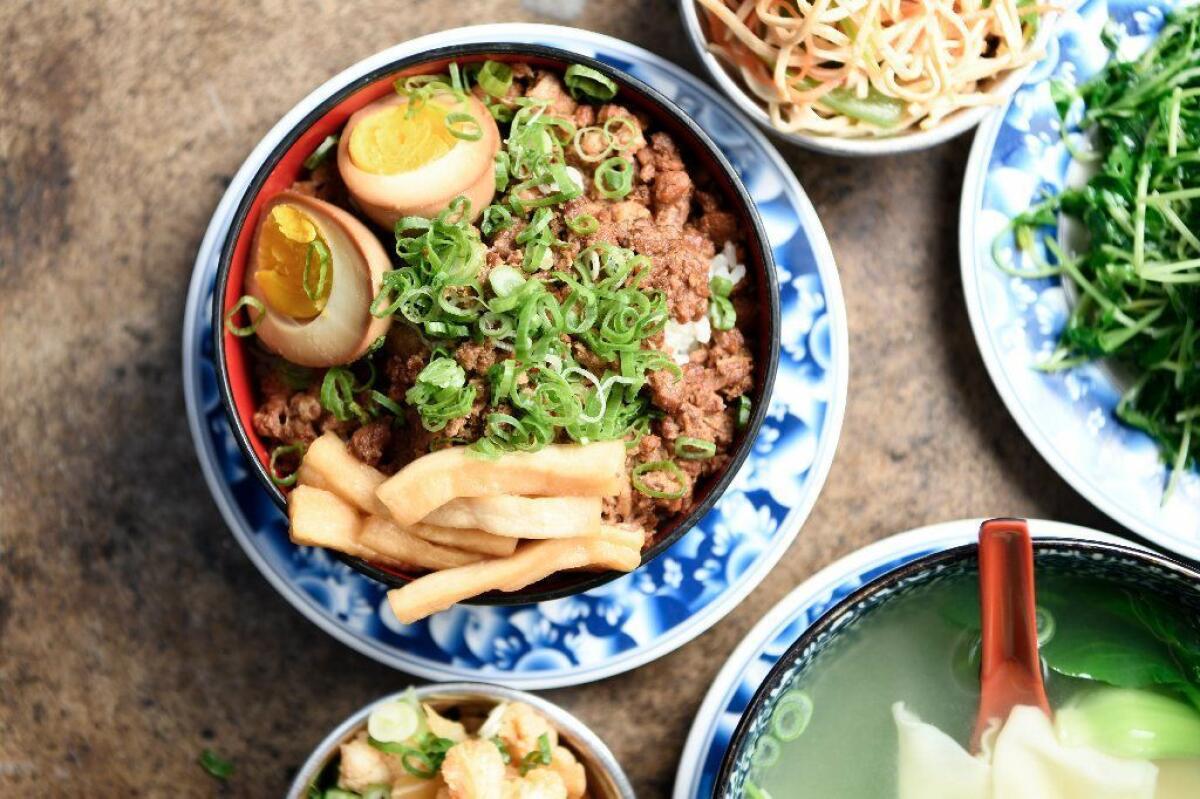 Some crossover exists between the menus at Ku's two restaurants. Her take on lu rou fan, a dish of gently spiced pork sauce over rice, is a welcome presence at Joy. Sweet spices suffuse the ground meat; its juices seep into the grains that you mix with tea egg and crisp pickled daikon, and it's all so easy to shovel down. I wish more of that richness anointed the Chiayi chicken rice, a classic Ku serves only at Joy that comes from southwestern Taiwan, where it was first made with turkey meat. Broth (a frequent addition at its origin) and a bit more shallot-infused oil would rescue the mix from bland dryness.
Speaking of broth, L.A.'s coldest, wettest winter in forever has drawn me back again and again to Joy's clear soups, particularly the shrimp wontons (the slippery wrappers giving way to firm minced seafood) lulling in chicken and pork stock. The same meaty base slicks the ingredients in "slack season" noodles, a single shrimp perched atop the twirl of strands, named for Taiwanese fishermen who sold noodles during down spells from their main profession.
Interwoven through the menu are Taiwanese staples that point to some of the island's many culinary influences. Joy's simple, wonderful dessert of mochi rolled in crushed peanut and black sesame is a Hakka specialty. (Ku's father is Hakka, a distinct group of the Han Chinese; his family can trace its arrival in Taiwan to 1772.) Two million people from various regions of China arrived in 1949 after Communists took power of the mainland; the plush sesame scallion bread out of which Ku makes sandwiches (it was a favorite of her grandfather's) has origins in Northern China. She stuffs squishy wedges with pork belly, five-spice beef or soy-braised tofu, garnished with crushed peanuts and pickled vegetables; I'll hoist one of these brutes with two hands and for a few minutes nothing else exists.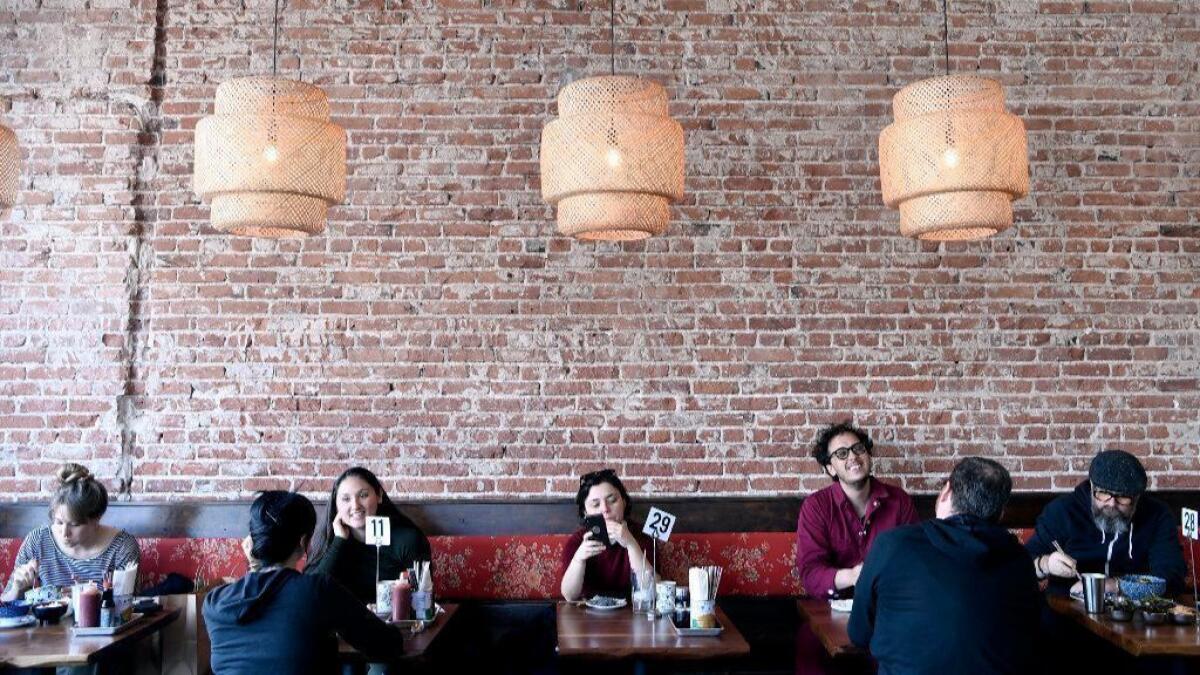 Ku has been visiting Taipei since grade school; she's always remembered street vendors serving a snack, often for breakfast, of thousand-layer pancakes enfolding egg and American cheese, with the options of basil leaves and chile sauce. Her re-creation at Joy, hot enough to make your fingers dance and by turns crackly and soft, is a thing of universal contentment.
Breakfast is on Ku's mind. As Joy recently passed its first year, she hosted a thank-you event at Joy, serving regulars a morning meal of Taiwanese daybreak traditions: dan bing (Taiwanese egg crepe), rice porridge, daikon rice cakes and savory and sweet variations of house-made soy milk with you tiao (Chinese crullers). She's thinking hard about starting breakfast service. Joy brings plenty of its namesake to afternoon and evening meals; I'd readily show up for an earlier shot at happiness too.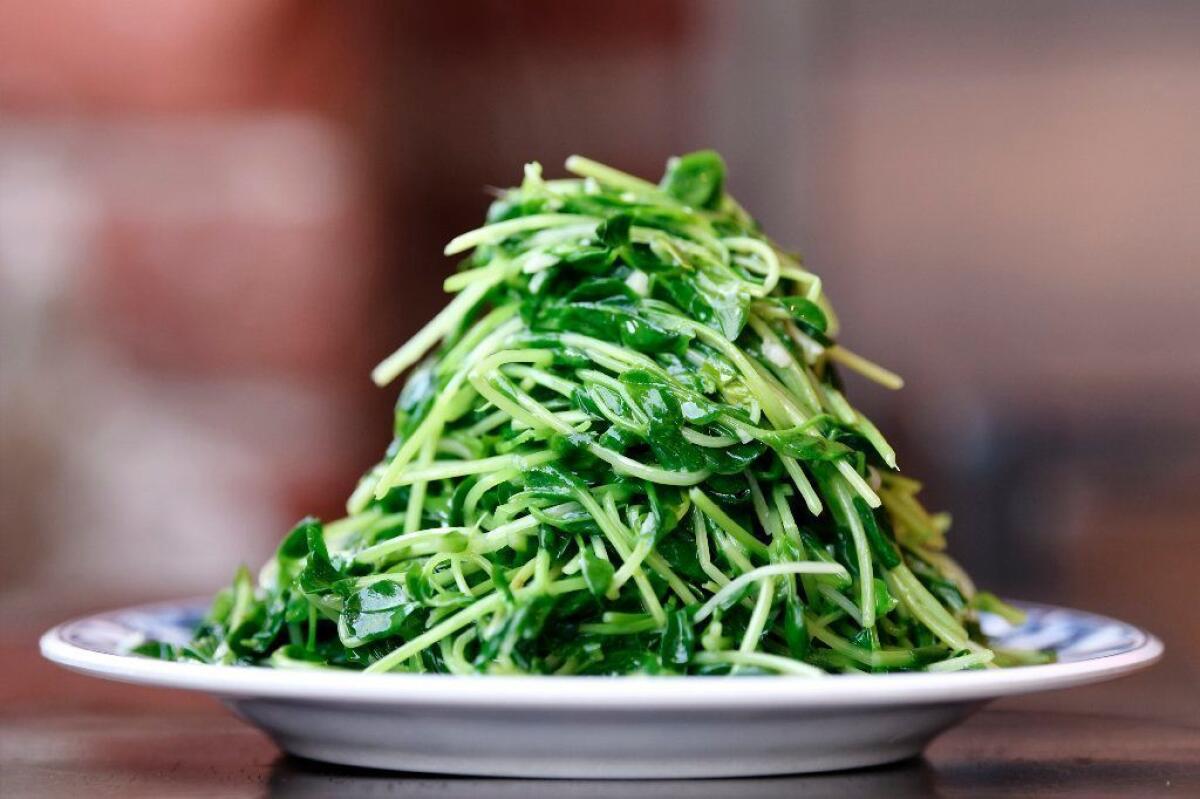 If You Go
Joy
Vivian Ku's second Taiwanese restaurant is a Highland Park beacon for wontons, minced pork over rice and a general sense of well-being.
Location: 5100 York Blvd., Los Angeles, (323) 999-7642, joyonyork.com

Prices: Cold appetizers $3.75 apiece, rice dishes $7-$10, noodles $8-$9.

Details: Credit cards accepted. Wine, beer and sake. Street parking. Wheelchair accessible.

Recommended dishes: Braised peanuts; five-spice bamboo shoots; shrimp wonton soup; minced pork on rice; scallion bread sandwich with pork belly, forbidden rice pudding.
Get our L.A. Goes Out newsletter, with the week's best events, to help you explore and experience our city.
You may occasionally receive promotional content from the Los Angeles Times.