Review: At Porridge + Puffs, rice is Minh Phan's canvas for sophisticated self-expression
Restaurant Critic
The word "porridge" means something different to everyone, conjuring bowls full of soupy spoon foods from every curve of the globe. At her Historic Filipinotown restaurant Porridge + Puffs, Minh Phan begins her interpretation with a strain of white rice from Central California's Koda Farms, a medium-grained variety called Kokuho Rose. Phan likes its starchy qualities, the way it self-creates a creaminess similar to arborio as it cooks. She simmers batches with various aromatics and lets the flavors meld overnight.
Phan's porridge base is her primed canvas, a fresh page, the staves on sheet music awaiting clefs and key signatures. She reveals herself to be a meticulous, deliberate creator.
Here's how one finished oeuvre, Poultry and Mushrooms, turns out: The porridge soothes with a risotto-like consistency; it blankets a layer of ground turkey, spiked with salty-sweet soy sauce, spread across the bottom of a wide-lipped bowl. On top rest strips of boiled chicken and sliced mushrooms (usually woodear and shiitakes), tangled in their shades of beige and russet. Garnishes pop: pickled celery, frizzled shallots, a small hill of chopped green onions. On one level this is chicken and rice, pure and universal in its appeal. But there is enough tension and depth and contrast stacked in every bite that, thrillingly, I never just relax into mindless succor eating it.
That kind of subtle alchemy characterizes much of Phan's menu, though it can take a leap of faith to appreciate those intricacies. There may be no modern Los Angeles restaurant with a more literal name than Porridge + Puffs. It's the indy chef equivalent of a fast food chain calling itself Burger and Fries. The twee, alliterative duo sound like affected comfort foods, which belies the intricacies that define Phan's cooking.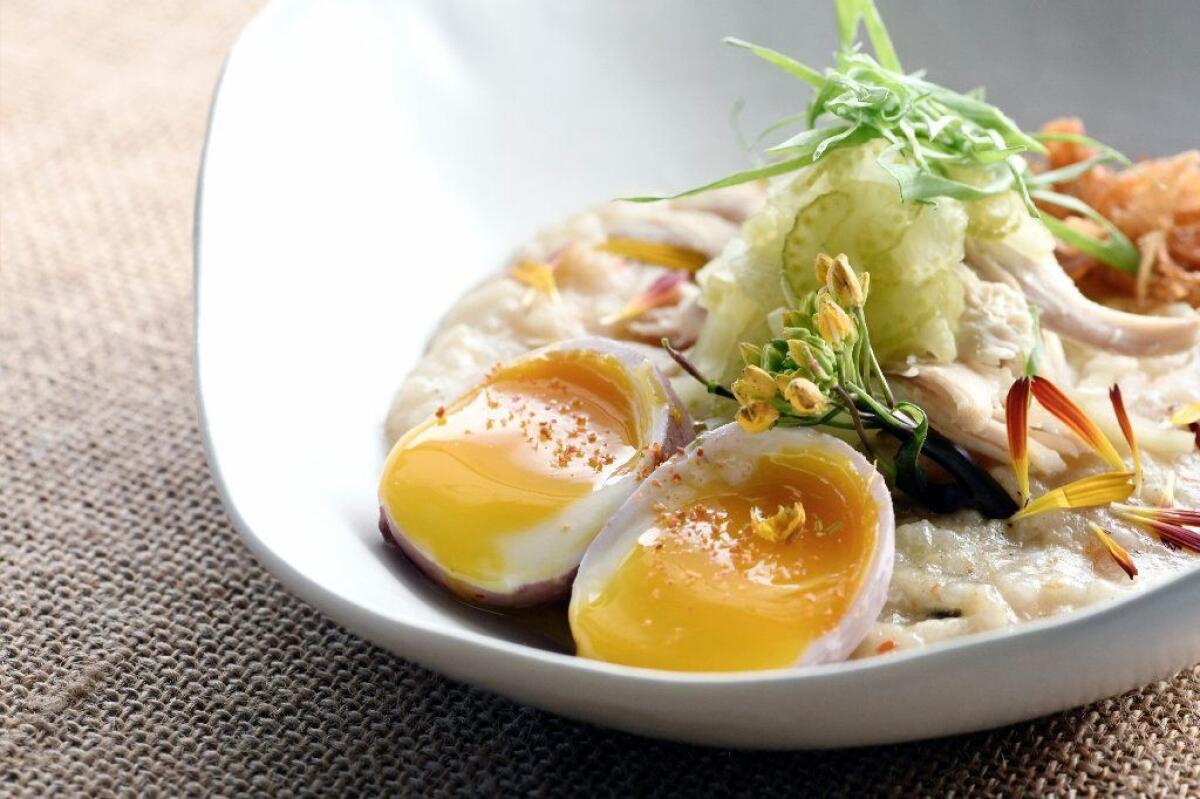 "Puffs" are Phan's term for deep-fried sticks of dough, resembling churros or, even more closely, youtiao, the Chinese crullers often served with congee or bowls of warmed soy milk for breakfast. The addition of rice flour gives them a wonderfully stretchy sort of lightness. Ordered plain, they act as vehicles for dipping; dusted with cardamom sugar, they are beignets as batons for dessert, meant for swiping through cream flavored with either coffee or jasmine tea.
As for the porridges: the poultry-mushroom combo stays put on the menu. Every other iteration rotates with some frequency; Phan is as mercurial in her creativity as she is in her career. This is her first permanent home for Porridge + Puffs. The idea came to life in 2014 as a dinner pop-up inside her all-day Hollywood restaurant Field Trip, which she closed in 2015. In between travels and the occasional local dinner series, she kept promising her growing fan base a bricks-and-mortar location.
It finally materialized last August in a whitewashed brick building along Beverly Boulevard situated for optimum midafternoon sunlight. That's important. Porridge + Puffs currently serves dinner only on Thursday, Friday and Saturday; it might seem intuitive that given the restaurant's specialty Phan would serve breakfast, but she says she doesn't currently have the staff. Right now, then, this is fundamentally a restaurant for lunch and Sunday brunch — and a quiet version of those meals at that. Lines don't trail out the door. Cheerful, burbling groups gather under a collage of dried herbs and flowers that billows across one wall; solo diners congregate at the long communal table.
This place isn't for everyone. I've dined with friends who are transported by the fastidiousness of Phan's cooking and others who shrug, not at all moved by bowls of mush with stuff on top. The notion of a divisive, polarizing porridge restaurant says as much about our spectrum of tastes as it does about the thriving niche microcosms of Los Angeles' dining culture.
Count me among the believers, though I like to pre-game porridge with something bright and crisp. The menu has two small, on-point starters: slaw tossed with basil, shiso and rau ram, and a cup full of pickled cucumbers, seaweed and citrus. They can be consumed slowly over the course of a meal, acting as palate cleansers.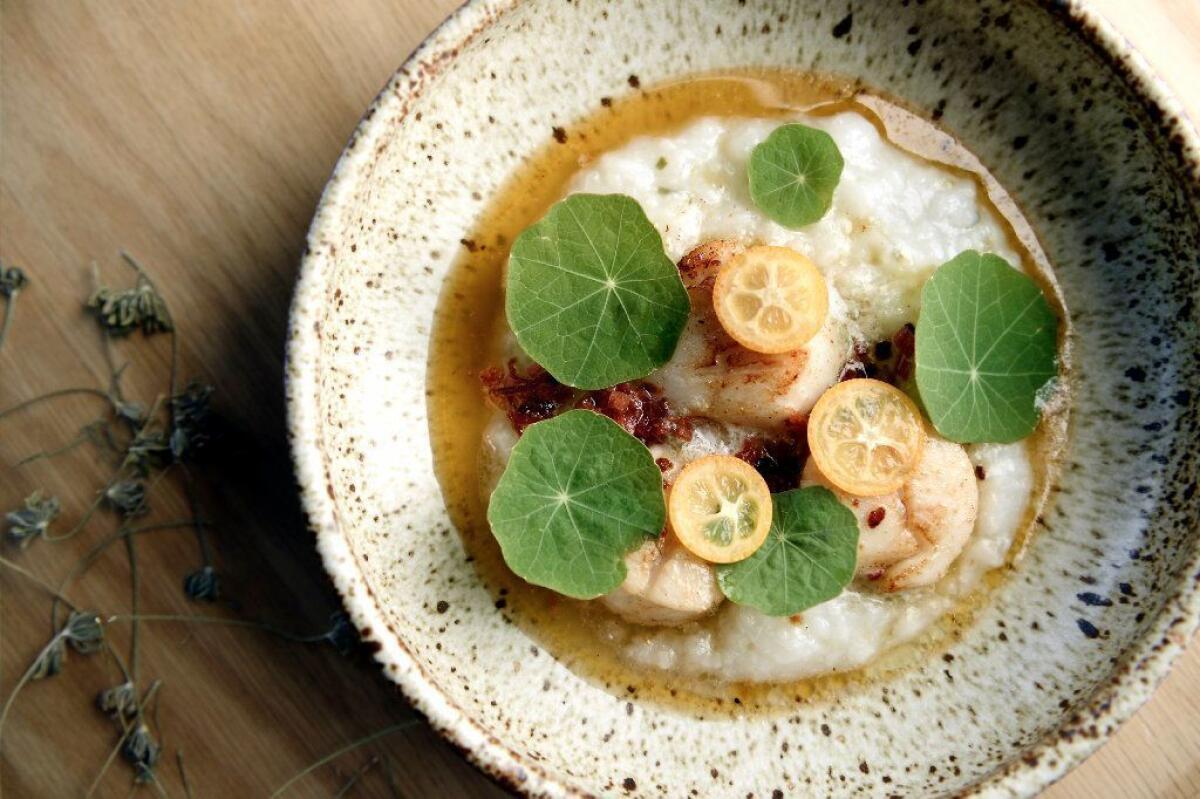 Porridge variations number only four or five on any given day. There will be a weather-appropriate option: For the recent rainy weather, a baked porridge warmed and invigorated: it layered gochujang béchamel and sharp beet and radish greens with melted Armenian string cheese. One number with black-eyed pea miso and braised pork sausage with Sichuan peppercorns delivered welcome aggressive flavors. The Velvet — a mix of winter squashes and browned butter blended into the rice, with tiny herb mochis poached in duck stock — struck the richest chords. These all come from the same stock, but they each have wildly divergent personalities.
I'll keep returning to see how Phan's thoughtful penchant for complexity plays out in her compositions. The restaurant helps fill a spiritual void left by recently closed Baroo, where chef Kwang Uh exercised a similar acuity for layering fermentation and experimentation. Porridge is an amorphous word, but Phan doesn't have to attach to a concept like congee or juk or atole or even cereal to give her food form and meaning. Commanding the dish as a pursuit of mastery is definition enough.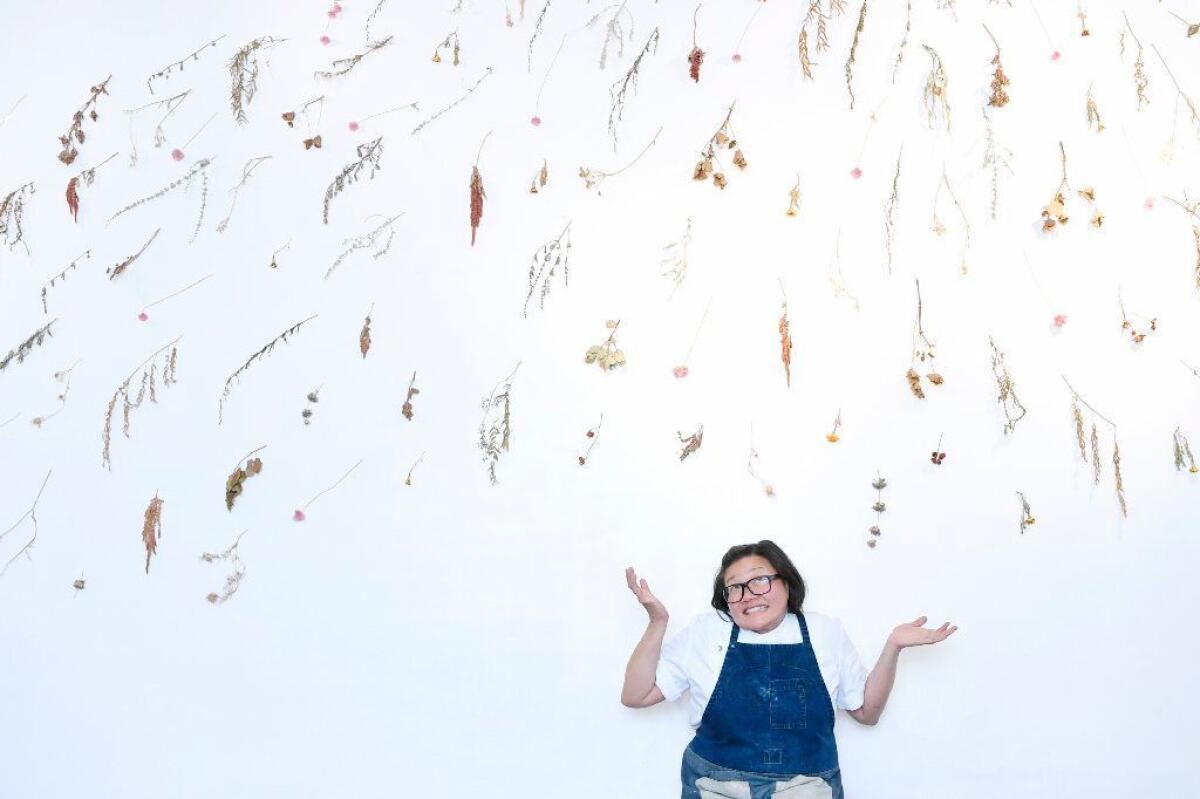 If You Go
Porridge + Puffs
Rice porridge is the canvas for Minh Phan's layered, seasonal masterpieces.
Prices: "Plants" (small, vegetable-based starters) $6; porridges $12-$18; puffs $5.

Details: Credit cards accepted. No alcohol. Wheelchair accessible. Street parking.

Recommended dishes: Poultry and mushroom porridge; baked porridge with gochujang béchamel and greens; cucumbers and seaweed; puffs with cardamom sugar.
Get our L.A. Goes Out newsletter, with the week's best events, to help you explore and experience our city.
You may occasionally receive promotional content from the Los Angeles Times.