Recipe: Angel biscuits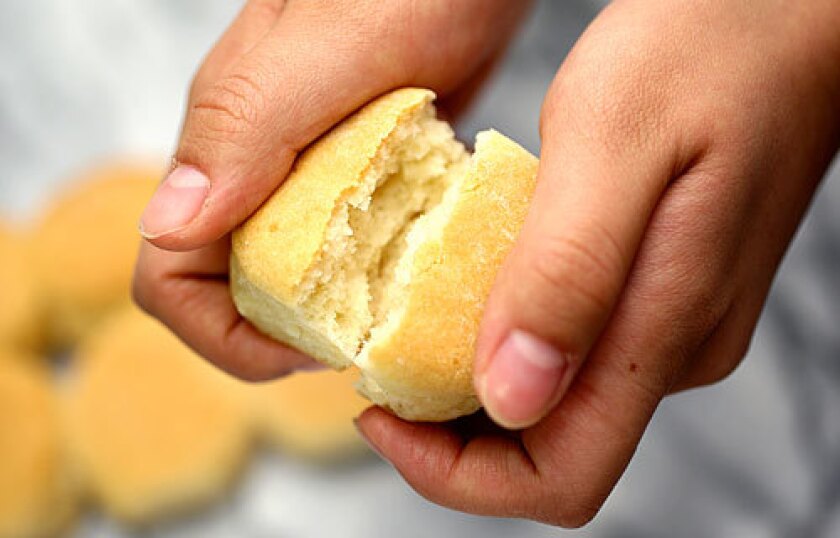 Total time: 35 minutes, plus rising time for the dough
Servings: Makes 3 to 4 dozen biscuits
Note: Adapted from Food & Wine magazine. Biscuits can be baked all at once or portions of the dough pulled off for baking a few at a time. The dough can be kept refrigerated in a tightly covered bowl for about two days.
1 ( 1/4 -ounce) envelope active dry yeast
2 tablespoons lukewarm water
5 1/2 cups (23 1/3 ounces) all-purpose flour, plus extra for kneading
1/4 cup sugar
1 tablespoon baking powder
1 teaspoon baking soda
I teaspoon salt
1 cup solid vegetable shortening, refrigerated
2 cups buttermilk
1. Heat the oven to 400 degrees. In a medium bowl, combine the yeast and lukewarm water, then set aside until the mixture is foamy, 5 to 10 minutes.
2. Meanwhile, in a large bowl, sift together the flour, sugar, baking powder, baking soda and salt. Cut in the shortening until the mixture resembles coarse meal. Add the buttermilk and stir until completely blended. Stir wet ingredients into the dry ingredients with a fork.
3. Flour your hands and gather the dough into a ball. On a floured surface, knead the dough until soft and smooth, adding more flour as necessary to reduce stickiness, about 5 minutes.
4. Roll out the dough to a thickness of about half an inch. Using a 2-inch-round cutter, stamp out the biscuits and place them close together on a baking sheet. Gather the scraps, pat out the dough, and continue cutting rounds until the dough is used. Cover with a kitchen towel and set aside to rise in a warm place until almost doubled, about an hour.
5. Bake the biscuits for 10 to 15 minutes, or until nicely browned.
Each of 48 biscuits: 99 calories; 2 grams protein; 13 grams carbohydrates; 0 fiber; 5 grams fat; 1 gram saturated fat; 0 cholesterol; 116 mg. sodium.
---
Get our new Cooking newsletter.
You may occasionally receive promotional content from the Los Angeles Times.