Procrastinators, rejoice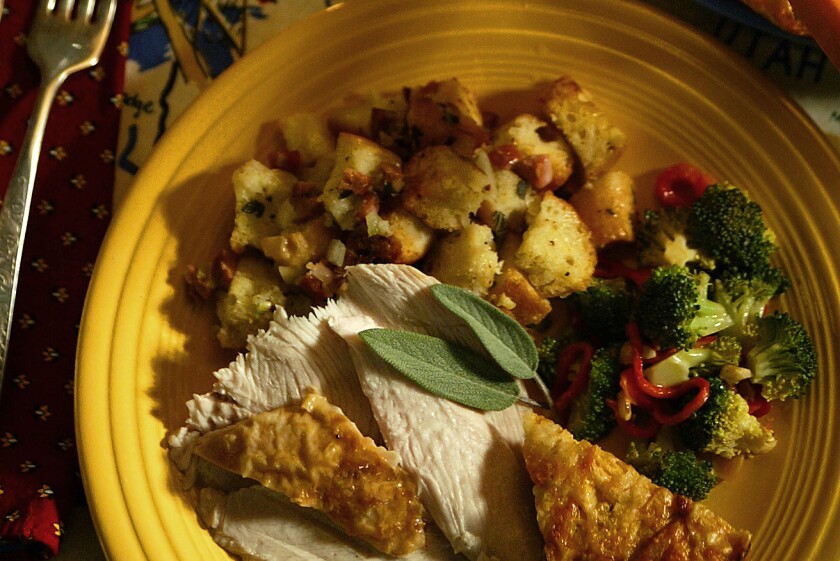 Special to The Times
One of the worst decisions I've ever made was booking a flight home from India for Thanksgiving Day last year. By the time I walked into my apartment building at 4 in the afternoon, I had eaten five meals since leaving Mumbai and all I wanted was the one whose aromas had the lobby and elevator virtually vibrating: Turkey. Stuffing. Sweet potatoes. Pie.
It was the first time in my cooking life that I had to concede that it was too late to whip up a Thanksgiving. And it will never happen again.
This is simply the most essential meal of the year. It's a chance to round up friends and even strangers who, by choice or by circumstance, do not have families to fight with over dark and light meat. It's a chance to cook to excess with no guilt because leftovers are part of the pleasure.
And waiting till the last minute — as in right now — is no excuse to miss it. You have to have a fragrant feast of your own, or you may die smelling the neighbors'.
Whole cookbooks and even movies have been devoted to the notion of Thanksgiving as an all-day ordeal, but it's really the easiest meal of the year. If you shop smart tonight you can still turn out a great turkey and trimmings tomorrow with not much more time and energy than it takes to roast a chicken and wash and dry lettuce. (The best part of Thanksgiving: no odious prep work for green salads no one really wants anyway.)
The turkey is only an oversized chicken, when you think about it. All you have to do is stick it in the oven, with or without stuffing, and take it back out a few hours later. While it roasts unmolested, you can put together side dishes and even dessert. When it's cooked, which always happens faster than I ever anticipate, you can let it rest while you reheat vegetables in the hot oven and whisk up gravy in the roasting pan. Compared with your average cook-to-impress dinner party, Thanksgiving is a New England breeze.
Not for this menu do you need to waste hours poring over cookbooks and running from fancy food shop to fancy food shop to collect esoteric ingredients. A little French pistachio oil is a wondrous thing on Brussels sprouts, but when time is of the essence, olive oil for broccoli salad is fine. In fact, Thanksgiving is really less about slaving over recipes than about cooking by feel and taste and touch, and with so many dishes on the table, even the weakest link will never be noticed.
Brining does work wonders and brining for longer than it takes to drive cross-country works outright miracles. But if tomorrow is your deadline, you might want to try it out next year instead. These days supermarket turkeys are totally acceptable, especially those with the "never frozen" label. Some stores may have organic or free-range turkeys left, but as long as you can find one that is all meat and has no basting additives, take what you can get. (These turkeys aren't perfect, but don't be led astray by other birds, like ducks or pheasant; not only is neither big enough, but you almost need higher education to master them. Roasting turkey breasts is also dicey — the timing is tricky to avoid winding up with sliced leather under your gravy.) This meal has other distractions.
To get succulent turkey meat and incredibly flavorful skin without brining, though, you can use an easy dry cure — the same technique used to make duck legs into confit. (Brining takes much longer, since you have to boil the spiced brine and let it cool, and then wrestle with a bucket full of brine and find a big enough spot in the refrigerator to stow it.) Just rub the skin all over with a mixture of one-half cup of kosher salt, one-quarter cup of sugar, a tablespoon of dried thyme and half a teaspoon each of cayenne and allspice, and refrigerate overnight. The next day, rinse it off and place it in the oven and the bird will cook up moist and tasting of more than just turkey.
If you're of the old school that has to have gravy rather than sauce, you can make it fast by laying the roaster right over two burners, heating up the fat and whisking in a slurry of flour and water until you get the right consistency.
Stuffing is crucial and even with only minutes to spare there's no need to succumb to those packaged mixes that have good texture but taste mostly of factory seasoning. Some of the newer ones feature focaccia, a good idea to borrow since no bread goes staler faster (stale, of course, being the ideal state for stuffing). And unlike chunky sourdough, focaccia does not fight with other ingredients. It makes a seriously good stuffing mixed with nothing more than lots of butter, onion, celery stalks and a whole bunch of chopped fresh sage (that boxed poultry seasoning looks fast and tempting but all you taste is mustiness).
For the vegetables, both white and sweet potatoes are essential on my table, and I'll put any amount of work into them. But if you think one is enough, you're halfway to your main side dish. Mash them or candy them. To cut corners and save time, you can bake both in peeled chunks alongside the turkey, in its drippings, as you would vegetables for a pot roast. Just toss them in olive oil, salt and pepper before arranging them in the pan about half an hour into the roasting. Stir them occasionally so that they cook evenly, and take them out before they turn to mush (after a little over an hour). You can also add peeled pearl onions to the mix. The vegetables turn tender and caramelized while you move on to another side dish.
If it isn't Thanksgiving for you without mashed potatoes, make them in advance and over-enrich them so that they hold up without going dry. My mother-in-law equivalent does something wonderful she calls party potatoes with a stick of butter, a pint of sour cream and a block of cream cheese mashed in; when they're reheated you would never know they had been languishing.
And if you have to have sweet potatoes gussied up, you can jump-start them by using canned yams (the preferred term among packers). Mash them with melted butter, thyme and a few eggs, then lighten them with egg whites beaten stiff and you wind up with a savory dish they would call a soufflé in the South, if not in France. A little grated Gruyère on top instead of marshmallows makes this seem even less like convenience cooking.
For the green vegetable every Thanksgiving plate needs to be saved from unrelenting shades of brown, broccoli takes the least prepping (forget trimming green beans one by one). The steamed florets can be tossed with roasted red peppers from a jar and roasted cashews from a bag (almonds would also be good, but you would have to add a step and toast them). It's completely simple, totally satisfying and just what you might want instead of heavy leftovers the next day, so make double.
You can even make a fresh cranberry sauce fast by cheating: Boil two cups of berries with half a cup of water for 10 minutes, then stir in half a cup of Major Grey chutney. The combination tastes more sophisticated than it has any right to, and it saves you from that gelatinous blob in a can.
And then there's dessert. Frozen pumpkin pie is what a large part of America will be eating, but if you've come this far, you might as well bake.
Jeremiah Tower, a chef not often associated with supermarkets or quick meals, has the best recipe for gingerbread made with canned pumpkin and topped with a rum-spiked whipped cream. It has the intense flavor and moistness of pumpkin pie but eats up only three basic steps. Nothing could be easier — or more fragrant to torment neighbors who didn't get to the store in time.
Countdown to Thanksgiving
Here's the game plan for a 5 p.m. dinner:
Wednesday night: Shop for all groceries. Cut up focaccia to give it time to turn stale. If you like, dry-cure the turkey with a salt rub. If you want mashed potatoes, make them now and add cream cheese and sour cream so they will hold up.
Thursday morning: Bake gingerbread. Make stuffing. Make cranberry sauce. Peel and dice potatoes and sweet potatoes for pot-roasting if you like.
Thursday afternoon: Make broccoli salad but add cashews just before serving. Stuff turkey. Start roasting by 2 p.m. Make sweet potato soufflé.
Just before dinner: Reheat any side dishes that need it. Carve turkey. Make gravy. Whip rum cream for gingerbread.
The Recipes:
---
Get our weekly Tasting Notes newsletter for reviews, news and more from critics Bill Addison and Patricia Escárcega.
You may occasionally receive promotional content from the Los Angeles Times.