Recipe: Mixed berry crostata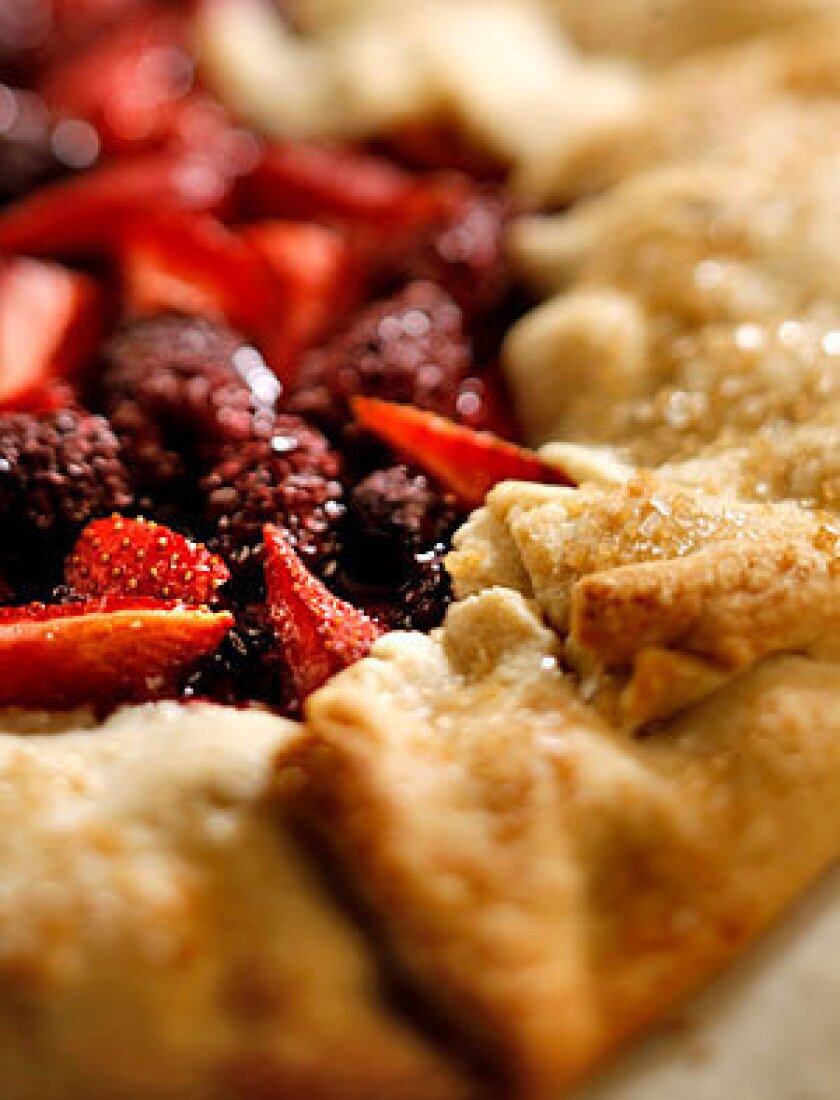 Total time: 50 minutes, plus chilling and cooling time
Servings: 6
Note: This crostata dough is adapted from one by Nancy Silverton of Mozza.
Crostata dough
1 1/2 cups all-purpose flour
3/4 cup cake flour
3 tablespoons granulated sugar
Dash of salt
3/4 cup (1 1/2 sticks) cold butter, cut into pieces
2 tablespoons ice water
1 tablespoon vanilla extract
1. Heat the oven to 400 degrees.
2. In the bowl of an electric mixer or food processor, combine the all-purpose flour, cake flour, sugar and salt. Distribute the butter over the top and mix until the butter is thoroughly incorporated and the mixture resembles moist cornmeal.
3. Combine the ice water and vanilla and sprinkle over the top of the dough. Mix until the dough comes together and pulls cleanly away from the sides of the bowl.
4. Remove the dough from the bowl and flatten it into a disk, then wrap it in plastic wrap and refrigerate until ready to use.
Mixed berries and assembly
3 cups mixture of blackberries, blueberries and cut-up strawberries
5 teaspoons sugar
1 tablespoon cornstarch
Crostata dough
1 tablespoon coarse sugar
Vanilla ice cream
1. In a medium bowl, toss together the berries, sugar and cornstarch and stir gently until they are well-coated. Set aside.
2. On a lightly floured surface, roll the crostata dough out to a roughly 16-inch-diameter circle. Leave it a little thick; the added texture is better. Transfer the dough to a cookie sheet, then place the sweetened fruit mixture in the center and distribute it in a low mound, leaving a 2-inch border.
3. Fold the edges of the dough over the fruit to form a 6-sided tart, with the fruit showing in the center: Fold one edge over, then fold the second edge over, pleating the dough as necessary and pressing firmly on the pleat.
4. Lightly brush the surface of the dough with a little water and sprinkle with coarse sugar. Bake until the crust is brown and the fruit is soft and thickened, 30 to 35 minutes. Rotate the crostata halfway through baking for even coloring.
5. Remove the crostata from the oven and cool 10 minutes before cutting and serving with vanilla ice cream.
Each serving: 470 calories; 6 grams protein; 59 grams carbohydrates; 3 grams fiber; 24 grams fat; 15 grams saturated fat; 61 mg. cholesterol; 36 mg. sodium.
---
Get our weekly Tasting Notes newsletter for reviews, news and more.
You may occasionally receive promotional content from the Los Angeles Times.