Recipe: Tourlou-tourlou (Greek baked vegetables)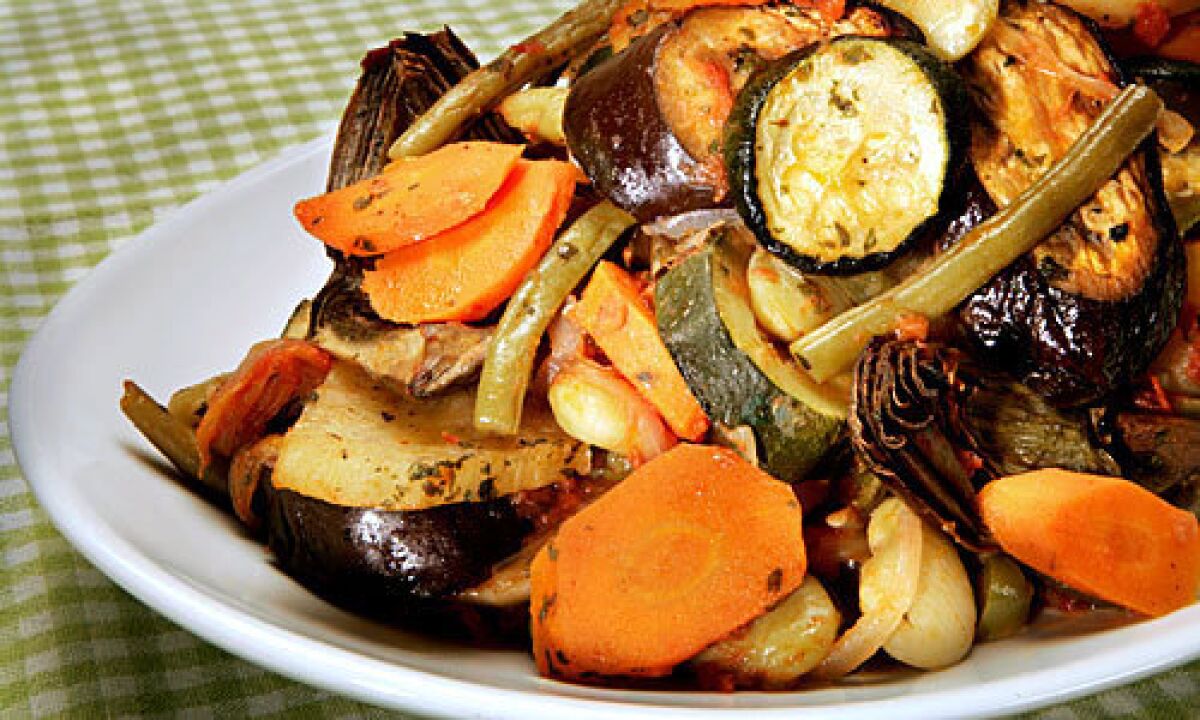 Total time: About 2 hours
Servings: 8 to 10
Note: This is adapted from a recipe by Alexandra Panousis.
5 medium artichokes
Juice of 2 lemons
2 onions, cut into 1/2 -inch lengthwise slices
4 cloves garlic, crushed
1/2 cup olive oil
5 plum tomatoes, peeled, seeded and chopped
Salt
1 pound green beans, ends trimmed
1 cup water
1 green bell pepper, diced
2 Japanese eggplants, cut in 1/2 -inch slices
2 zucchini, cut in 1/2 -inch slices
2 potatoes, peeled and cut in 1/2 -inch slices
6 carrots, peeled and cut in 1/2 -inch slices
1 (16-ounce) package frozen lima beans
1/4 cup chopped Italian parsley
1/4 teaspoon pepper
1. Heat the oven to 400 degrees. Clean and trim the artichokes: With a sharp knife, peel the outer stem of the artichoke and trim the stem, then peel the tough, thick outer leaves until you reach the tender leaves toward the center. Using kitchen shears, trim the tips of the leaves. Quarter the artichokes lengthwise and, with a spoon, scoop out the fuzzy center and tough, pointed petals. Place the trimmed artichokes in a large bowl of cold water along with the lemon juice; keep submerged until needed.
2. In a large pot, cook the onions and garlic in olive oil over medium heat until they soften and are fragrant, about 5 minutes, stirring occasionally. Add the tomatoes and cook, stirring frequently, until they begin to break down, about 5 minutes. Season with one-half teaspoon salt, or to taste. Add the green beans and cook an additional 5 minutes, stirring frequently. Stir in the water and bring to a simmer.
3. Spread the green bean mixture evenly across the bottom of a large roasting pan. Add the artichokes, bell pepper, eggplants, zucchini, potatoes, carrots, lima beans and parsley. Season with three-fourths teaspoon salt and one-fourth teaspoon pepper.
4. Bring the mixture to a simmer on top of the stove and cook, without stirring, for 5 minutes. Transfer the pan to the oven and bake until the vegetables are tender and covered with glaze, with no remaining sauce in the pan, 1 to 1 1/2 hours, gently stirring every half-hour. If there is still sauce in the pan when the vegetables are done, place the pan on the stove over medium-high heat to finish the cooking.
Each of 10 servings: 308 calories; 10 grams protein; 46 grams carbohydrates; 13 grams fiber; 12 grams fat; 2 grams saturated fat; 0 cholesterol; 412 mg. sodium.
Get our L.A. Goes Out newsletter, with the week's best events, to help you explore and experience our city.
You may occasionally receive promotional content from the Los Angeles Times.