Recipe: Spiced squash and pear puree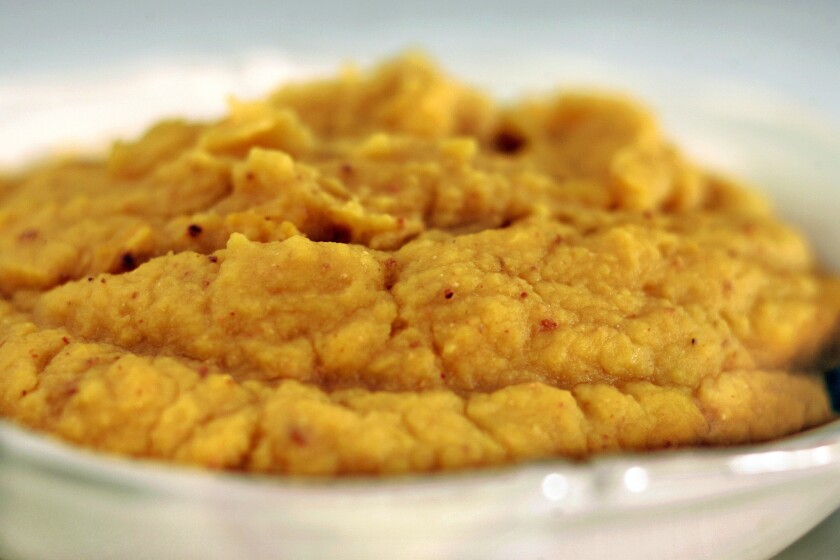 Spiced squash and pear puréeTotal time: 30 minutes, plus 1 hour roasting time for the squashServings: 6 to 8Note: You can use any winter squash for this; the best candidates are acorn, Table Queen and butternut.1 (2 3/4 -pound) winter squash1 pear, peeled, cored and coarsely chopped1 tablespoon minced shallot2 tablespoons room temperature butter1 teaspoon salt 3/4 teaspoon dried mustard 1/2 teaspoon white pepper3 amaretti almond cookies, crushed 1/2 teaspoon balsamic vinegar1. Heat oven to 400 degrees. Split the squash in half lengthwise and scoop out the seeds. Place cut-side up on a cookie sheet and roast until it can be easily pierced with a paring knife, about 1 hour. Remove from heat and cool slightly.2. When cool enough to handle, use a spoon to scoop out the squash meat, leaving behind the papery shell. Put the meat in a food processor with the pear, shallot and butter and puree until smooth. Pulse in the salt, dried mustard, white pepper and crushed amaretti. Pulse in the balsamic vinegar. Taste and add more salt or vinegar if necessary. (The recipe can be prepared to this point up to 1 day in advance and refrigerated tightly covered.)3. When almost ready to serve, transfer the puree into a saucepan and warm over medium-low heat until it bubbles and thickens. Serve immediately.Each of 8 servings: 117 calories; 2 grams protein; 22 grams carbohydrates; 5 grams fiber; 4 grams fat; 2 grams saturated fat; 8 mg. cholesterol; 6 grams sugar; 306 mg. sodium.
---
Get our weekly Tasting Notes newsletter for reviews, news and more from critics Bill Addison and Patricia Escárcega.
You may occasionally receive promotional content from the Los Angeles Times.