Fresh farmers market cherries get a boost in flavor from a surprising source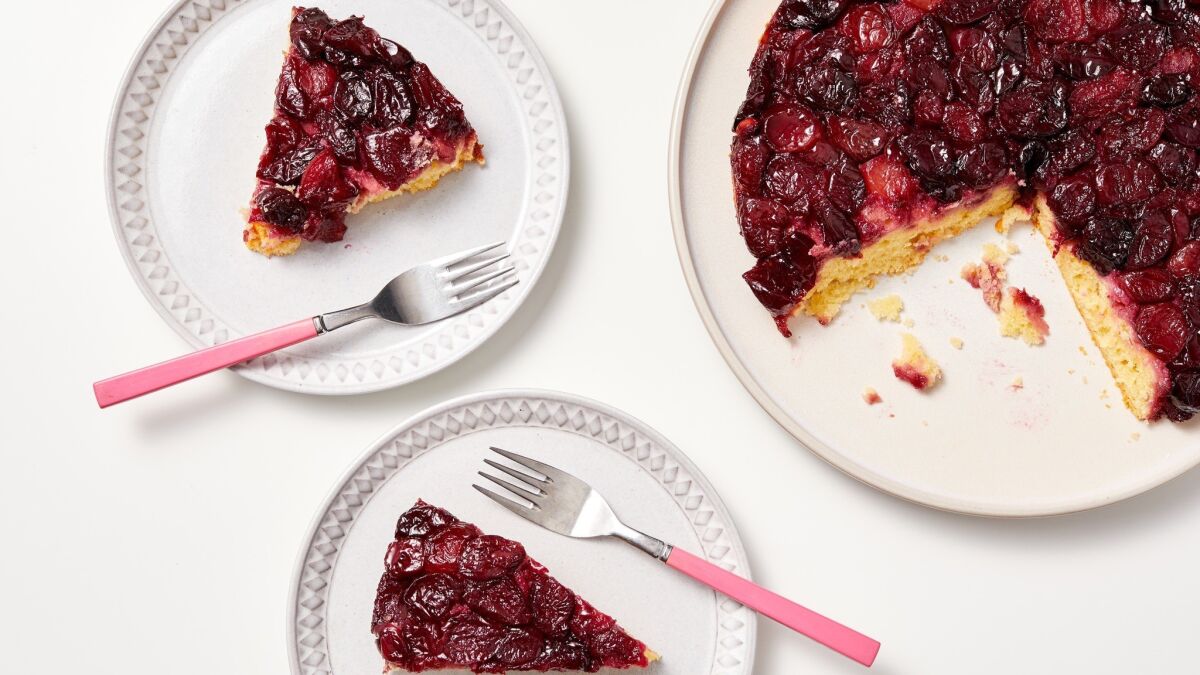 At this point in our lives, I get it: Who needs another cherry cake recipe? Cherries are like melons, cucumbers and, most fittingly, the freshest of stone fruits in that they're best eaten raw. Cobblers and coffee cakes are nice because you want a relatively inoffensive batter to let the cherries shine through but they can be, well, boring.
Then I remembered a little trick I learned from a former colleague years ago when making her recipe for Italian flag or rainbow cookies. Instead of using almond paste for her dough, she used almond pastry filling, which gave a more tender crumb and lightness to the finished cookie.
Growing up in the South, where almonds are not typically used in baking, I had never used them as the main flavoring component for desserts until I moved up north, where European-style pastries, with their almond creams and flavorings, dominate. My colleague's were a revelation, and they tasted shockingly like cherry more than anything. I learned later that cherries and almonds are both botanical stone fruits, and cherry pits taste just like almonds.
When I decided I wanted to make a cake using this summer's gorgeous cherries, already in farmers markets earlier than I'm accustomed to, I wanted to rely on that trick of using almond cream as the base to enhance the aroma of the cherries themselves. The first cake was good but I quickly realized that, as opposed to those rainbow cookies from years ago, I actually wanted the chewy density that almond paste — not marzipan, which has loads more sugar and is used for decorating more than eating — brings to baked goods. I baked the cake with it, adding no extra sugar because the paste is sweet enough, and using only enough flour to qualify it as a cake. The result was like almond paste in cake form: chewy, dense and pleasantly crumby, not crumbly.
And to keep the cherries the star, I chose to create a thick layer of them on the bottom of the cake, which then becomes a ruby-studded beauty when turned out. To keep the cherries from waterlogging the cake, I cook them a bit beforehand, with sugar, salt and a splash of cherry liqueur, just to bump up their flavor even more. The result — equal parts juicy cherries and moist, chewy cake — is a gorgeous, just-thick-enough cherry dessert that's worth all the pitting it took to get you to it. And when the cake is that good, you do need just one more recipe.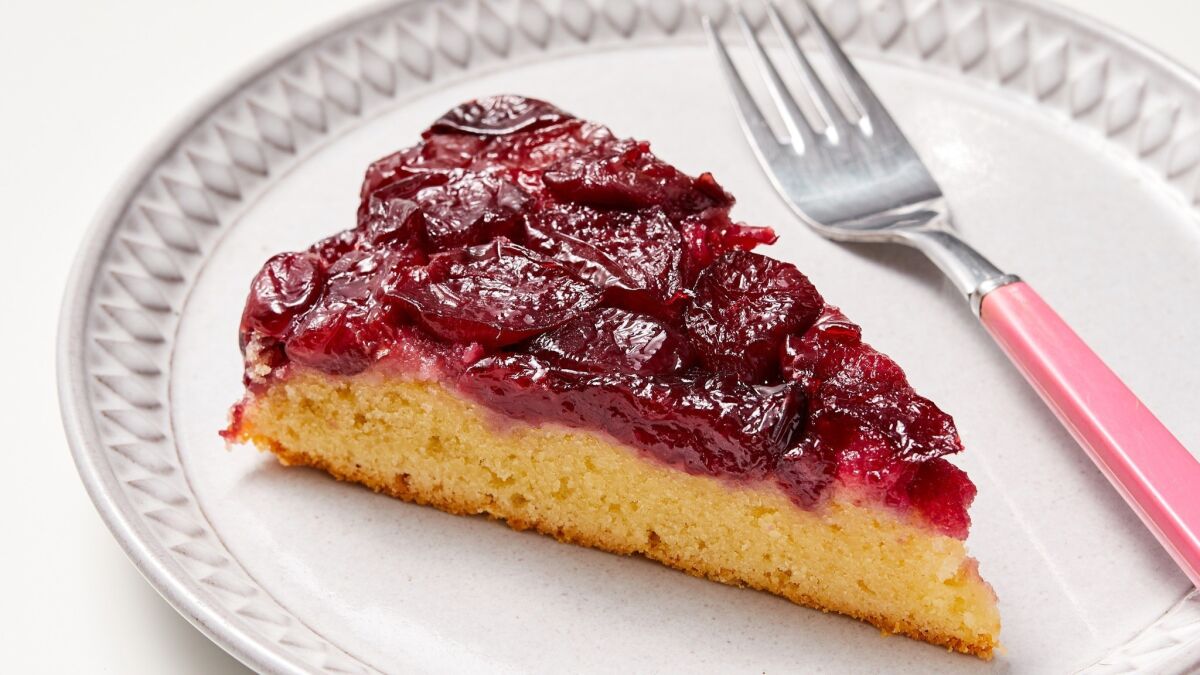 Cherry-Almond Upside Down Cake
55 minutes, plus 1 hour 20 minutes of cherry pitting and cooling. Serves 8
This cake derives its magic from a tube of store-bought almond paste, which adds sweetness and almond flavor to boost that of the cherries. Its dense texture is balanced by the cherries and their juice as you eat each bite. The day before you plan to bake the cake, pit and cook the cherries. Both are unavoidably somewhat time-consuming, so it'll make the day-of baking go easier.
1 3/4 pounds cherries (sour is best but any type — sweet, Bing, etc.— will do)
8 tablespoons unsalted butter, cut into 1/4-inch cubes and chilled, plus more for greasing
1/3 cup granulated sugar
1 tablespoon kirsch or other cherry liqueur (optional)
1 teaspoon kosher salt
3/4 cup all-purpose flour
3/4 teaspoon baking powder
1 tube (7 ounces) almond paste
2 large eggs, room temperature
1/4 cup whole milk, room temperature
2 teaspoons fresh lemon juice
1/2 teaspoon pure vanilla extract
1/4 teaspoon pure almond extract
1 Using the side of your knife or your fingers, lightly crush each cherry, split it in half, and remove the pit. Place the cherry halves (about 4 cups, or 1 pound 7 ounces) in a bowl and discard the pits. (You can also use a cherry pitter, but I prefer the hand-torn look. Do what you prefer.)
2 Grease a 9-inch cake pan with some butter, line the bottom with a round of parchment paper, then grease the paper.
3 Heat a large skillet over medium-high heat. Add the cherries, sugar, liqueur (if using) and 1/2 teaspoon salt, and cook, tossing occasionally, until the cherries give up a lot of their liquid, are half-tender, and are bubbling and shiny like jewels, about 8 minutes. (You don't want the cherries falling apart, so err on the side of undercooking them if you're not sure.) Scrape the cherries onto a plate, spread out in a single layer, and let cool to room temperature. Once the cherry mixture is completely cool, transfer it to the bottom of the prepared pan and smooth into an even layer. Place the pan in the refrigerator to firm the cherries while you make the cake batter.
4 Heat the oven to 350 degrees. In a medium bowl, whisk together the remaining 1/2 teaspoon salt, the flour and baking powder.
5 Using your fingers, break apart the almond paste into small chunks and place them in the bowl of a stand mixer or large bowl. Add the butter and mix on low speed until the two are evenly combined, then increase the speed to medium and beat until pale and lightened in texture, about 3 minutes. The firmness of the cold butter helps break apart the almond paste so it stays smooth in the batter, and cutting it into small cubes helps it warm to a smooth, spreadable texture afterward to incorporate into the almond paste easier.
6 Add the eggs one at a time, beating well after each addition until smooth before adding the next. Add the milk, lemon juice, vanilla and almond extract (if using), and beat until smooth. Add the dry ingredients and mix on low until just combined. Using a rubber spatula, scrape the bottom and side of the bowl to make sure the batter is well mixed.
7 Remove the prepared pan with the cherries from the refrigerator. Dollop the batter evenly over the cherries so it doesn't disturb them in the bottom of the pan, then gently smooth the top of the batter. Bake until the cake is lightly browned on top and a toothpick inserted in the center comes out clean, 35 to 40 minutes.
8 Transfer the cake pan to a wire rack and let cool for 10 minutes. Invert the cake onto a wire rack, remove the pan, then carefully peel back and discard the parchment paper round, replacing any cherries that may try to come off with the paper. Let the cake cool to room temperature before serving. (You technically can cut this cake into smaller wedges than will serve 8, but the cherries will start to fall apart and look rough on top, so stick with 8 even wedges and you'll be much happier.)
---
Get our L.A. Goes Out newsletter, with the week's best events, to help you explore and experience our city.
You may occasionally receive promotional content from the Los Angeles Times.