RECIPE: CHOLENT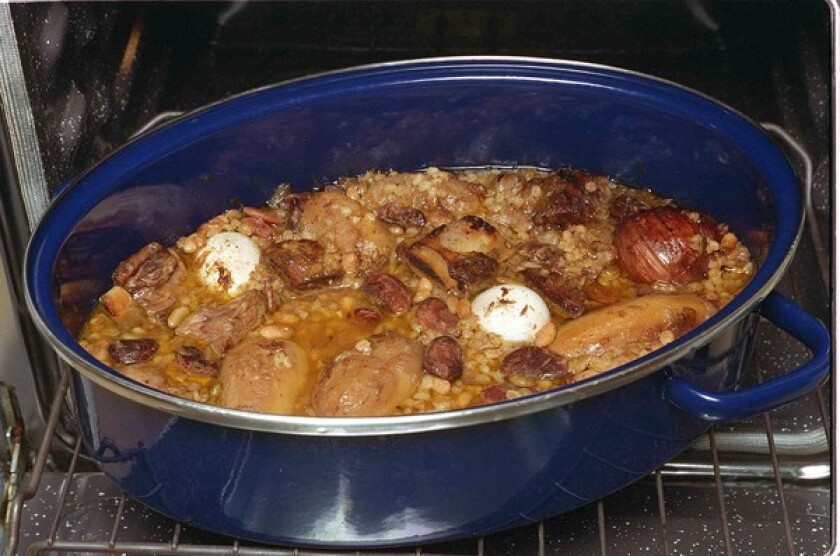 Note: The slow-cooking Sabbath stew cholent reminded a few tasters in The Times Test Kitchen of the French bean-and-meat stew cassoulet. One difference: This stew calls for barley, which adds a nice textural contrast to the softer beans. The recipe, which was published with a story by Joan Nathan describing the tradition of cholent and its many variations, was adapted from one Nathan got from Sara Brizdle Dickman and Dassi Stern. After we printed the recipe, a couple of readers called asking about the addition of 10 to 12 eggs in the stew. The eggs are put into the cholent with their shells left on. The slow, long heat cooks the eggs, which are then peeled before serving or at the table. The stew may also be made without the eggs.
1 cup mixed dried beans (cranberry, kidney, large and small navy beans, black) or lentils
Water
1/4 cup olive or vegetable oil
2 large onions, chopped, plus 1 whole onion with skin
3 pounds flanken (short ribs) or chuck in 1 piece
2 tablespoons honey
3/4 cup barley
6 potatoes, peeled and left whole
2 cloves garlic or as much as 1/2 head, peeled and left whole
2 teaspoons salt
1/2 teaspoon ground black pepper
2 teaspoons paprika
Neck bones or marrow bones (about 1 pound)
10 to 12 eggs, in shells, washed
Day before cooking, soak beans 6 hours in water to cover. Rinse and drain. Heat oil in large skillet and cook chopped onions until soft, 3 to 5 minutes. Add meat and brown on both sides.
Heat honey in bottom of 8-quart casserole over low heat until it darkens and caramelizes, 3 to 5 minutes, stirring constantly to prevent burning. Add beans, barley, potatoes, meat and cooked onions. Scatter garlic around meat.
Before Shabbat starts, dissolve salt, pepper and paprika in small amount of water and pour over meat, adding enough water just to cover. Add meat bones, whole onion (skin adds color) and eggs (in shells) to pot. Bring to boil. Cover pot with aluminum foil and lid and simmer 30 minutes on stove top. Remove to 200-degree oven and cook overnight.
Next morning, remove lid and check water. If water covers meat, uncover and bake 2 more hours so that water evaporates to make thick sauce. If there is no water, add some.
Serve each ingredient separately on serving plates or on very large platter with ingredients separated.
Variations:
Alsatian Cholent: Use lima beans instead of other beans.
Vegetarian Cholent: Omit meat and add 1 (15-ounce) can tomatoes.
Indian Vegetarian Cholent: Omit canned tomatoes and add 2 teaspoons each ground cumin, tarragon and turmeric, and 1/2 teaspoon each ground ginger, cinnamon and curry powder.
Makes at least 10 servings.Each of 10 servings contains about:380 calories; 548 mg sodium; 61 mg cholesterol; 10 grams fat; 42 grams carbohydrates; 30 grams protein; 1.19 grams fiber.
---
Get our new Cooking newsletter.
You may occasionally receive promotional content from the Los Angeles Times.