Don't even try to resist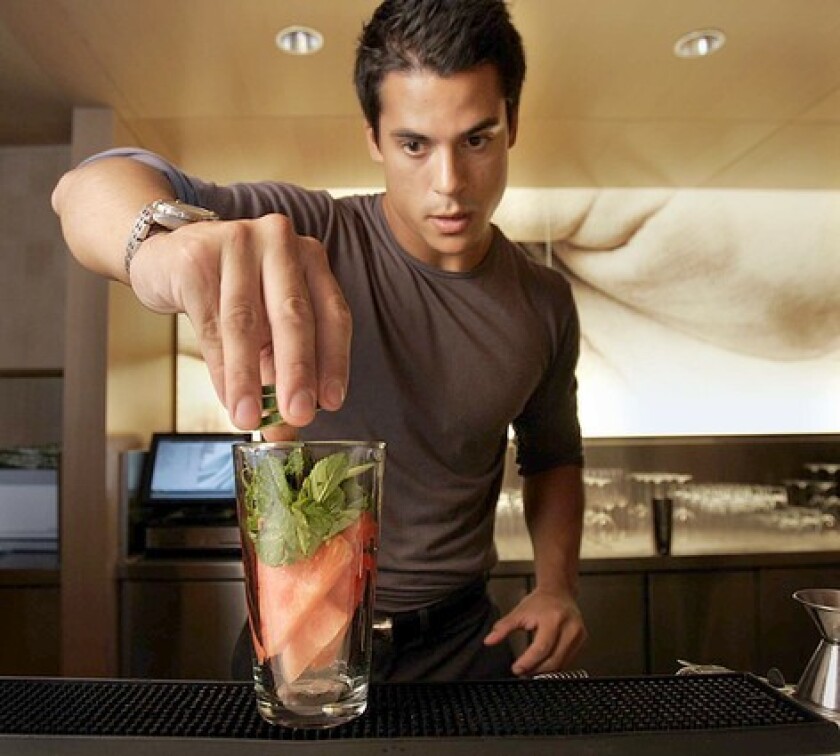 Times Staff Writer
SO you've netted that perfect patio table overlooking the marina or found yourself a Saturday-afternoon stool at a sunny al fresco bar, and the cocktails sailing past on serving trays look classy and fun: tall, icy drinks sporting cucumber garnishes; elegant frosty flutes filled with pretty pastel bubbles; a cool-looking berry-colored something in a martini glass.

Tempting, but can you chance it? You want refreshment and flavor, something to celebrate the meal ahead but you don't want to be under the table before your dinner date shows up, and you don't want to deaden your palate.

This summer, you're in luck. Order a Cranberry Delicious — a tall, cool, almost shockingly tangy combination of cranberry, mint and bitters — at the new Bin 8945 Wine Bar & Bistro in West Hollywood. Or sip a Fresh Thyme Bellini as you ponder the sushi offerings at the recently opened Katsuya in Brentwood. It's an edgy, herbaceous variation on the classic summer sparkler.

Meeting friends after an afternoon of sailing? At St. Regis Resort, Monarch Beach, in Dana Point, try the Pom-Secco, an irresistibly festive drink that begins with freshly muddled grapes and pomegranate seeds and comes to the table in a frosty, sugar-rimmed martini glass.

In a salutary example of unintended consequences, it turns out that top bartenders, enthusiastically experimenting with highly muddled, fruit-forward concoctions, are finding that sometimes using less alcohol creates the most balanced, delicious drink. This doesn't mean they're making weaker drinks, pouring less gin, vodka or rum.

Instead, seeking complexity and body that won't overpower the fresh fruit and herb flavors, mixologists are using lower-proof bases such as wine, sparkling wine, soju (the Korean or Japanese distilled spirit, usually about 20% alcohol or 40 proof), aperitifs such as vermouth (16% alcohol) and Pimm's (25%), some sakes and some liqueurs, which can be as low as 20% alcohol depending on the variety and brand (Chambord, Midori, Kahlúa and Amaretto are among the low-proof liqueurs).

Typically, this results in a drink with about half the amount of alcohol as in a standard cocktail.

The upside? Order one of these and an appetizer and you can drive yourself home.

The downside? More research is needed to determine. Another round, please.

Ryan Magarian, a beverage and spirits consultant who developed the drinks for Katsuya, says he didn't have a low-alcohol agenda when he created such drinks as the Fresh Thyme Bellini for the restaurant.

"The intention was to create drinks that are light and lively and really dance on your palate," he says. "When you think about sushi, you think about what to drink with it — sake, maybe a light wine."

The Bellini was famously created at Harry's Bar in Venice, but, less famously, was originally served for just a few months each year when peaches were in season. The vibrant flavors of peaches attracted Magarian, but he says adding a sprig of bruised thyme was the significant step in evolving his new Prosecco-based cocktail. As with the creations of the sushi chef, small touches make all the difference.

"A sprig of thyme to change the nose; a dash of peach bitters to change the palate," he says. "The bitters open up the flavors and add another layer. They're like the salt and pepper of cocktails. Just a smidge of peach bitters makes this drink a little livelier, a little more unforgettable."

A challenge met

ALCOHOL gives body and structure to a drink, and it might seem challenging to create a balanced, low-alcohol drink that also has complexity. But area bartenders seem to be rising to the challenge — even if they hardly knew it was there. One technique they're using is muddling.

A low-alcohol version of Magarian's quaffable, wonderfully refreshing Cucumber Watermelon Mojito begins with a mad muddling session: watermelon triangles, cucumber slices and fresh mint are hand-pressed with a muddler, the bartender's long-handled pestle designed for smashing up ingredients in the bottom of a glass rather than in a mortar. Soju, fresh lime juice and ginger ale each contributes a needed note to balance the drink; the flavor is very fruity, but with an intriguing edge.

Saurav Biswas, assistant food and beverage director at St. Regis, created his pomegranate-Prosecco drink around the seeds as well as the juice of the pomegranate. What makes the drink so delicious, he says, is that the seeds and grapes are muddled before being mixed with alcohol to release their flavors. "When you muddle the fruit it opens up and you get a really different flavor, then you put just a little into the drink right away," Biswas says.

At St. Regis, the Pom-Secco is served with ceremony. A server brings the cocktail shaker with the muddled fruit, lemon juice, simple syrup, Prosecco and ice to the table, gives it a gentle shake and strains the drink into a frosted glass. A splash of Prosecco is added for extra fizz.

"The white wine spritzer days are gone," says Karen Hatfield, pastry chef and general manager of the recently opened Hatfield's in Los Angeles, but as for low-alcohol cocktails she says, "I'm all about it. There's a right time for everything." Sometimes you need a hard-hitting drink, she says, and sometimes you're looking for an alternative. Her pomegranate fizz uses fresh pomegranate juice when available, often from the Hollywood farmers market, and Prosecco.

When top bartenders insist on the purest juices, finest fruits, intoxicatingly fragrant herbs and other fresh ingredients, they're participating in a decade-old revolution that tossed aside prepackaged drink mixes and brought back classic 19th and early 20th century pre-Prohibition recipes and techniques.

Pioneer mixologists including Dale DeGroff ("The Craft of the Cocktail") have trained a new generation of bartenders and written books espousing a philosophy that's comparable to that of many of today's chefs, emphasizing the primacy of quality ingredients.

Mashing's roots

A century ago, before fruit brandies and syrups became widely available, for example, it was common for bartenders to mash fresh fruits with sugars and syrups. Fresh seasonal fruits were shaken with wine or spirits to make a tall drink served over ice called a cobbler, seldom seen now but once so popular it was the reason the cocktail shaker was invented.

As the revival and adaptation of classic cocktails and techniques continues to interest bartenders, look for more low-alcohol drinks on specialty menus.

A version of Pimm's Cup — a British afternoon refresher that can be garnished with not only cucumber but also herbs such as mint or borage and fruit such as apple or lemon — is on the list at Hungry Cat in Hollywood this summer as well as at the new Social Hollywood.

Social's sommelier and beverage manager Franklin Ferguson says the restaurant's spin on Pimm's Cup is a popular before-dinner order. Hungry Cat bar manager Tim Staehling says his daytime customers gravitate toward the Pimm's Cup or the classic Campari and orange juice, made, of course, with fresh-squeezed juice. "It's nice in the afternoon."

At 48 proof (24% alcohol), Campari is a low-alcohol bitter traditionally used not only in combination with spirits but also solo. Other bitters are increasingly used in drinks where once bartenders might have boosted flavor with a sweet liqueur.

A few lower-alcohol drinks recipes call for bitters alone, used so sparingly that even if the bitters are higher proof, the overall drink is just a few dashes away from a virgin cocktail. The Cranberry Delicious made by Damian Windsor for Bin 8945 started out as a digestif, but it's so refreshingly good, with bits of muddled mint and that ineffable something — the gentian and other (secret) ingredients in Angostura bitters — that it's worked its way onto the specialty cocktails menu. It's as satisfying as a higher-proof drink and though fruit-forward, it doesn't shut down the taste buds with sweetness but rather sets you up nicely for dinner.

In other words, no regrets.

*

Pom-Secco

Total time: 5 minutes

Servings: 1

Note: From Saurav Biswas at the St. Regis Resort, Monarch Beach, in Dana Point. Make a simple syrup by boiling granulated sugar in an equal amount of water until the sugar dissolves; allow to cool.

4 seedless red grapes

1 ounce simple syrup

2 ounces pomegranate juice

3 ounces chilled Prosecco wine

Splash ( 1/2 teaspoon) fresh lemon juice

5 to 6 pomegranate seeds, plus several for garnish

Orange peel, about 1/4 inch wide and 1 to 1 1/2 inches long

1. In a cocktail shaker, muddle the grapes and simple syrup. Add the pomegranate juice, Prosecco, lemon juice, pomegranate seeds and ice. Shake gently.

2. Strain into a sugar-rimmed martini glass. To garnish, twist the orange peel over the cocktail and drop it in. Add the pomegranate seeds.
---
Each serving: 132 calories; 0 protein; 19 grams carbohydrates; 0 fiber; 0 fat; 0 saturated fat; 0 cholesterol; 12 mg. sodium.

*

Fresh Thyme Bellini

Total time: 10 minutes

Servings: 1

Note: From Ryan Magarian for Katsuya. Make a simple syrup by boiling granulated sugar in an equal amount of water until the sugar dissolves; allow to cool. One peach makes enough purée for four drinks.

1 white peach

3 sprigs fresh thyme

1/4 ounce simple syrup

4 ounces chilled

Prosecco

1 dash peach bitters

1. In a blender, purée the peeled, seeded peach. Set aside.

2. In a pint glass, hand press 2 thyme sprigs with a muddler. Add 1 ounce of the peach purée, the simple syrup, the Prosecco and the bitters.

3. Fill the glass with ice. Stir swiftly for 30 seconds.

4. Strain into a flute. Garnish with the remaining thyme sprig.
---
Each serving: 99 calories; 0 protein; 6 grams carbohydrates; 0 fiber; 0 fat; 0 saturated fat; 0 cholesterol; 6 mg. sodium.

*

Cranberry Delicious

Total time: 5 minutes

Servings: 1

Note: From Damian Windsor at Bin 8945 Wine Bar & Bistro

1/2 lime, cut into wedges for muddle

2 cubes sugar

6 mint leaves

3 dashes Angostura bitters

6 ounces cranberry juice

1. In a shaker, muddle the lime with the sugar cubes and mint leaves.

2. After muddling, fill the shaker with ice and add 3 dashes of Angostura bitters and the cranberry juice. Shake well and pour over ice into a 10-ounce highball glass.
---
Each serving: 139 calories; 0 protein; 35 grams carbohydrates; 0 fiber; 0 fat; 0 saturated fat; 0 cholesterol; 4 mg. sodium.

*

Cucumber Watermelon Mojito

Total time: 5 minutes

Servings: 1

Note: Adapted by Ryan Magarian from a drink developed for Katsuya. Make a simple syrup by boiling granulated sugar in an equal amount of water until the sugar dissolves; allow to cool.

4 triangles seedless watermelon, about 3 inches high and 1 inch thick, divided

7 cucumber slices, divided (6 of them seeded, 1 for garnish)

3 large sprigs mint, divided

1 1/2 ounces soju

3/4 ounce fresh lime juice

3/4 ounce simple syrup

1/2 ounce ginger ale

1. In a shaker, add 3 watermelon triangles, 6 slices of cucumber, 2 sprigs of mint, the lime juice and the syrup. Hand press with a muddler.

2. Add the soju and fill the shaker with ice. Shake vigorously for 6 seconds.

3. Strain over fresh ice into a tall glass and top with the ginger ale.

4. Place a watermelon triangle and a cucumber slice on a toothpick and place in glass for garnish along with a sprig of mint.
---
Each serving: 97 calories; 0 protein; 13 grams carbohydrates; 0 fiber; 0 fat; 0 saturated fat; 0 cholesterol; 2 mg. sodium.
---
Get our weekly Tasting Notes newsletter for reviews, news and more from critics Bill Addison and Patricia Escárcega.
You may occasionally receive promotional content from the Los Angeles Times.