Recipe: Creole file gumbo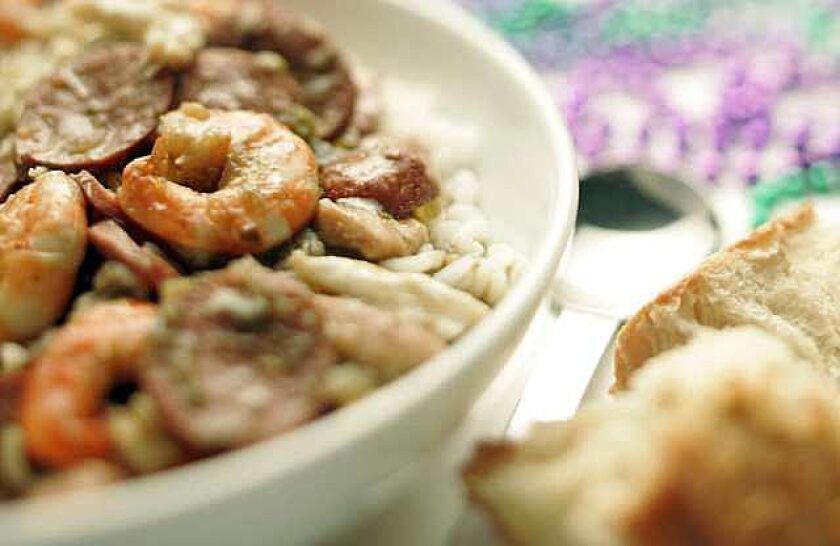 Total time: About 4 hours
Servings: 16
Note: Bayou Magic Cajun Seasoning, gumbo file and Old Bay Seasoning (a spice mix) can be found in the spice aisle of most supermarkets. Serve with white rice and French bread.
1 pound (31 to 40) Louisiana shrimp, shells on
1 cup (2 sticks) unsalted butter
1/2 cup flour
1/3 cup gumbo file
1 large onion, chopped
6 green onions, chopped
3 stalks celery, chopped
1/3 cup plus 1 tablespoon Bayou Magic Cajun Seasoning, divided
2 tablespoons chopped garlic
1 1/2 tablespoons Old Bay Seasoning, divided
1/4 cup chopped parsley
1/4 pound piece smoked turkey ham, cut into 1/2 -inch dice
4 cups chicken stock
2 tablespoons vegetable oil
1 pound boneless, skinless chicken thighs (about 4) cut into 1-inch pieces
2 pounds smoked turkey sausage, cut into 1/4 -inch slices
1 pound lump crab meat
1. Peel and devein the shrimp, reserving the shells. Set the shrimp aside. Rinse the reserved shrimp shells under cold running water and place in a saucepan filled with 4 cups water. Bring to a boil, reduce the heat and simmer for 15 minutes. Strain, reserving the stock and discarding the shells.
2. Make the roux by melting the butter in a large skillet over low heat. Whisk in the flour and cook, stirring constantly, until the roux is a caramel brown color, about 25 to 30 minutes. If it burns even slightly, throw it out and start over.
3. Remove the roux from the heat. Mix together the gumbo file and one-half cup hot water until smooth. Spoon the roux, 3 1/2 cups water and the file mixture into a large stockpot over low heat. Stir in the onion, green onion, celery, one-third cup Bayou Magic, garlic, 1 tablespoon Old Bay, parsley, smoked turkey ham, chicken stock and shrimp stock. Stir occasionally.
4. Simmer, covered, on very low heat for 3 hours, stirring occasionally.
5. About 1 hour before the gumbo is done, heat the vegetable oil in a large skillet and add the chicken. Cook for 8 to 10 minutes over medium-high heat to brown on all sides. Remove to a bowl and add the sliced sausage to the skillet, in batches if necessary. Cook until slightly brown; remove to a bowl. Add the chicken and sausage to the gumbo during the last hour of cooking.
6. Add 1 tablespoon Bayou Magic to a medium saucepan of boiling water. Add the shelled shrimp. Remove from the heat and let the shrimp sit in the seasoned water for 30 minutes.
7. Heat the crab in a small pot of boiling water with one-half tablespoon of Old Bay. The crab is already cooked; you're just adding flavor and heating it before you serve. Remove the crab from the spiced liquid with a slotted spoon.
8. To serve, spoon rice (if using) into bowls, then ladle a cup of gumbo into each bowl and place about 5 shrimp and several tablespoons of crab on top.
Each serving: 380 calories; 29 grams protein; 6 grams carbohydrates; 1 gram fiber; 26 grams fat; 11 grams saturated fat; 216 mg. cholesterol; 662 mg. sodium.
---
Get our weekly Tasting Notes newsletter for reviews, news and more.
You may occasionally receive promotional content from the Los Angeles Times.