New at Dodger Stadium: spicy Mexican street corn, a decent lobster roll and quinoa salad (what would Babe Ruth say?)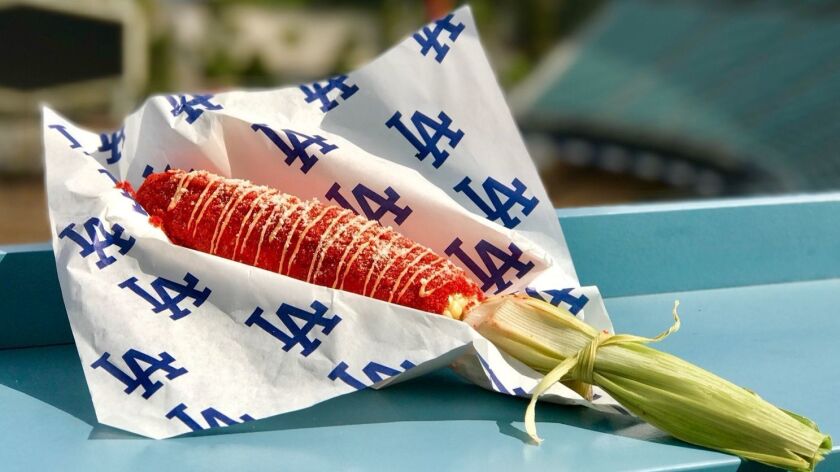 L.A.'s most-popular restaurant, Dodger Stadium, reopens this week with at least 10 new food items on the menu.
Does it do justice to a city bursting with global cuisines, spices you can barely pronounce and plentiful and fresh ingredients?
Not yet. But for three years, executive chef Ryan Evans has been trying to pump up the lineup. Evans has improved the menu, adding a few surprises and some healthful options. If some of the dishes sound familiar, it's because a few come from test drives last year.
We tasted them all, and spotted some big-league potential. Here's a rundown of some of the new dishes.
Cheet-O-Lote
This take on Mexican street corn (elote) confirms the theory that the best finger food usually lands in your lap a little. Evans takes roasted sweet corn, smears it with Chipotle-lime mayo, crushed Flamin' Hot Cheetos, cotija cheese and tajin (chile peppers, lime and salt). Talk about clubhouse chemistry!
Tortas
Featuring grilled meats and nopales, with refried beans and cilantro, this is a fine example of the popular sandwich. Evans' version, which he says is his favorite among the new offerings, succeeds mostly because of the pickled onions and an uncommonly good roll.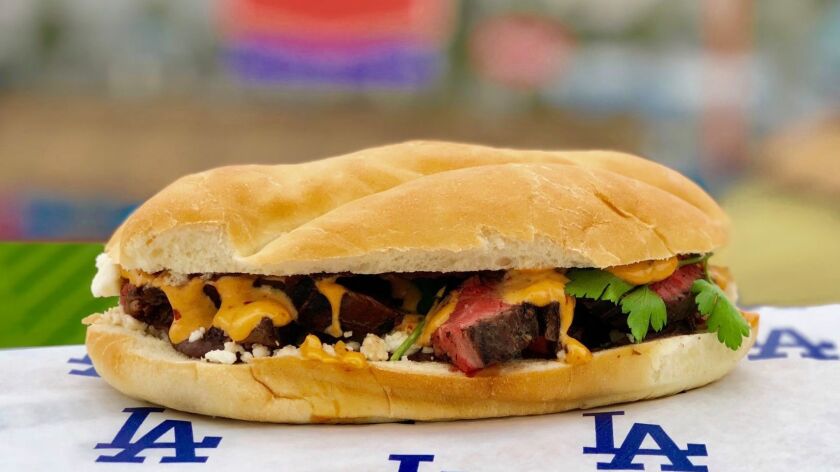 Lobster roll
Most restaurants seem to be rolling out a lobster roll. This one is fairly typical, though the King's Hawaiian roll is a good choice. The price point is to be determined, but look for this in the $15 range, a little high. But isn't all ballpark food double what it should be?
Pretzel chicken croissant
The pretzel croissant kind of overpowers its innards. That's the one fault with this chicken sandwich, which also includes Swiss cheese, aioli, lettuce and sun-dried tomato.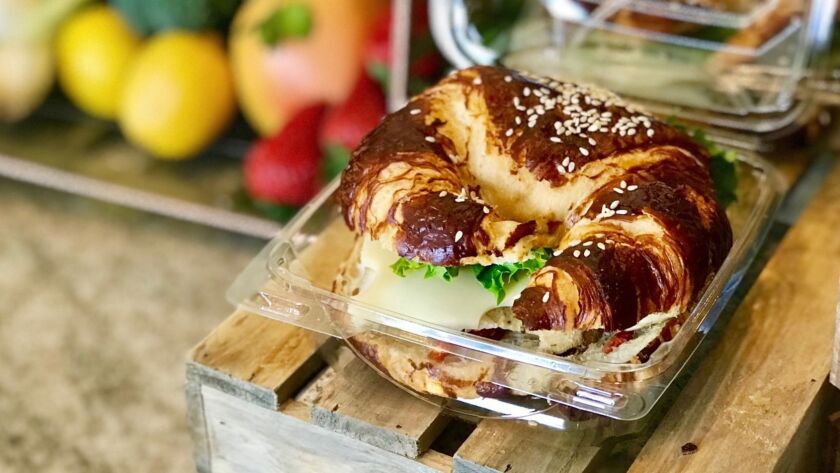 Chicken N'Waffle sandwich
This messy miracle is a Belgian waffle stuffed with crispy chicken, candied bacon and maple syrup. You might leave the ballpark in an ambulance, but you'll be sticky and happy, knowing you left it all on the field.
Spicy chicken sandwich
The sandwich sounds promising, with the chicken tossed in buffalo sauce, and umami aioli and jalapeno slaw included. But somehow it's better on paper than on the bread.
Veggie burger
Selling healthful foods at a ballpark must be like selling bikinis at the Vatican. But this is L.A., and the Dodgers are determined to balance out their high-fat, high-sodium menus with the kind of food actresses must eat. This contains a Portobello mushroom and smoked gouda, and is the best effort to date.
Orange chicken
Served over steamed rice, of course, this bowl of orange chicken seems right off the line at Panda Express.
Quinoa salad
This dish is often flavorless, gritty bird seed. But quinoa fans will probably find enough toasted pine nuts, chickpeas and other enhancements in this generous serving to make it interesting. Still, it'll never make you as happy as a Dodger Dog.
But what does?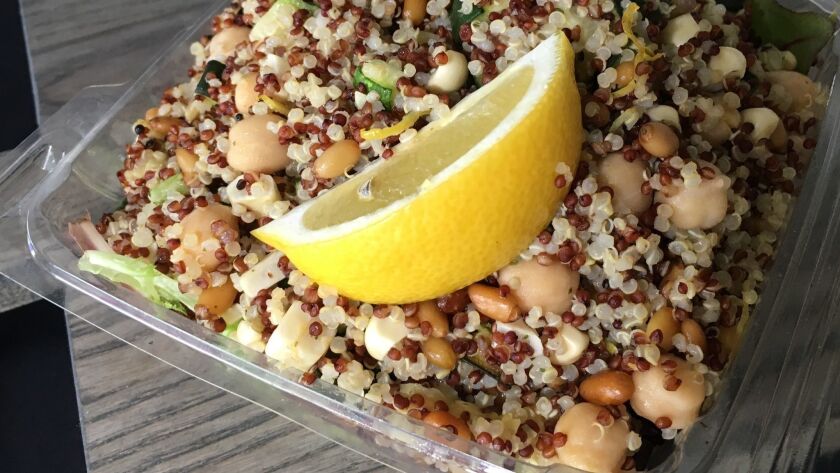 Twitter: @erskinetimes
---
Get our weekly Tasting Notes newsletter for reviews, news and more from critics Bill Addison and Patricia Escárcega.
You may occasionally receive promotional content from the Los Angeles Times.