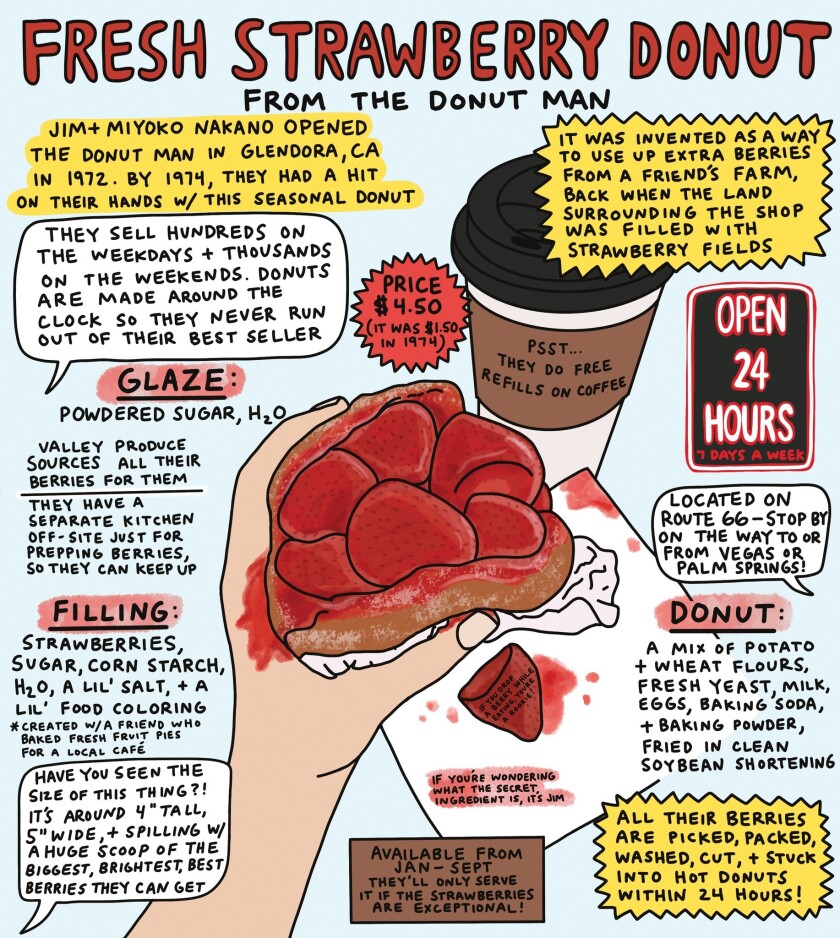 I sent Stacy Michelson to do one of her trademark illustrations explaining and exploring the glory of the strawberry doughnut at Donut Man in Glendora.
Donut Man has been open since 1972, but it landed on most Angelenos' maps in 2007, when Jonathan Gold wrote it up for the L.A. Weekly. He described the shop's signature doughnuts this way:
"Have you ever seen a strawberry doughnut from the Donut Man? It is an iceberg of a doughnut, a flattened demisphere big enough to use as a Pilates cushion, split in two and filled to order with what must be an entire basket of fresh strawberries, and only in season," Gold wrote.
"The fruit is moistened with a translucent gel that lubricates even the occasional white-shouldered berry with a mantle of slippery sweetness, oozing from the sides, turning the bottom of the pasteboard box into a sugary miasma in the unlikely event that the doughnuts actually make it home. The tawny pastry itself is only lightly sweetened, dense and slightly crunchy at the outside, like most good doughnuts, with a vaguely oily nuttiness and an almost substantial chew. It is the only doughnut I have ever seen that is routinely served with a plastic knife and fork. It is worth every penny of the $2.50 it costs."
Stacy's drawing above captures that same sense of exhilaration and excitement, and even throws in the fun fact that coffee refills at the shop are free. In case this isn't enough to get you itching to pick up a box on your next trip to or from Vegas, here's Gold talking about his love of the Donut Man for the Times, from 2016:
---