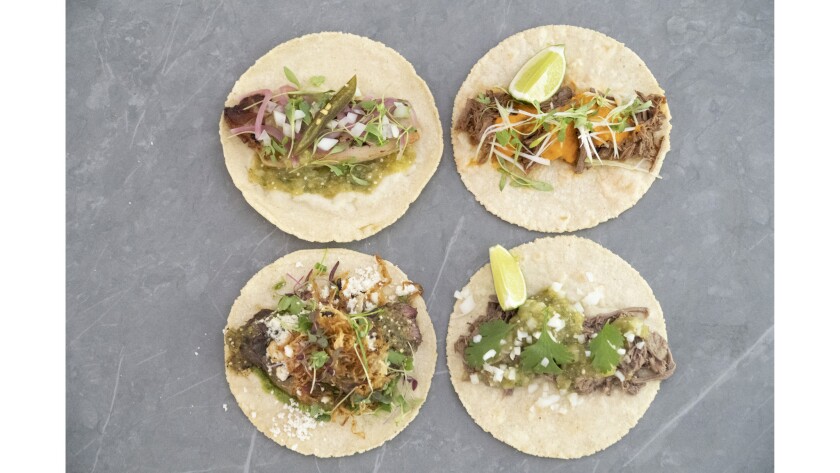 Situated on Aviation Boulevard, the soon-to-open El Barrio Neighborhood Tacos in Redondo Beach stands apart from the local glut of surf-y taco shops and margarita dens. At El Barrio, the barbacoa is made from U.S. Wagyu, the al pastor with heritage pork from Beeler's in Iowa. Tortas come on telera rolls baked exclusively for the fast-casual taqueria. And tortillas, made with heritage corn from Oaxaca, are a particular point of pride. El Barrio, which opens next month, is run by Ulises Pineda-Alfaro and Jesse Duron; the two also work at Umi by Hamasaku, a sushi restaurant in El Segundo, where Pineda-Alfaro is the chef and Duron is the general manager.
The South Bay locals say they want to bring the region its own renowned taco. "Living here, you always have to drive somewhere else to get good street tacos," Duron said. "It's the South Bay bubble."
Pineda-Alfaro has never cooked Mexican food professionally, calling it "probably the scariest menu I've worked on.
"Because there's no better cook in Mexican kitchens than your mom," he said.
Sign up for the Tasting Notes newsletter »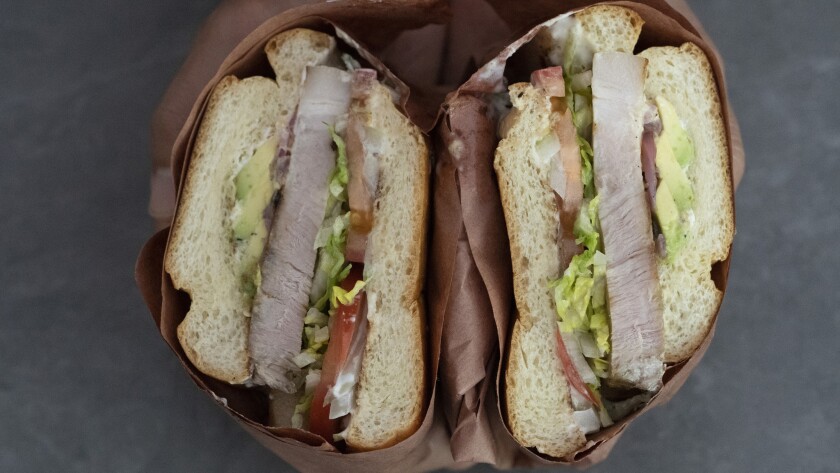 Tacos, priced between $3 and $4, will be the focus at El Barrio, on a menu with six to eight varieties, including asada, pastor and birria de res. Different techniques will be used to maximize texture and flavor. The taco de carnitas, for example, will contain a mixture of sous-vide pork belly and pork shoulder slow-cooked in its own fat.
Rather than have guests tailor their own tacos at a salsa bar, each taco will be served already topped.
"I want to replace your taste buds with mine," Pineda-Alfaro says. "What I bring to the table is the palate of someone who grew up on this food. I want you to taste what I taste."
Pineda-Alfaro was raised in Westchester. His mother is from San Luis Potosi, his father from Acapulco. At El Barrio, he will stick tightly to the roots of traditional Mexican cuisine, avoiding the flour-tortilla-wrapped burritos and quesadillas that would be unrecognizable in his mom's hometown.
Tortas are another point of emphasis, alongside mulitas and aguas frescas. Weekend specials will be specific regional dishes, such as oxtail consommé, mariscos and tortas ahogadas. But it's the tortillas that the owners can't wait to reveal. These are made on site using masa from heirloom, non-GMO corn raised by a collective of family farms in Oaxaca, sourced through the Sawtelle masa company Masienda.
"When I smell tortillas on the comal, that means it's time to eat. That's how I grew up," Pineda-Alfaro says. "We could have sourced a good tortilla. But we want people to be greeted with that smell."
1505 Aviation Blvd., Redondo Beach, instagram.com/elbarrio_tacos
---