Farmers Markets: State oversight funding in jeopardy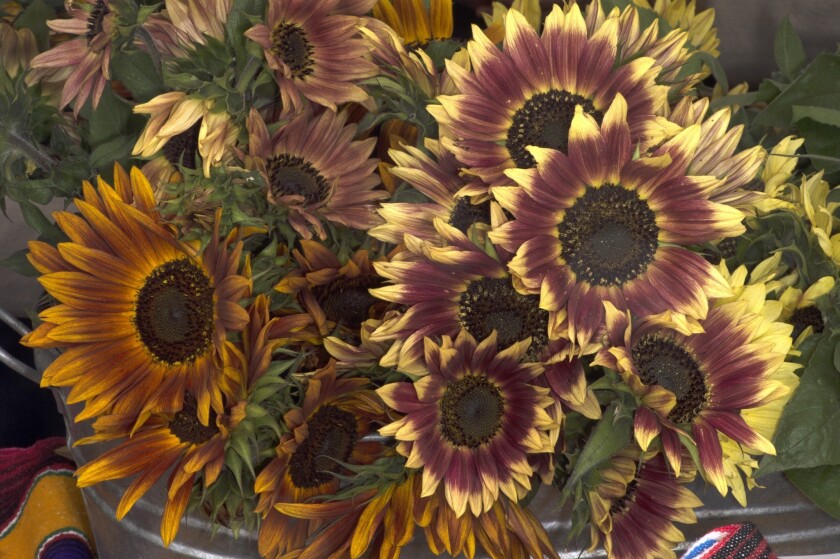 Sunflowers grown by Windrose Farm in Paso Robles, at the Hollywood farmers market.
(David Karp)
Tart and glossy Murrayberries grown by Murray Family Farms in Arvin, at the Santa Monica farmers market.
(David Karp)
Bicolor corn grown by Underwood Ranches of Moorpark and Somis, at the Hollywood farmers market.
(David Karp)
Padron peppers grown by James Birch of Flora Bella Farms in Three Rivers, at the Santa Monica farmers market.
(David Karp)
Elderberries grown by Eric and Helle Todd of Forcefield Farm in Santa Paula.
(David Karp)
Green Payne walnuts grown by Rancho La Vina near Lompoc, at the Santa Monica farmers market.
(David Karp)
Lavender grown by Arria Brasseur and James Fay in Santa Barbara.
(David Karp)
Funding for the state certified farmers market program will likely expire at the end of December as a result of legislative maneuvering in Sacramento. The interruption may be just a month or so, and farmers markets would continue to exist during that period, but market oversight would be curtailed — just the opposite of what many stakeholders were aiming for from California State Legislature.
A broad coalition of market managers and agricultural commissioners had hoped that the Legislature would substantially boost funding for enforcement starting next year, but for reasons that remain somewhat unclear, a bill to that effect, Assembly Bill 996, failed to make it out of the Assembly Appropriations Committee four weeks ago.
As a backup, farmers market industry leaders relied on SB 599, which as originally written extended the current minimal funding for the state farmers market program for an additional four years; otherwise, it was due to expire at the end of 2013.
However, in a move that astounded farmers market veterans, the author of Senate Bill 599, state Sen. Noreen Evans(D-Santa Rosa), amended the bill June 12 by removing its farmers market content and inserting provisions dealing with the state Parks Commission. Funding for the state farmers market program, which had been renewed without controversy every few years for more than a decade, was left high and dry.
Evans felt that the parks issue was urgent and that her "district had more parks slated for closure than any other," said Teala Schaff, a spokeswoman for the senator's office. Evans remains committed to funding and oversight for the farmers market program, she added, and intends to introduce an "urgency bill" in January that would extend the program's sunset provision. It would take effect immediately upon being signed by the governor.
Even if the state program expires, the most powerful weapons in the fight against farmers market cheating will not be lost. Using more general provisions of the state Food and Agriculture Code, as well as state regulations, county agricultural commissioners would still be able to suspend or revoke the certificates of vendors for major violations such as fraudulently selling produce bought from a packinghouse or neighbor; they would also still be able to fine farmers market vendors for minor infractions.
Only certain civil penalties specific to farmers markets would end, and there would be "no effect on our ability to inspect," said Ken Pellman, spokesman for the Los Angeles County agricultural commissioner.
It would, however, be potentially significant over the long term: If the state program is suspended, the California Department of Food and Agriculture (CDFA) would not maintain its databases of markets and producers; state direct-marketing inspectors would not visit markets; and members of the Certified Farmers Market Advisory Committee, the main body that guides farmers market governance, would not be reimbursed for members' travel expenses. "The state program would shut down if and when sunset occurs," confirmed Steve Lyle, a spokesman for the CDFA.
County agriculture officials were surprised and concerned with this prospect and said they were seeking to ensure that the legislative setback was only temporary.
In addition, a recently formed group of stakeholders, the Farmers' Market Alliance of California, is working on this issue, said the group's leader, Ben Feldman, program director of Ecology Center Farmers' Markets, which runs four markets in Berkeley and Albany.
"This is messed up," said Greta Dunlap, manager of the Beverly Hills farmers market. "You would think our elected officials would hold this program in higher regard and work with us to achieve a solution."
***
In other news around the farmers market world, Mary Lou Weiss, longtime manager of the Torrance farmers markets and founder of many markets in the South Bay area, plans to retire in August. For the last month, she has been at home dealing with health problems, but Weiss, 75, plans to return to work for a few weeks in August to help train her successor, who has not yet been selected. She also hopes to continue running the Hermosa Beach farmers market.
The Burbank farmers market, one of the best in its area, will celebrate its 30th anniversary July 22. But a leadership change is coming: Manager Catalina Campbell, who is well-respected in the farmers market community, said she plans to step down July 27 and move to Northern California.
Beverly Hills, which operates a very successful farmers market on Sundays on Civic Center Drive, is considering starting a market on Tuesdays or Wednesdays, said Brad Meyerowitz, the city's recreation services manager. The location and timing are still under discussion, but the market will be intended to appeal to the large number of workers who come into the community on weekdays, he added.
---
Get our weekly Tasting Notes newsletter for reviews, news and more.
You may occasionally receive promotional content from the Los Angeles Times.