Farmers Markets: Bruins like to feed on fresh fruit and vegetables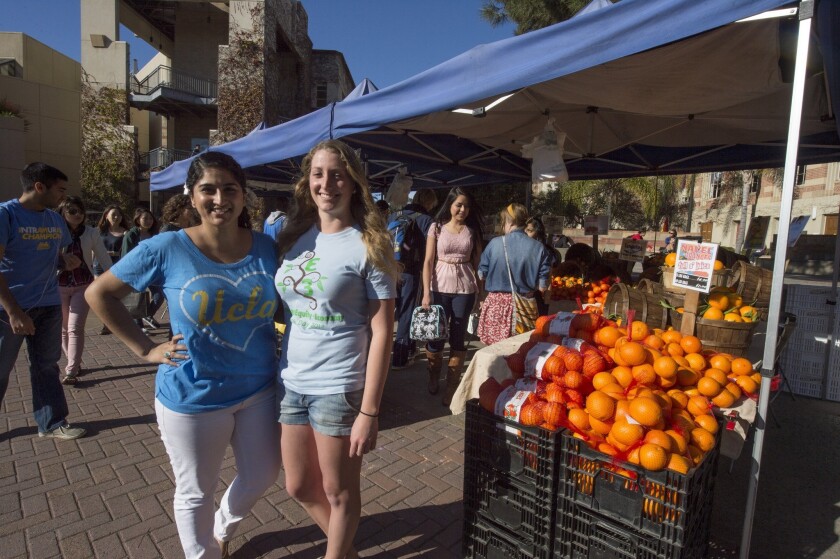 UCLA seniors Jasneet Bains, left, and Joanna Wheaton manage the market on the campus.
(David Karp)
Arnett Farms of Fresno sells citrus, apples and dried fruit on the Westwood campus.
(David Karp)
Melanie Smart, a vendor for Fair Hills Farms, sells Fuji apples grown in Paso Robles at the new Marina del Rey market.
(David Karp)
Ruby Farms of Santa Maria sells strawberries, blueberries and blackberries.
(David Karp)
Raul Taborga of Denny's Organic Farm sells vegetables and berries grown in Nipomo.
(David Karp)
View of the new Marina del Rey farmers market, which is next to Mother's Beach.
(David Karp)
Chua Xiong and her husband, Dao Moua, offer a fresh array of vegetables grown in Clovis.
(David Karp)
Jesus Gama sells early-season cherries grown in Arvin.
(David Karp)
Tanya Wyatt of B&T Farm sells oyster and lion's mane mushrooms grown in her backyard in Hacienda Heights.
(David Karp)
Super Zee peaches grown by Arnett Farms in Fresno.
(David Karp)
In some ways farmers markets are a natural fit at universities, where many students crave healthful, local and organic produce. However, schools are largely closed during summer, the busiest season for markets, and the managers — if students run the market — move on regularly, when they graduate. Such are the challenges at the recently established UCLA market, which is small and operates just twice each academic quarter but is a hit with students and staff.
It's sponsored by Associated Students UCLA, a student-controlled nonprofit, and managed by volunteers from E3, a student environmental organization. Money paid by students to the university's Green Initiative Fund helps to support the market, which started two years ago near dorms but moved last spring to Bruin Plaza, a prime location in the middle of the Westwood campus.
The market, which will be open for the last times this school year on May 8 and May 29, features just four farmers, but they are well chosen for the venue. Many students just want a healthful snack, like the Albion strawberries grown by Ayala's Farm in Oxnard or the dried fruits and nuts from Avila and Sons of Hanford. Next Wednesday, Avila will have fresh Andy G cherries, small and soft like Burlat.
Students who live in dorms typically don't cook many vegetables, but for upperclassmen and staff with their own kitchens, Suncoast Farms of Lompoc brings broccoli, cauliflower, asparagus and artichokes.
The linchpin of the lineup is Arnett Farms of Fresno, which offers a wide range of citrus, apples and stone fruit, all attractively displayed. Their first yellow peach of the season, Super Zee, is alluringly blushed and smells like summer; it's not as sweet or flavorful as a midseason variety, of course, but it's not bad for the first week of May.
"So far the response from students has been pretty good, especially considering that we're not allowed to sample," says Secil Atalay, the farmers market manager for Arnett. (Sampling requires complying with Los Angeles County Department of Public Health regulations, and the student managers are trying to keep things simple.)
A recent winter session with just three farmers sold $4,300 of produce, according to Joanna Wheaton and Jasneet Bains, seniors who co-manage the market. That's far better than average for a new, small market, where vendors more typically sell just a few hundred dollars each.
Bruin Plaza looks spacious but requirements for fire lanes leave only enough space for one additional farm stand, says Bains. The vendors have to offload their equipment and produce, and park elsewhere. Several adjacent prepared foods and crafts stands are organized by Associated Students UCLA independently from the farmers market.
Wheaton and Bains are finishing majors related to public affairs and environmental studies, and it's clear that running the farmers market is a labor of love. Wheaton interned at the Santa Monica farmers market and volunteers at the Sunday Main Street market. She was recently featured in an article in the Daily Bruin, dumpster diving to salvage discarded food.
Nevertheless, it would not be easy for students to find the time to manage a weekly market, and the university's bureaucracy is cautious about expanding the venue before it is clear that it will run smoothly, says Wheaton. Still, she and Bains dream that eventually the market will be held weekly. Meanwhile, they have been preparing underclassmen to take over next autumn, and there's no shortage of volunteers.
Nearby parking is scarce or expensive, and the market primarily aims to serve the UCLA community. The nearby Westwood farmers market, which operates weekly on Thursday afternoons, is readily accessible to the general public.
UCLA Farmers Market, Bruin Plaza, May 8 and 29, 2:30 to 6:30 p.m.
---
Get our weekly Tasting Notes newsletter for reviews, news and more.
You may occasionally receive promotional content from the Los Angeles Times.