The Find: Manja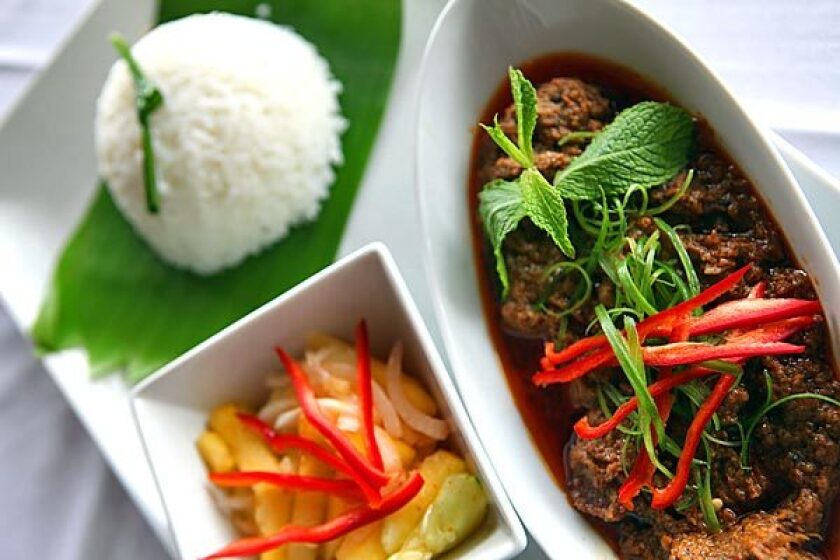 Platters and bowls and condiments crowded our table at Manja, but the mee udang vanished first. Everyone had spooned out second, even third helpings of the toothsome noodles, served in a pristine shrimp broth ruddy with puckery tamarind and punched up with chile. They came topped with half a dozen jumbo shrimp and arrived in a wide porcelain bowl the size of a birdbath.
Your first bite of almost anything at this new Malaysian place, set incongruously in a Russian neighborhood in West Hollywood, will be an undeniable clue that the restaurant's cooking opens a fresh chapter in L.A.'s Southeast Asian eating.
Malaysian food can be many things: an amalgam of Indo-Chinese elements or similar to the cuisine of neighboring Indonesia. Its carnival of street food sellers, roti hawkers and night market noodle vendors have largely set the tone for Southern California Malaysian restaurants.
But the cuisine has a secret side, one that tourists and casual cafes miss. The best cuisine in the country, many Malaysians will tell you, comes from fastidious home cooks whose passion for top-notch ingredients and uncompromising techniques equals that of professional chefs.
With this in mind, native Malaysian Shera Allen opened Manja, taking from-scratch home cooking to a refined new level.
Her efforts are realized in a sauce of freshly roasted crushed peanuts immersed in a clear, spicy base. Unlike the more familiar peanut butter-style substance that accompanies many satays, the sauce's flavor elements remain distinct: The dark roastiness, the nutty taste and the tart, fruity heat amplify one another, ping-ponging around your mouth.
In its way the room is as lush as the food. Sparkly silver paper stars strewn across the floor are lacquered onto the concrete. Dozens and dozens of multicolored silk pillows affixed to the walls line up behind banquets facing cloth-covered tables set with lipstick-red napkin rings.
In the two years it took to bring this building up to code, Allen took the time to ferret out the best local sources for fresh daun kesom, daun kari and other unique herbs, supplemented with premium imported ingredients sussed out by relatives in Malaysia.
Few appetizers come as close to perfection as the shrimp fritters, cucur udang. The brawny disks of battered vegetables embedded with shell-on shrimp and deep-fried tempura style have meltingly rich, soft centers to contrast with crackly shrimp shells as edible as potato chips.
Roti jala, crepes made by swirling a stream of eggy batter onto a hot grill, come folded into triangles like lacy Victorian napkins. You dip pieces into smooth chicken curry, picking up bits of meat to enfold in the crepe.
At $12, appetizers may seem pricy but most will satisfy three or four diners. Entrees, generously served with sides of fresh vegetables, rice and a light soup, seem designed to be divvied up. A party of six sharing two appetizers, two noodle dishes and two entrees were amply fed with pristine ingredients for about $20 each.
Rather than serve fish in curry, Manja stylishly plates first-rate white pomfret steaks over pools of Malay-style curry sauce. Their base of freshly crushed aromatics (garlic, shallots, lemon grass, chiles) called a rempah gives these mixtures their light, clean taste. Ginger-like fresh galangal slices and slivers of preserved lime add further dimension to nasi kari ikan. The fish, propped up with a lemon-grass stalk, is surrounded with crisp bright green okra pods and cherry tomatoes. The sauce for nasi ikan masak lemak, another pomfret dish, sits in a rich chile-infused coconut milk.
Nasi ayam, fried chicken ever so lightly coated with spice to seal in its juicy meat, comes served with a bowl of perfectly cooked rice simmered in chicken broth. And rendang — not the usual long-braised beef cut — is a slab of tenderloin enrobed in yet another permutation of the fresh herb- and chile-based coconut curry.
To drink, fresh fruit juices of watermelon, green apple, carrot and more are naked of sugar or other sweeteners and make a palate-cleansing counterpoint to the spicy seasonings.
Most desserts on the menu seem to be on hold, perhaps because Allen expects a new little Allen shortly. But soon there will be warmed banana in coconut cream and mini-doughnuts with fresh berries and caramel sauce to end the sort of Malaysian meals that have been absent from the L.A. dining scene and likely from all of America.
MANJA
LOCATION
8165 Santa Monica Blvd., West Hollywood; (323) 656-9000.
PRICE
Appetizers (to share) $12; noodle dishes $15; entrees with soup, fresh vegetables and rice $23 to $25.
DETAILS
Open daily 11 a.m. to 3 p.m. and 5 to 11 p.m. All major cards, beer and wine pending. Multilevel parking lot just east of the restaurant.
---
Get our weekly Tasting Notes newsletter for reviews, news and more.
You may occasionally receive promotional content from the Los Angeles Times.