The Find: OShan Island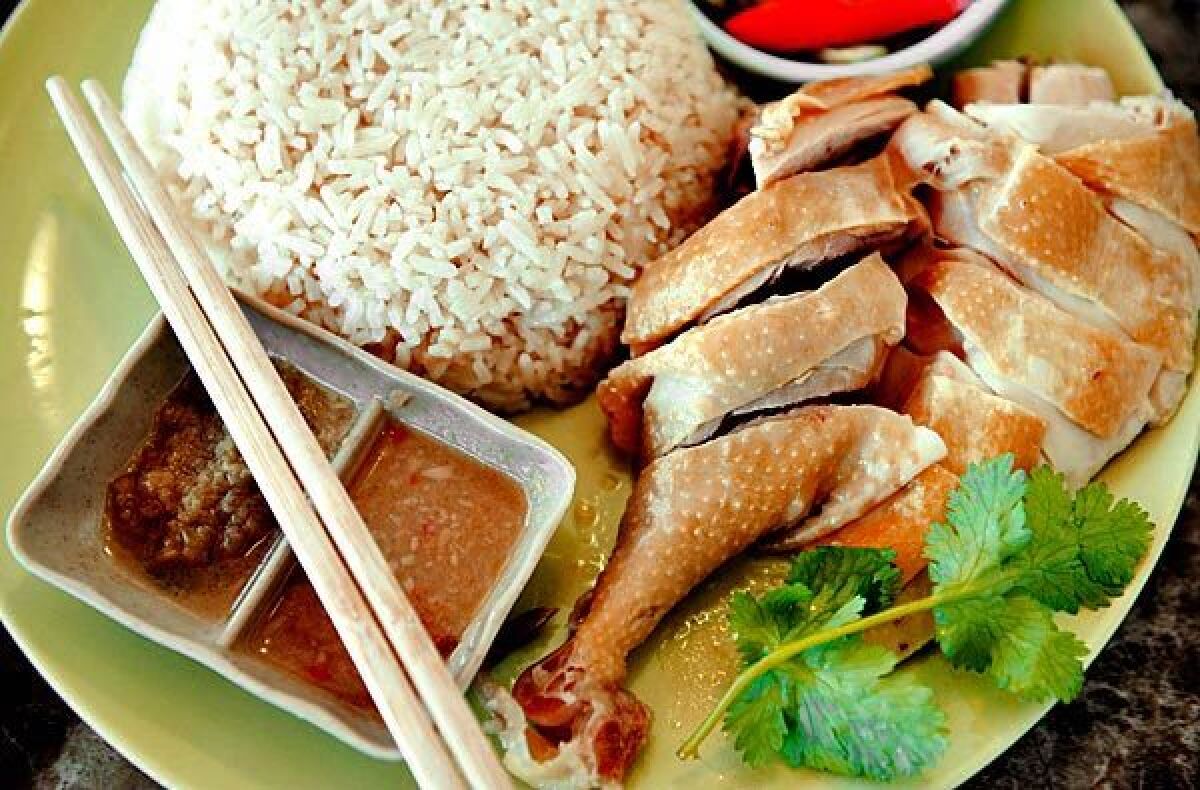 The splashy color-saturated drink menu at OShan Island could easily leave you wondering exactly how the small cafe fits into San Gabriel's food-mad culinary scene. With 123 beverages on the list, is the place merely another refreshment depot hooking its fortunes to the aging boba trend?
But a better indicator is the sign outside announcing Hainan chicken, meaning you've found a rare authentic kitchen serving the food of this Chinese island province. The velvety poached bird, a comfort food favorite everywhere in Asia, is as ubiquitous there (and in this neighborhood) as pizza is in New Jersey.
And though the menu might seem at first glance to be a hodgepodge of seemingly unrelated items — Singapore-style curries, plates of Hong Kong-style spaghetti and steamy bowls of the slippery, wide rice noodles you might associate with southern China — it actually mirrors exactly what's going on in Hainan's kitchens today.
Follow it and you'll go on a fantastically flavorful voyage, tracking Hainan's wave of emigrants who left the overcrowded island off China's southern shores for lives in Singapore, Vietnam, Thailand and beyond. Many eventually returned, bringing with them new tastes.
Years ago the Li family that runs OShan made such a journey to Singapore. Now one of the descendants, Mei Li, does the cooking while her 22-year-old son, Jesse, works the dining room. Mei grew up in Singapore, where her grandparents eventually saved enough to open a restaurant that still operates today.
Mei inherited the curry-making skills that put OShan on my must-return list. The curry base, rendered in the Singapore-Malay style, begins with pounded fresh aromatics like shallots, garlic and fresh herbs. Spiked with a blast of cumin-chile curry powder and mellowed with a bit of coconut milk, it's a marriage of flavors that improves any ingredient. Order it with chicken, lightly fried tofu, seafood, fish balls or chunky stewed beef cubes. Any one will be jaw-droppingly delicious.
And the Hainan chicken? Li's version surely belongs on the passionately debated list of contenders for the city's best. She uses free-range chickens and poaches them to a gentle tenderness. Though not the fattest, plumpest specimens (they have been running around), their deeply chicken-y taste counters Li's two freshly made dipping sauces — one that's slightly sweet and garlicky and another that's spicy and gingery hot. That chicken flavor also permeates the essential broth-infused rice that for many is more important than the bird itself.
But the item that probably reels in the most return customers is called dry Hainan noodle. It's a double whammy of a dish: Hainan chicken chunks resting on a bed of rice noodles tossed with wisps of pickled cabbage, generous sprinklings of sesame seeds and roasted peanuts. It's tangy, saucy, crunchy and chicken-y. You can splash on a little dipping sauce for added punch.
Lately, OShan has added a long list of noodle dishes that, though not inventive, go beyond the merely serviceable. Egg noodles arrive al dente, and delicate wide flat rice ho fun hold their shape. The cooked seafood in noodle soups remains tender and translucent. Pig's knuckles (a.k.a. pork feet on this menu) are splendidly gelatinous in their umami-rich, star anise-kissed sauce.
Though the menu lists 11 fresh fruit slushies, just a few are available each day. The house buys what's in season and sweetens the blend with restraint so the mix in your glass won't duel with the food on your plate.
The same seasonal slant holds for smoothies, fruit and vegetable juices, ices and yogurt drinks.
But though that drink menu could easily lead you into mistaking OShan for a familiar Taiwanese snack and beverage shop, now you know better.
OShan Island Cuisine & Drinks
Location: 704 W. Las Tunas Drive, No. 3, San Gabriel; (626) 293-8128
Prices: Hainan chicken (single, $6.50; half, $8.50; whole, $13.50); Hainan noodle, $5.75; curries, $6.50; noodle and rice dishes average $6.50. Drinks, $2.25 to $3.50.
Details: Open 11 a.m. to 9 p.m. Wednesday to Monday; closed Tuesday. Lot parking. Cash only. No alcohol.
Get our L.A. Goes Out newsletter, with the week's best events, to help you explore and experience our city.
You may occasionally receive promotional content from the Los Angeles Times.