The Find: Gish Bac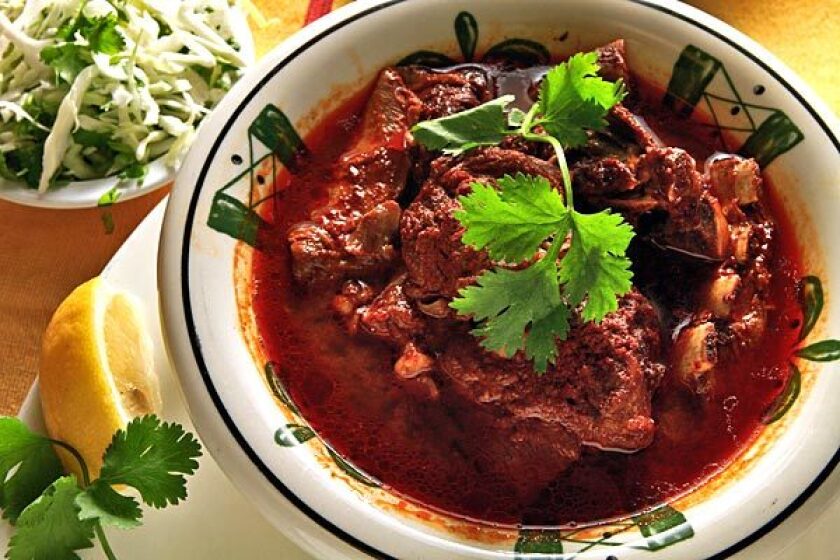 At David Padilla and Maria Ramos' Oaxacan restaurant Gish Bac, the weekends are made for goat and lamb barbecue. A third-generation barbacoa specialist, Ramos began learning the trade of goat and lamb barbecue as a 10-year-old in Oaxaca's Sunday market in Tlacolula — one of Mexico's longest-running markets — where her family still operates a stand.
The couple came to Los Angeles in 1992 and immediately began catering private events. This went on until a year ago, when a growing chorus of requests from attendees at these gatherings demanded more regular access to Ramos' barbacoa. Padilla and Ramos found a restaurant location in the heart of Mid-City, and Gish Bac (roughly, "from Tlacolula") was born, home to what might be L.A.'s best licit barbacoa.
But it's not all about the barbacoa. The mole negro, or black mole, is prepared with more than 30 ingredients, including herbs and spices such as cinnamon, thyme, star anise, dried fruits, toasted ground nuts plus bread and tortillas for consistency. At its base is a variety of chiles including the chihuacle, mulato and costeño. Viewed up close, there are subtle streaks of colors from the various chiles and spices. It's a smooth and refined mole, neither overly sweet nor one-note — it's brilliant.
The stack of corn tortillas drowned with herb-laced black-bean puree, known as the enfrijolada, may be even better, with a depth of flavor that elevates the dish far above the humble bean. And the breakfast drink chocolate de agua is a grown-up hot chocolate rich with imported Oaxacan chocolate.
The couple makes everything in-house: tasajo (salt-cured beef), cesina (marinated pork), chorizo and moles. Their cooking comes from the Valle de Oaxaca, where Zapotec native culture thrives. Its cuisine is the most respected of the seven cooking regions in a state famous for its gastronomy.
"The Tlacolula market where we are from is like your Wednesday Santa Monica market here," Padilla says. The big difference at their restaurant in L.A.? "In the [Oaxaca] market, we can offer samples to all the people walking by."
Gish Bac offers barbacoa blanca and enchilada on the weekends. The former is pit-roasted lamb scented by avocado leaves and served with an intensely seasoned, meat-perfumed consommé. Pancita, a hodgepodge of chile-flavored lamb offal stuffed in a whole stomach, precedes the main course. The barbacoa enchilada is goat roasted over avocado leaves and served in its juices.
Every mouthful of goat barbacoa — tender meat infused with intense aromatics — yields the distinct flavors of dried red chiles, cloves and ripe tomatoes.
Most customers are Oaxacan at this modestly designed space — regional tchotchkes add a touch of charm. There's a stainless steel taqueria-style condiment island containing simple salsas that are amazing in freshness and zip. There's a diner counter near the kitchen that in a perfect world would serve sips of mescal — but Gish Bac has no liquor license.
At a large table, a family celebrating its daughter's first Communion tears apart several clayudas, big, flat, crispy tortillas covered with beans, string cheese, house-cooked meats and vegetables.
Smiling and out-of-breath, two guys drag in a large pot to stock up on barbacoa-to-go for a private event. The entire kitchen staff starts running and pushing past each other, and a goat party package to-go is put together in minutes.
---
Get our weekly Tasting Notes newsletter for reviews, news and more from critics Bill Addison and Patricia Escárcega.
You may occasionally receive promotional content from the Los Angeles Times.