The Find: Krua Siri in Thai Town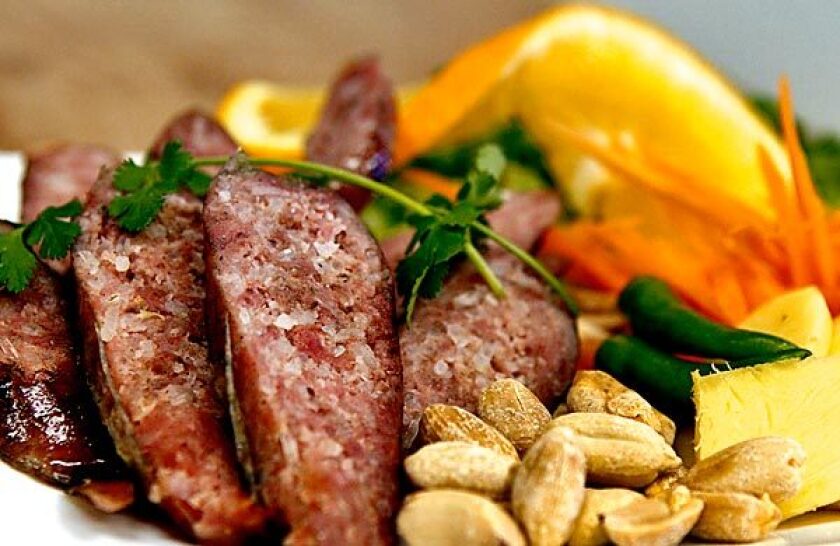 A brand-new flaming star of glorious, singing, singeing Isaan Thai cooking has landed smack in the center of Thai Town. But it's hiding behind a false face. Krua Siri smells right, but the menu seems all wrong. It's chock-full of such depressingly non-Thai dishes as orange chicken and Vietnamese pho — the sort of pan-Asian pandering that typically marks an insincere kitchen.
But press the waitress for her favorite items and she might start dropping dishes that appear nowhere on the menu. Press her enough and she might casually mention the existence of a "Thai menu," at which point every food-hunting alarm in your head should start blaring at once.
The actual physical Thai menu turns out to be utterly useless for the non-Thai-literate — there are no pictures, no English translations, not even a hint of Western script. It's got a lot of central Thai dishes, which are pretty good. But chef and owner Sam Borasan is from Isaan, and the gleaming heart of his cooking is in the vivid, crisp salads and spiced meats of northeast Thailand.
Some of these Isaan delights turn out to be hiding in plain sight, squeezed between the other stuff on the English menu. Most vital among them: a gorgeous, handmade Thai sausage. Each bite is texturally fascinating, from the snap of the skin to the firmness of large hunks of rough-cut pork, cut with soft, melting bits of pork tendon.
The sausage is muscular and explosive, blazing with the power of sour. Borasan cures the stuff for four days, and the result is the perfect tang of honestly fermented pork. It starts subtly behind the savory and spice, and then rises until your whole body is radiating with the energy of beautiful sour. It's so powerful that a bite of raw ginger actually serves as the palate-cleansing come-down.
Some of the Isaan dishes are nowhere on the English menu, like what the wait staff calls "spicy squid salad Isaan style" — yum planuag. "If you want this again, you have to say 'Isaan style,'" orders the waitress. What comes out is curls of barely cooked squid, caught just at the point where it's somehow chewy and meltingly tender at the same time. It's all zippy energy — mighty sour, mighty spicy, a touch fermenty, but all the flavors clear, refusing to obscure the gentle sweetness of fresh squid.
Another specialty of the house is laab — chopped meat salad shot through with vinegar and toasty bits of rice meal. The English menu announces pork, beef and chicken laab, but if you win over the wait staff, they'll reveal that they also serve duck laab and catfish laab. "Thai people come from all over the neighborhood for the catfish laab," says one waitress. The catfish laab is a weird delight: dried, shredded, softened fluffs of catfish, mashed with crunchy bits of onion and scallion, like some warm, demented, tropical-hallucinatory version of tuna salad.
The waitress, though, will happily reveal that her favorite laab is chicken, and it's perfect. "Most places don't make it right," says the waitress. "They don't put all the right stuff in it." This laab contains dense chunks of chicken, bits of intensely chewy chicken innards, even a few slivers of chicken spleen, all covered in that essential ingredient: toasted rice meal, which gives everything that last push of roasty crunchiness. Be sure to eat your laab mixed with bits of sticky rice.
If you keep asking for hidden Isaan dishes, the waitress might tell you about something she calls "garlic little bird," flapping her arms helpfully to illustrate the word "bird." What comes is truly tiny and truly delightful: little fried tidbits of bird, crouton-crispy and covered in a layer of warm, golden-fried garlic chunks. There's also tom yum kai ban, an Isaan chicken soup that the wait staff will repeatedly warn you contains wild chicken — very strong, very tough. Bits of gamey, boney, intensely chewy chicken that you have to carefully nibble off the bone give this soup a savory intensity.
The crowd-pleasing favorite, though, might be their version of som tam — green papaya salad. If you're used to a quiet, well-mannered version that sits quietly in the corner and does as its told, then prepare to be sucker-punched. Their version gleams, full of searing sours and fermented fish flavors and balancing sweets. Order it, if you're brave, with "fresh shrimp," which is code for raw shrimp. And at the end, after your table has devoured the salad, take a spoon and sip the jade liquid at the bottom, a mélange of the green papaya juices, raw shrimp juices and their glorious, all-points-assault of a dressing. It tastes like a Belgian beer made from grapefruit and tide pool.
Please note: If you order the salad at least moderately spicy, as you should, you will discover that it comes with a large number of dark, crispy green beans and a small number of identically dark green face-punching chiles. This is, perhaps, an elegant culinary joke; it is surely funny to somebody, though it may not be you.
KRUA SINi
LOCATION: 5103 Hollywood Blvd. (at Normandie Avenue), Los Angeles. (323) 660-6196
PRICE: Appetizers, $4-$10; entrees, $6-$13.
DETAILS: Open 11:30 a.m.-11:30 p.m. Sunday to Thursday, 11:30 a.m.-2 a.m. Friday and Saturday. Thai iced tea, soda, beer and wine. Credit cards accepted. Street parking. Delivery available.
---
Get our weekly Tasting Notes newsletter for reviews, news and more.
You may occasionally receive promotional content from the Los Angeles Times.