The Find: Russian Dacha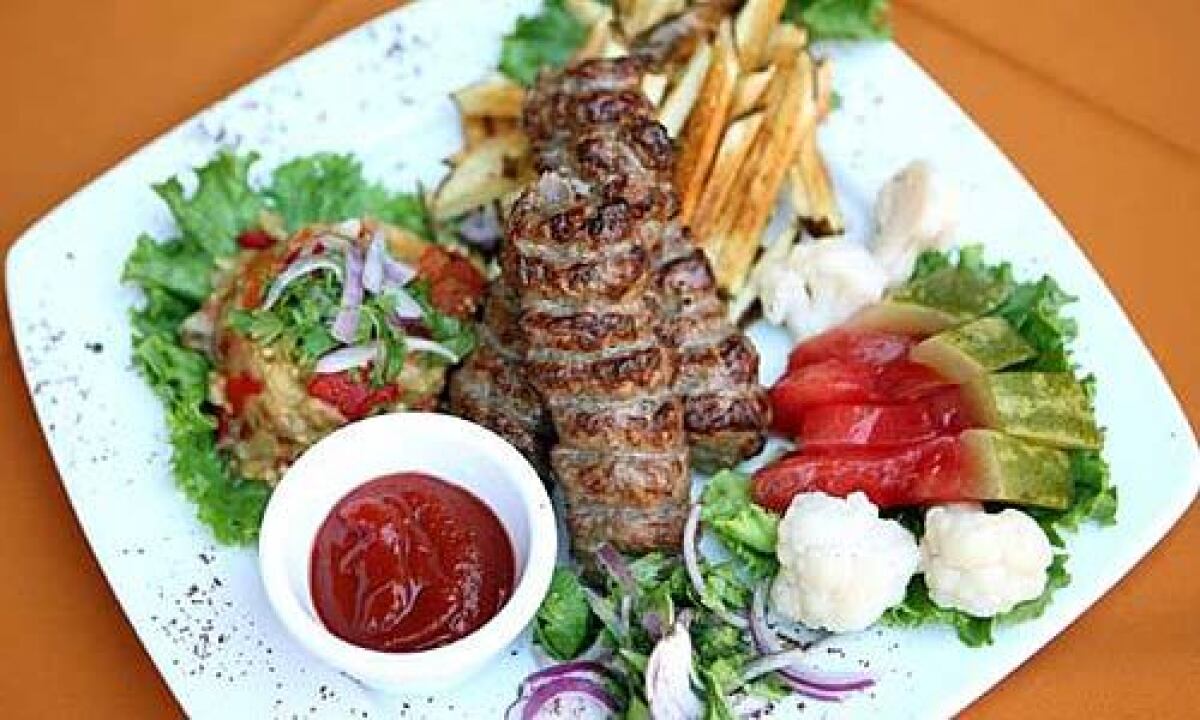 Russian Dacha is walled off to the world, concealed behind a picket fence erected to quiet the crush of cars along Laurel Canyon Boulevard. It doesn't create a sense of isolation but, rather, one of solitude -- the restaurant is an hommage to the dacha, a class of sprawling estates in Russia's exurban forests that capture a kind of lost country living. And behind its fence, Dacha ably honors that tradition of leisure and ease.
The restaurant, which has been planted in Valley Village for a few years now, has a clear rustic style. Decor doesn't dip into camp, however; Dacha instead cultivates cafe-like environs: The dining area is a simple, open courtyard shaded in part by a canopy of bougainvillea and bounded by a few rose bushes. As with so many Russian restaurants, friendly and familial gatherings are common here -- there's a semiprivate gazebo for just that -- and Dacha maintains a relaxed, convivial atmosphere because of it.
Many splendors
Dacha offers dishes of various Russian and Eastern European provenances, a multinational trait evident in the appetizers. Most of the starters (and, in fact, nearly all of the entrees) can be ordered in either small or large portions.
Unless you have a party to feed, it's best to ease slowly into the menu. Borscht is, of course, an option, but consider kharcho instead, a Georgian beef and rice soup most prominently flavored with sour plum. There are all kinds of variety plates (assortments of smoked meats, fish, vegetables and cheese) as well as the requisite herring and onions and salo, a fatty, salt-cured cut of pork that can doom any diet.
The restaurant's salads are further evidence of its cafe style. The standards are represented -- including "stolichny" potato salad -- but the restaurant breaks conventions with its duck salad, which tosses an ample handful of duck breast, mandarin orange wedges and diced pecans together with various greens -- the salad is more Californian than Russian.
Diners can also construct small-plate meals at Dacha, as a number of entrees are easily divided among the table. Try doling out the restaurant's six types of vareniki, dumplings filled with meat, cabbage, mushroom, potato, cottage cheese or cherry.
Better, though, is the stuffed cabbage. Unlike other versions that succumb to sogginess, Dacha's stuffed cabbage maintains its shape -- the leaves are plenty pliable, still a bit crisp and topped with a sprinkling of dill to tease out a familiar pickled punch.
Among the stouter entrees, chicken tabaka is Dacha's best. The dish, however, isn't actually chicken but pressed and pan-fried Cornish game hen. It's a simple preparation: The bird is flattened in a pan until it's armored in a golden crust that seals in every ounce of moisture. As with all of the entrees, the tabaka is available with your choice of a few Americanized sides, but opt for buckwheat, a decidedly Russian decision that will give you plain groats that are fine with any plate.
Classic pairing
Almost as good is the stewed pork with prunes. A classic pairing, the meat and fruit are cooked down until completely tender. More meat is offered with the lulya kebab, the Eastern European incarnation of the lule kebab: formed from either chicken or beef, the garlic-laced logs aren't as good as the best of their Mediterranean relatives but do certainly compete.
Blintzes seem to dominate dessert, though options like stewed prunes with walnuts and sweetened sour cream also command plenty of orders. But however you finish your meal at Russian Dacha, there always seems to be something more -- be it a cool gulp of kvas or strawberry-, cherry- and pear-infused kompot, a few extra seconds of friendly company or a passing sniff of the restaurant's makeshift garden.
---
Get our L.A. Goes Out newsletter, with the week's best events, to help you explore and experience our city.
You may occasionally receive promotional content from the Los Angeles Times.