Rollie's Bakery Café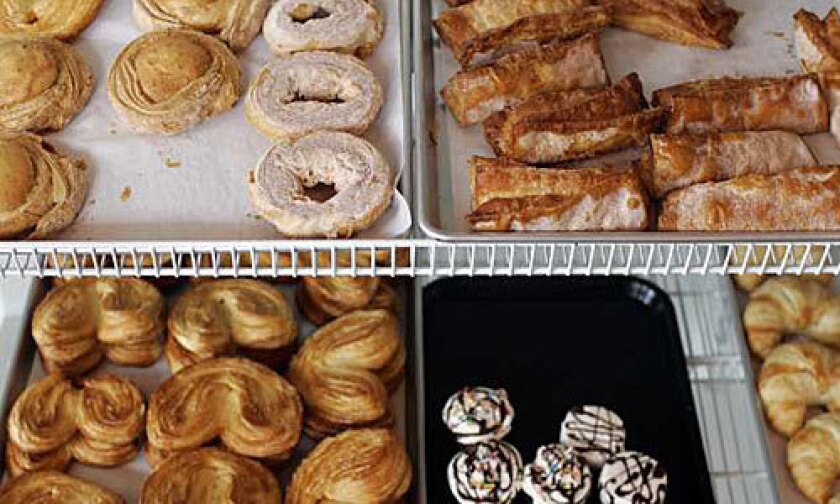 The wall of sweets inside Rollie's Bakery Café in Tustin -- a collection of shell-shaped conchas, rows of cinnamon-crusted confections and a group of fluorescent pink pastries -- is deceiving. The year-old restaurant is part panadería, but it has also evolved into something more anomalous: a rare outpost of Bolivian cooking.
That Andean element crept slowly into the kitchen: In its nascent months, Rollie's operated only as a bakery, serving the sugary Mexican staples that satisfy those not quite close enough to neighboring Santa Ana. Slowly, however, the restaurant began adding Bolivian dishes until it arrived at a set of parallel menus -- one each for Roland Guerra and his wife, Ebie.
Rollie's is the result of a culinary marriage that mirrors the Guerras' own, inheriting recipes from Roland's Bolivian background and Ebie's Mexican heritage. It's that pairing, now finally fully formed, that propels the family restaurant.
Salteñas are ubiquitous here. The Bolivian sibling of empanadas, salteñas inevitably recall footballs -- braided dough sutures their centers like sets of laces; crusts are glazed to a sugary patina like well-worn pigskin. Rollie's serves its salteñas in shallow bowls that capture the juices that gush from the pastries once they're cracked open. Inside is a finely spiced mix of ground beef and chicken, peas, potatoes, slivers of hard-boiled egg, olives and raisins. These salteñas are sweeter than some, but good nevertheless.
Ease into the heftier end of the Bolivian menu with a bowl of sopa de mani. A peanut-based soup with buoyant bits of beef, potato and onion, sopa de mani can be its own meal if you opt for the biggest bowl. Most of the sizable entrees come with rice as well as chuño, a freeze-dried potato product originally created by spreading out spuds on the ground in the Andes for a few frozen nights.
Opting for steak
Steaks reign at Rollie's, and the falso conejo is an excellent option. A pounded-flat, pan-fried steak soaked in a red ají chile sauce, the falso conejo (literally "false rabbit" -- a name bestowed on the dish because it's supposed to mimic rabbit's taste and texture) isn't particularly spicy, especially after the heat has been cut with a mountainous pile of rice and chuño. The lomo montado is an even stouter combination: a thick-cut steak with two over-easy eggs, salad, potatoes, rice and plantains.
The sajta de pollo, a plate of tender roasted chicken bathed in a yellow ají sauce, is another capable plate, as is the faintly fried chicharrón with huge kernels of earthy hominy. The best way to economize at Rollie's is with the lunch special, a three-course affair that progresses through a small cup of soup, a half-sized entree and dessert.
Breakfast pastries
Although Rollie's has the handmade tortillas with which to take on any taquería, its Mexican menu (including a set of tortas featuring slabs of fresh-baked bread) isn't as strong as its Bolivian counterpart. Still, the best time to order from the Mexican menu is at breakfast, when you can bag a still-warm pastry to pair with a plate of chilaquiles.
Rollie's pours some Bolivian beverages, including mocochinchi, a quenching cinnamon-infused drink made from cooked, dehydrated peaches; and api, thick and cider-like. The restaurant plans to start serving Mexican and Bolivian beers and wines. Like the gradual growth of the menu, the alcohol won't add up to a transformational step but, rather, an evolutionary one -- another marriage meant to be.
---
Get our weekly Tasting Notes newsletter for reviews, news and more.
You may occasionally receive promotional content from the Los Angeles Times.