Food Bowl this week: A pizza party, plus wine and bowling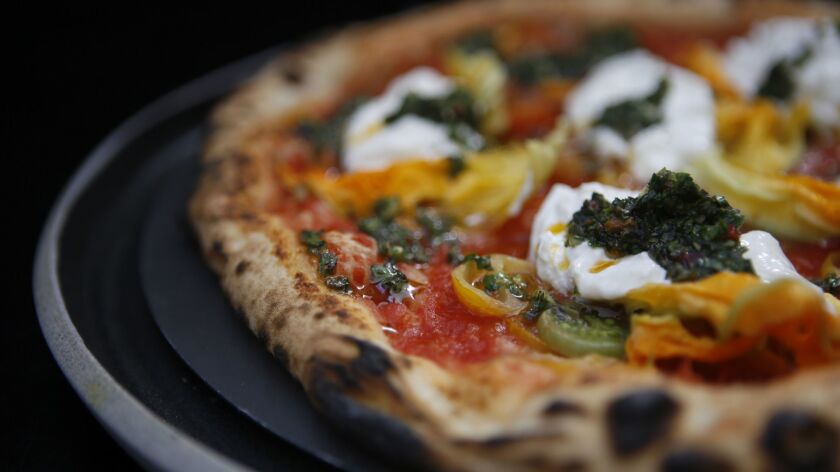 Food Bowl continues.
This week features a pizza party, a full day of wine consumption at a bowling alley, plus a chef film screening — and some serious restaurant industry conversation. There are also dinners, discussions, screenings and lots of food and drink going on.
MAY 19: A TUTTA PIZZA
"A tutta pizza" translates to "all-out pizza." This event features all-you-can-eat slices from New York to Chicago, and Roman to Neapolitan — plus craft beers; panels and Q&A with chefs and food aficionados; cooking demos; and culinary workshops.
$20-$125, noon to 8 p.m. at the Hollywood Palladium. Tickets and more info at: lafoodbowl.com/events/a-tutta-pizza-l-a-s-pizza-fest.
MAY 19: MAJORDOMO + CHEF YU BO
Chefs David Chang and Jude Parra Sickels of the Chinatown restaurant Majordomo welcome special guest chef Yu Bo of Yu's Family Kitchen in Chengdu, China for a special lunch-time service. A limited number of special large-format dishes will be served for one-day only on a first-come, first-served basis.
11:30 a.m. to 4 p.m. at Majordomo. More info at: lafoodbowl.com/events/majordomo-lunch-with-chef-yu-bo.
MAY 20: L.A. CHEF CONFERENCE
Featuring chef speakers, panelists and cooking demos from the restaurant industry for the restaurant industry. Topics include: how to open a restaurant, mental health in the restaurant industry, pastry chefs, food sustainability and the food media.
$85-$110, 8:30 a.m. to 7 p.m. at ArcLight Cinemas and the Gourmandise School. Tickets and more info at: lafoodbowl.com/events/l-a-chef-conference.
MAY 22: AN EVENING WITH CHEF GAGGAN ANAND
A screening of "Chef's Table" followed by a discussion with chef Gaggan Anand and director David Gelb. Anand, who is from India, runs the restaurant Gaggan in Bangkok, Thailand, considered among the best in the world. Gelb also directed "Jiro Dreams of Sushi."
$20, 7 to 10 p.m. at the Wiltern. Tickets and more info at: lafoodbowl.com/events/chefs-table-an-evening-with-chef-gaggan-anand.
MAY 25: WINE BOWL
An evening that demonstrates that the most conducive setting for exploring the world of natural wine is, in fact, in the cacophony of a bowling alley while getting day-drunk and huffing down burgers from Chris Kronner's Oakland Burger Paradise. Tickets includes burgers, bowling, music, flights of wine.
$75-$85, 11 a.m. to 4 p.m. at Highland Park Bowl. Tickets and more info at: lafoodbowl.com/events/wine-bowl.
MAY 27: OUTSTANDING IN THE FARM
For the second year in a row, guests are invited to Weiser Family Farms in Tehachapi, where chef Rodolfo Guzmán of Chile will create a feast utilizing grains and vegetables harvested from the fields and foraged finds from the surrounding mountains. A four-course family-style, long-table dinner is preceded by a cocktail hour.
$285, 4 to 9 p.m. at Weiser Family Farms. Tickets and more info at: lafoodbowl.com/events/outstanding-in-the-field-weiser-family-farms.
Instagram: @AScattergood
---
Get our new Cooking newsletter.
You may occasionally receive promotional content from the Los Angeles Times.