Review: At Forn Al Hara in Anaheim, it's all about the flatbreads and cheese boats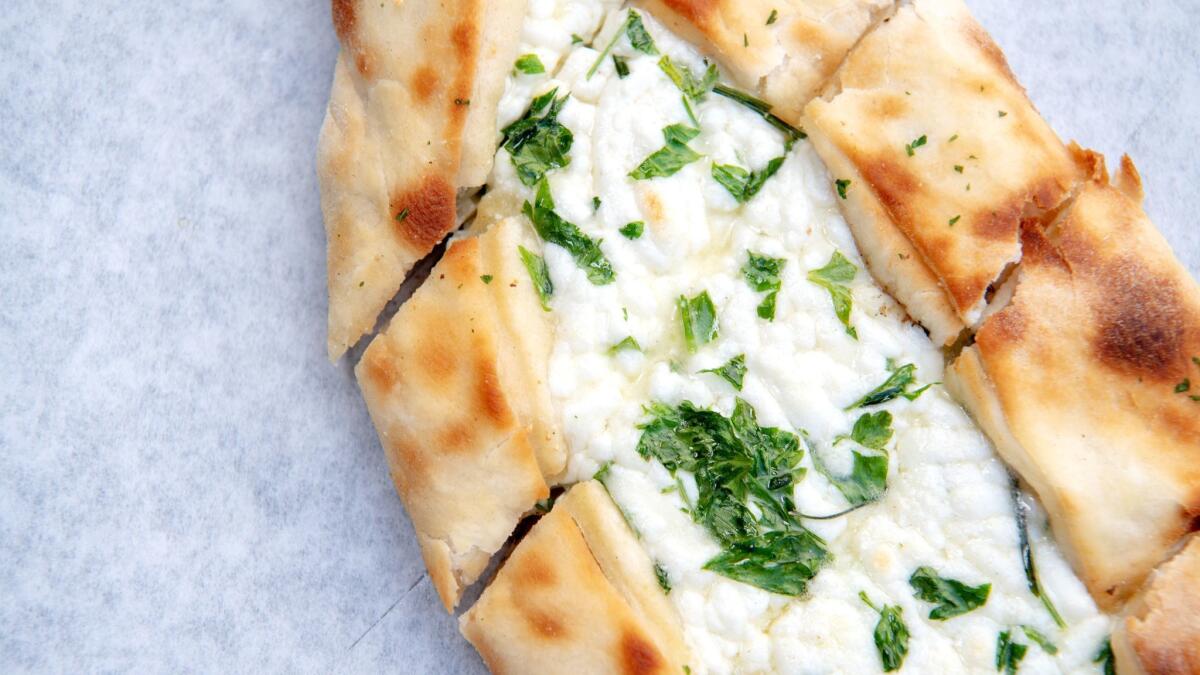 Restaurant Critic
Mo Alam, owner of the Forn Al Hara restaurant and bakery in Anaheim, has a conspicuous talent for hospitality. He's known to greet most customers by name ("I've been here 16 years," he explains. "Everybody knows me and I know almost everyone") and he seems to have a knack for turning new customers into would-be regulars.
First-timers are routinely plied with free samples. "Have you tried the cheese boat?" Alam asks, pressing the soft, doughy pastry into your hand before you can answer. "How about the house-made za'atar?" He sprinkles a pinch of the spice mix onto the palm of your hand. You touch the dusty, aromatic stuff to your tongue. It's pleasingly fragrant and tangy, with a faint licorice-y hint of anise.
Before you know it, you find yourself staring up at the giant board menu hanging behind the counter — more than 50 breads, pastries and sides in all. Much of the appeal, and the challenge, of dining at Forn Al Hara is containing your appetite to just a handful of dishes. Over-ordering feels inevitable.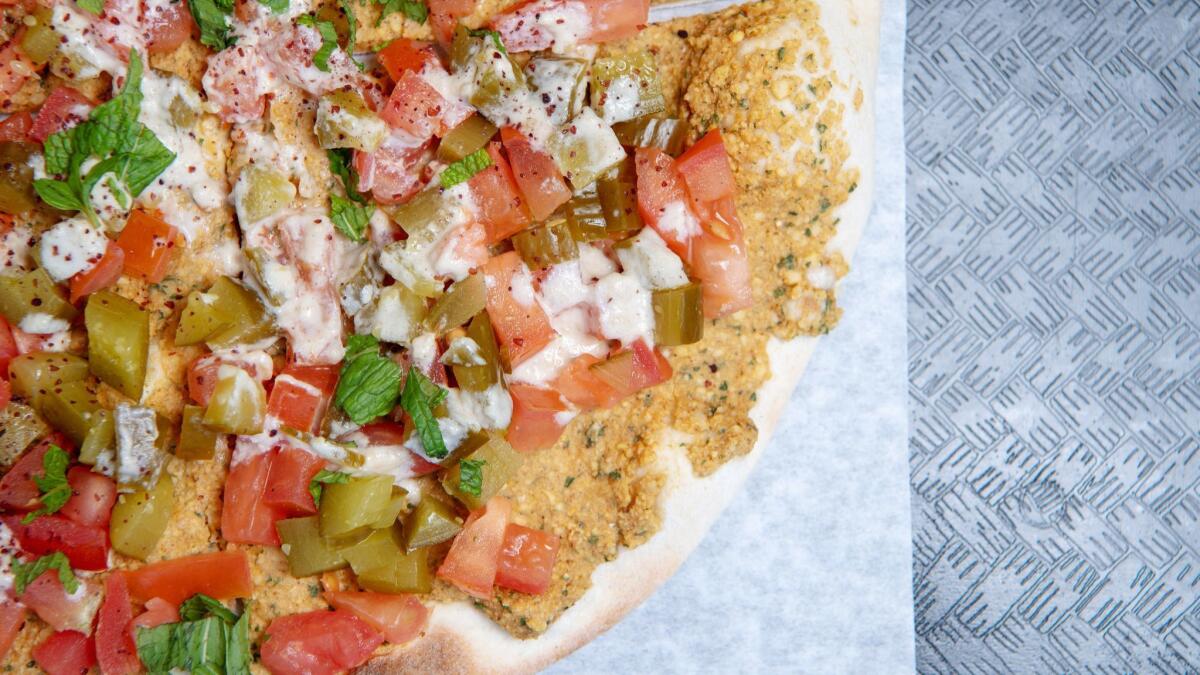 Tucked deep inside a U-shaped strip mall in the heart of Anaheim's Little Arabia District, Forn Al Hara has been a mainstay on restaurant-dense Brookhurst Street for almost two decades. It's earned a reputation as one of the most reliable flatbread joints in the neighborhood, a place equally suitable for light snacking or feasting, and pretty much everything in between.
Review: The Manufactory's Alameda Supper Club needs more Chris Bianco magic »
A great portion of the menu is devoted to manakeesh (the menu uses the variant spelling "manaeesh"), the thin, blistery, crisp-edged flatbreads that are a breakfast staple in Lebanon. There are two sizes to choose from: the Frisbee-size regular manakeesh or the "mini-manakeesh," roughly the size of a tea cup saucer. Flatbreads are topped with everything from homemade sausage to herb-spackled cheese, and baked to order in the kitchen's massive natural gas hearth oven.
You'll want to try the manakeesh with the cured beef sausage called soujouk; the sausage is juicier and looser than you might expect, with a spiciness cut nicely by a jolt of vinegar. Sfiha, ground meat blended with pomegranate molasses and a pantry-ful of spices, vacillates brightly between sweet and sour. If you have a thing for falafel in general, you'll want the falafel veggie manakeesh, the flatbread smeared thickly with a richly spiced chickpea spread and sprinkled with diced tomatoes and pickles. It's clever and delicious.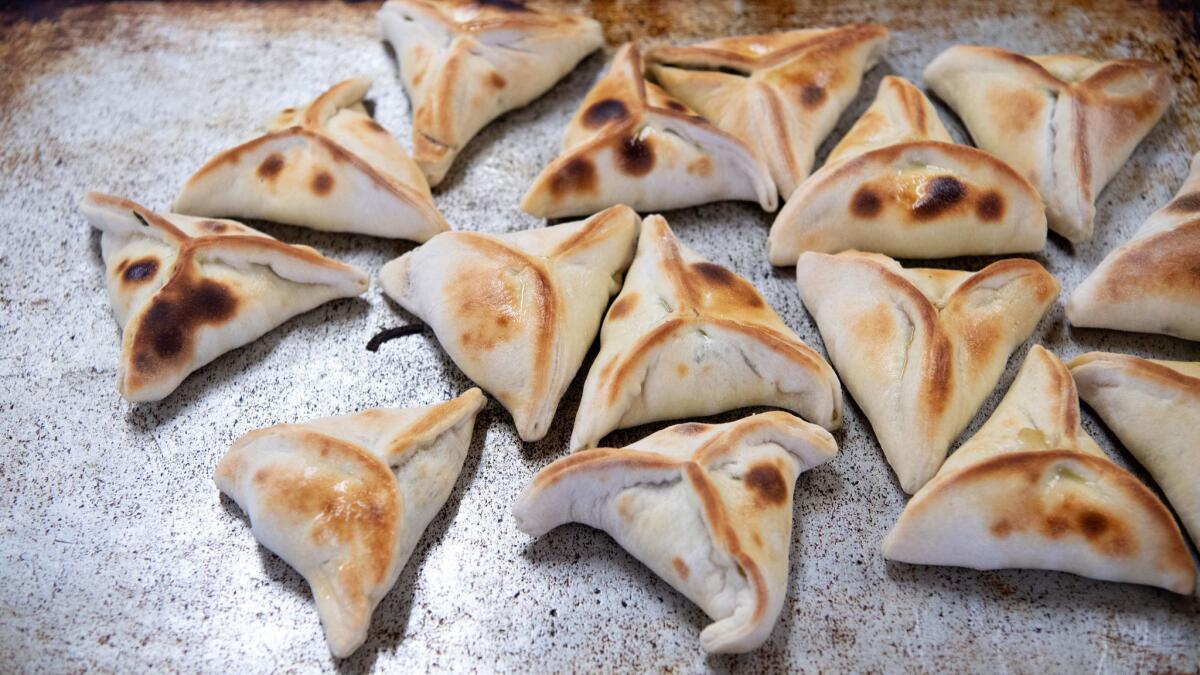 A straightforward egg and cheese manakeesh is more satisfying than you might imagine: deeply flavored and sneakily buttery. The pomegranate-sweetened pepper dip muhammara features a bold, complex sweet-tart hummus-like spread.
Maybe the best thing you can eat at Forn Al Hara, though, is the labneh and honey flatbread, a sweet-savory bread brimming with tangy soft white cheese and great swirls of honey.
Review: Tartine Bianco at the Row is where all your bread dreams come true »
There is a very good menu of Lebanese fatayer, the pillowy turnovers filled with things such as lemon- and sumac-spiked spinach; onion- and parsley-scented ground beef; and melted cheese dusted with red chile flakes and snips of fresh parsley. Alam is particularly proud of his bestselling "cheese boats," which are slightly smaller than most of the Georgian-style khachapuri you've probably seen around town. They're served with a piping-hot blend of mild, buttery white cheeses — Alam won't specify which cheeses exactly, except to say mozzarella is part of the melty equation. Try the simple, exquisite pastry boat bubbling with za'atar-dusted cheese.
I've sometimes heard Forn Al Hara referred to colloquially as the "Middle Eastern pizza place," and, indeed, there is a small menu of pizza — thin, brittle pies paved sparingly with tomato sauce and shellacked with melted mozzarella. The generously trimmed shrimp pie is the one to go for, its texture brilliantly springy and crisp.
On the days you don't see Alam behind the counter, you'll probably spot him making the rounds of the strip mall — along with his brother, he is part owner and manager of the shopping center, which feels less like a place of business and more like his second home. Sometimes you'll spot him visiting his wife, who runs Jenny's Place, the Thai restaurant next door, or perhaps hanging out at the halal meat market a few doors down. A native of Tripoli in northern Lebanon, Alam has lived in Southern California for well over three decades. Years before opening his own restaurant-bakery, he studied environmental design at Cal Poly Pomona. He fell into the restaurant business by a sort of destiny: His maternal line includes a long line of well-known Tripoli bakers.
You can get a taste of the old family recipes in the bakery case. Depending on the day you come, there may be slices of the syrup-soaked semolina cake, or rows of mamol — buttery, domed-shaped cookies filled with chopped dates or nuts. There are always trays of knafeh, the terrifically gooey cheese pastry topped with fine, thread-like shreds of crisp semolina dough. The baklava is top-notch: glossy with syrup, remarkably crisp, the kind of baklava worthy of breaking a daylong fast. And even if you didn't come for baklava, odds are good you won't leave Forn Al Hara without it.
Forn Al Hara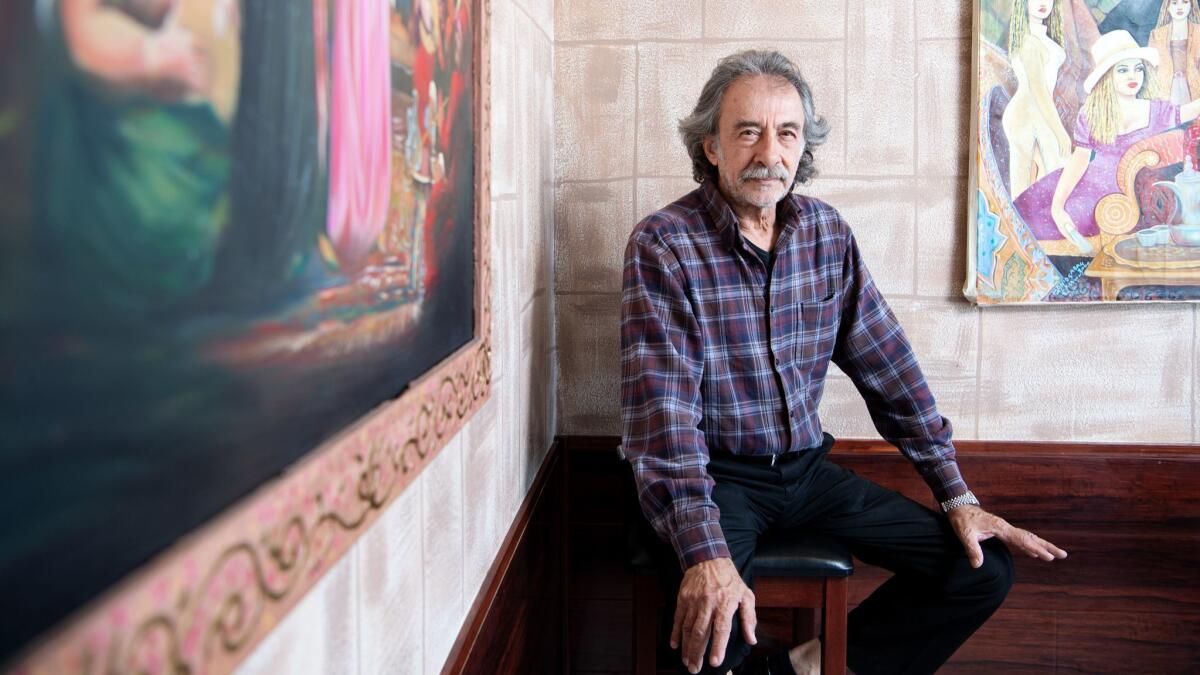 A longstanding temple to Lebanese flatbreads and pastries in the heart of Anaheim's Little Arabia District.
LOCATION
512 S. Brookhurst St., Suite 5, Anaheim; (714) 758-3777
PRICES
Manakeesh $1.25-$5.99; pizza $7.49-$15.99; wraps $3.49-$5.49; sweets $1-$8
DETAILS
Credit cards accepted. No alcohol. Lot parking. Dining room and restroom are wheelchair accessible.
RECOMMENDED DISHES
Labneh and honey manakeesh; soujouk manakeesh; spinach fatayer; knafeh
patricia.escarcega@latimes.com
Twitter: @piescarcega
Instagram: @holynopales
Get our L.A. Goes Out newsletter, with the week's best events, to help you explore and experience our city.
You may occasionally receive promotional content from the Los Angeles Times.