Review: The Manufactory's Alameda Supper Club needs more Chris Bianco magic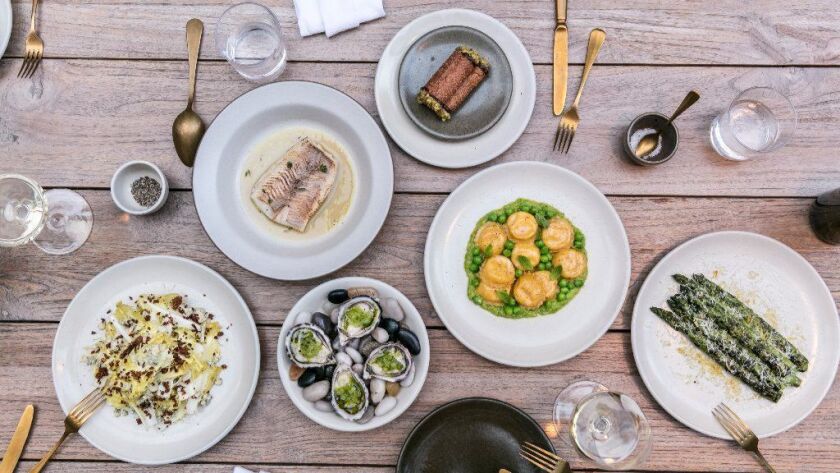 Restaurant Critic
The plating of ravioli and peas at Alameda Supper Club is familiar topography, the place in which California and Italy fuse into one mythical land. Mint leaves appear in patches over pale hills of ricotta-filled pasta. Pureed English peas, dense and soft, form an island with jutting shores. Sandy shaved nutmeg leaves a fragrant dust over every surface. Butter runs in rivers.
It all tastes as earthy as it looks, with admirable technical rigor and balance: the ravioli, wobbly as egg yolks, hold their shape until they detonate molten cheese on the tongue; the thick rubble of peas grounds the richness of the other ingredients.
Chewy, ropy strozzapreti, one of the two other pastas on the restaurant's concise menu, snare a deftly emulsified sauce that riffs on cacio e pepe. Preserved Meyer lemon amplifies the twangy echo of sheep's milk cheese; black pepper chimes loudly. Spaghetti with Dungeness crab, the third option, reads straight from the modern Cal-Ital script: Chiles intermittently flicker; green garlic bites back, gently.
These pastas are utterly agreeable, a statement that can be applied to the food here on the whole. The salads come sharply dressed, asparagus arrive attractively scored from the grill, a rib-eye bathed in garlic butter and filleted black cod gilded with thyme have been expertly cooked. This is a fine restaurant, and if you're looking for an intimate and pleasant (though not inexpensive) date night restaurant downtown, you could stop reading now and book an easy-to-score reservation.
Review: Tartine Bianco at the Manufactory L.A. exalts bread and so much more »
Looking more broadly at the restaurant, however, in the context of the Manufactory complex and the powerhouse partnership behind it, Alameda Supper Club feels not yet fully shaped. A more compelling identity needs to emerge.
The arrangement of the space is not particularly welcoming. Its entrance sits on the eastern side of the Manufactory building, around back of the main entry; a series of signs will keep urging you toward its doors. Perhaps the restaurant is meant to feel like a secluded secret, with its trellised patio and outdoor bar overlooking a forlorn alley. Inside, exposed ductwork and concrete walls give the 82-seat main dining room a certain minimalist industrial beauty. You can glimpse the clamorous party that is Tartine Bianco through the open kitchen that separates the two restaurants. Guests sometimes feel tempted to drift through a short walkway that joins them; I've seen staffers create a human shield to block such attempts. You are meant to stay put in one restaurant or the other.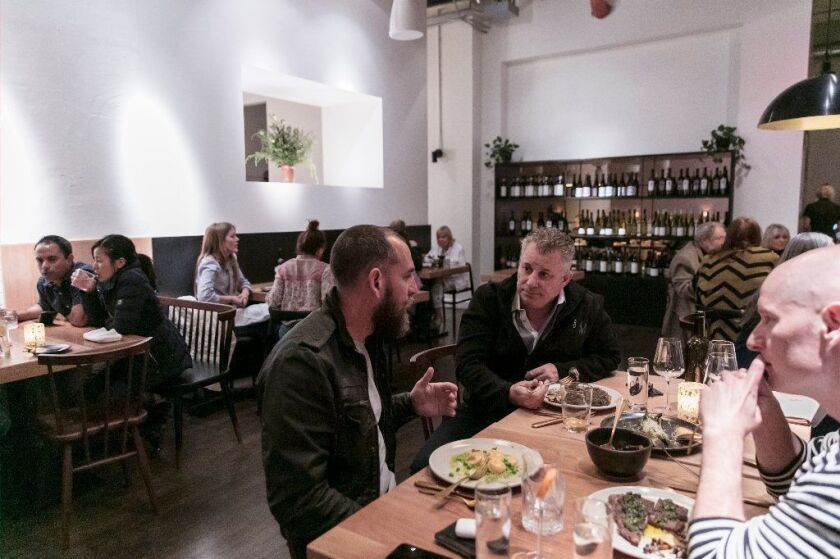 Nothing in the division of the Manufactory's many moving parts is absolute law, but this is the gist: Between the venture's principle partners — Chad Robertson and Liz Prueitt of San Francisco's expanding Tartine empire and Chris Bianco, the Phoenix-based catalyst of the modern American pizza movement — Alameda Supper Club more specifically reflects Bianco's culinary vantage.
Those who only associate Bianco with charred, tangy, wondrous pizzas haven't experienced the breadth of his achievements. He also runs the finest restaurant in Phoenix, a charmer called Tratto in the Town & Country shopping center, conveniently located next to my favorite outpost of Pizzeria Bianco. As with Alameda Supper Club, Tratto's menu is short, but it has more voltage. You might find chicken livers smeared over toast with big hunks of preserved summer fruit; and house-made noodles tangled with lusty lamb sausage and rapini or light-handed ragus; and pork chops rousted with cherries, sage and browned butter: The cooking shows heart and guts. It bounces with the seasons. Cassie Shortino is Tratto's chef; she channels the pluck I've known for the quarter-century I've been eating in Bianco's restaurants.
Alameda Supper Club does not have to be a duplicate of Tratto, of course, but it yearns for more of Bianco's brio. Are the restaurant and the kitchen, overseen by chef de cuisine Lee Foden-Clarke, aiming for a more refined approach? The cooking still has to exhilarate. I can veer into detailed analysis of the dishes — an endive salad with crumbly rye croutons and Stilton is a joy of crunch and zing, the salsa verde spread over lamb belly needs way more acid to help the trudge through the meat's fattiness — but the restaurant leaves me with a general impression of over-politeness.
A pretty, meticulously executed plate of ravioli and peas can please, certainly, but this is a ferociously competitive pasta town: Two established top performers, Bestia and Rossoblu, both operate about a mile away from the Manufactory. Alameda Supper Club has to find the dynamism and the individuality to distinguish itself.
The groundwork exists. The vital energy is already rippling through the drinks and the desserts. Nick Meyer and C.J. Catalano concocted some wild cocktails here. There's a number called the Celine Dijon (I know; ignore the name) powered by tequila, Lillet Blanc and pineapple mostarda that make a soul twitch and shiver in all the right ways.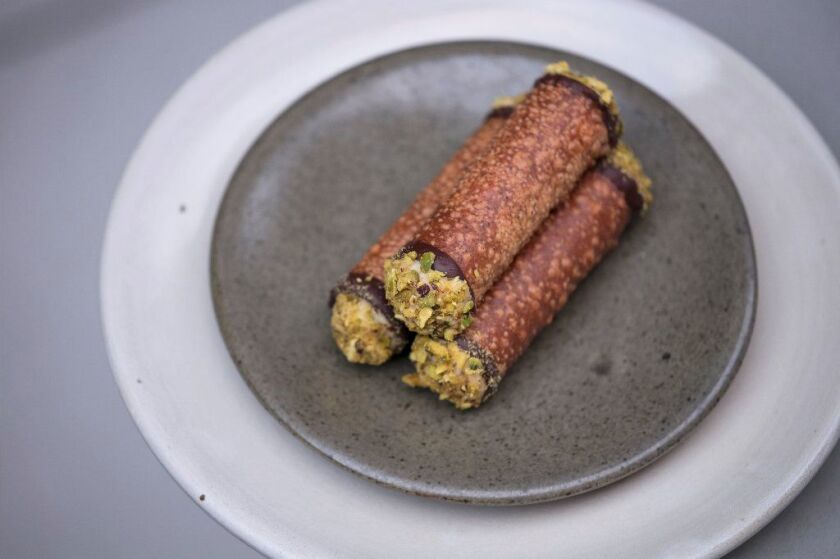 Leah Chin-Katz, the pastry chef, taps into the Bianco spirit with her re-engineered miniature cannoli. She puts buckwheat in the crackling shells, the tips of which she dips in chocolate. Sour cherries rumble through the ricotta filling; she rolls either end of the pastry in crust pistachios. Each cannoli lasts two bites; the flavors make for a short, twisty joyride.
I want more dishes to leave such a distinct impact. I'm looking for the rich exchange that's possible between the out-of-town principals and our energized moment of dining in Los Angeles. How does this accomplished team better build on their successes elsewhere and also enter into a more meaningful, direct dialogue with the city's culinary culture? When I can taste the answer at Alameda Supper Club, I'll know the restaurant has found its lasting direction.
Alameda Supper Club
The most intimate corner of the Manufactory dining experience needs more definition to its Cal-Ital identity.
LOCATION
757 Alameda St., Los Angeles, (213) 375-3315, alamedasupperclub.com
PRICES
Snacks $6-$7; small plates $12-$18; pastas $22-$26; most entrees $32-$38; desserts $12-$15.
DETAILS
Credit cards accepted. Full bar. Lot parking. Wheelchair accessible.
RECOMMENDED DISHES
Ravioli with peas; endive salad; grilled bread; black cod; buckwheat cannoli.
Instagram: @bill_addison
Twitter: @billaddison
---
Get our weekly Tasting Notes newsletter for reviews, news and more from critics Bill Addison and Patricia Escárcega.
You may occasionally receive promotional content from the Los Angeles Times.