Review: Jonathan Gold reviews Asanebo, where dining elevates your state of being
Assorted sushi platter at Asanebo in Studio City. More great L.A.-area restaurants:
Jonathan Gold's 101
(Ricardo DeAratanha / Los Angeles Times)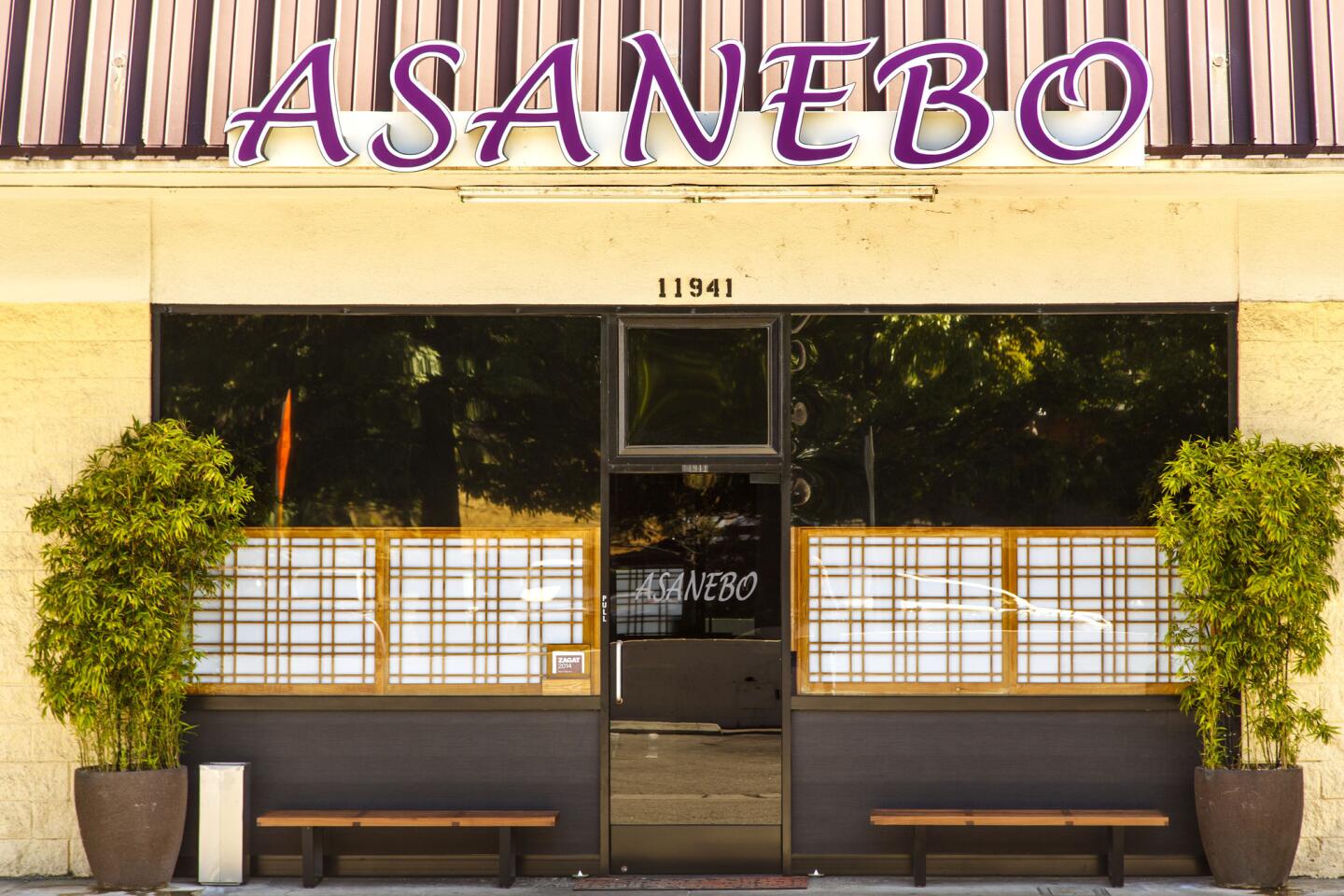 The exterior of Asanebo.
(Ricardo DeAratanha / Los Angeles Times)
The restaurant's interior.
(Ricardo DeAratanha / Los Angeles Times)
Fresh sesame tofu and a fish bones snack.
(Ricardo DeAratanha / Los Angeles Times)
Bar snack of fish bones.
(Ricardo DeAratanha / Los Angeles Times)
Fresh sesame tofu.
(Ricardo DeAratanha / Los Angeles Times)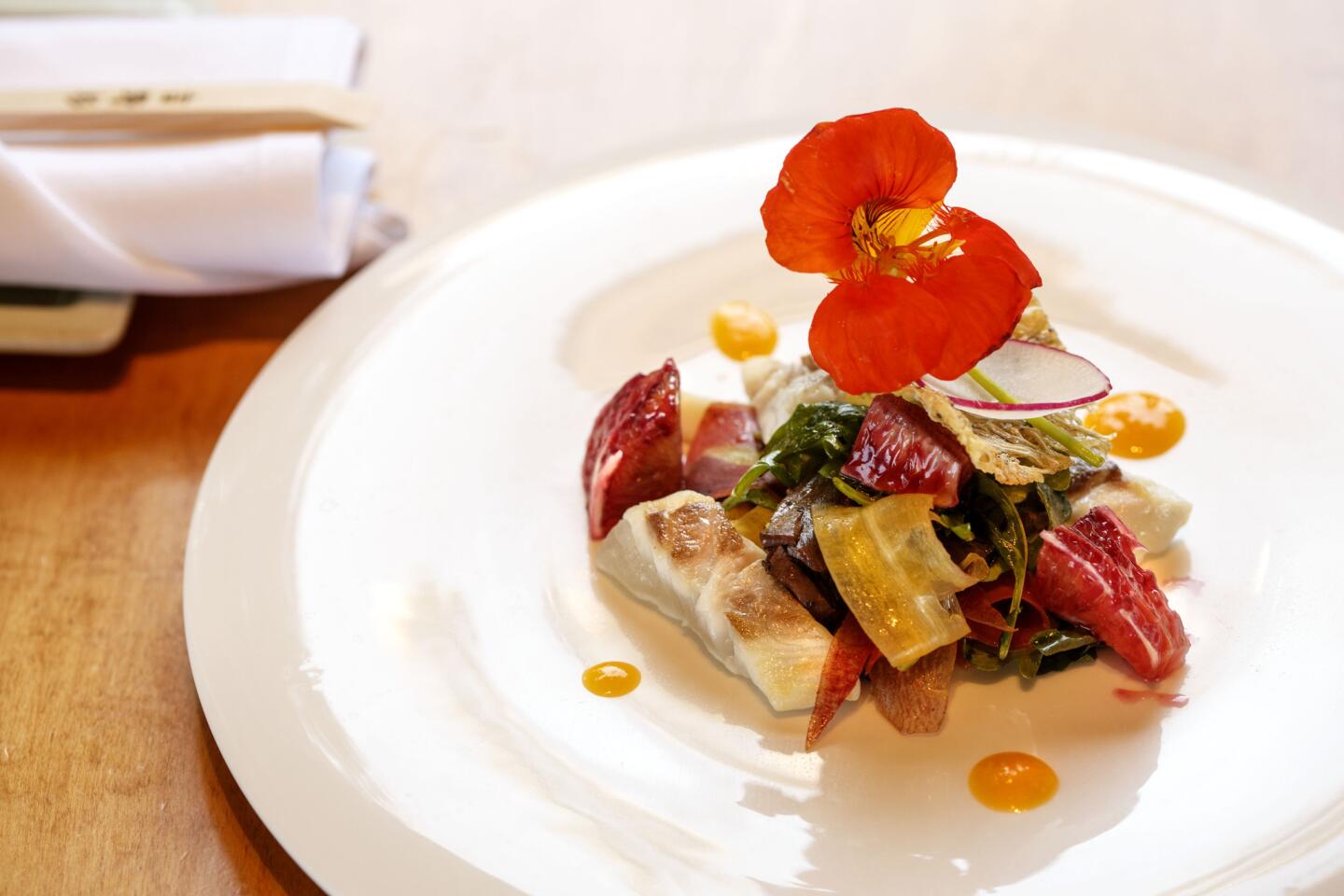 Organic ruby and gold carrot, arugula, portobello mushroom and organic blood orange topped with seared Japanese red snapper and Satsuma tangerine puree sauce.
(Ricardo DeAratanha / Los Angeles Times)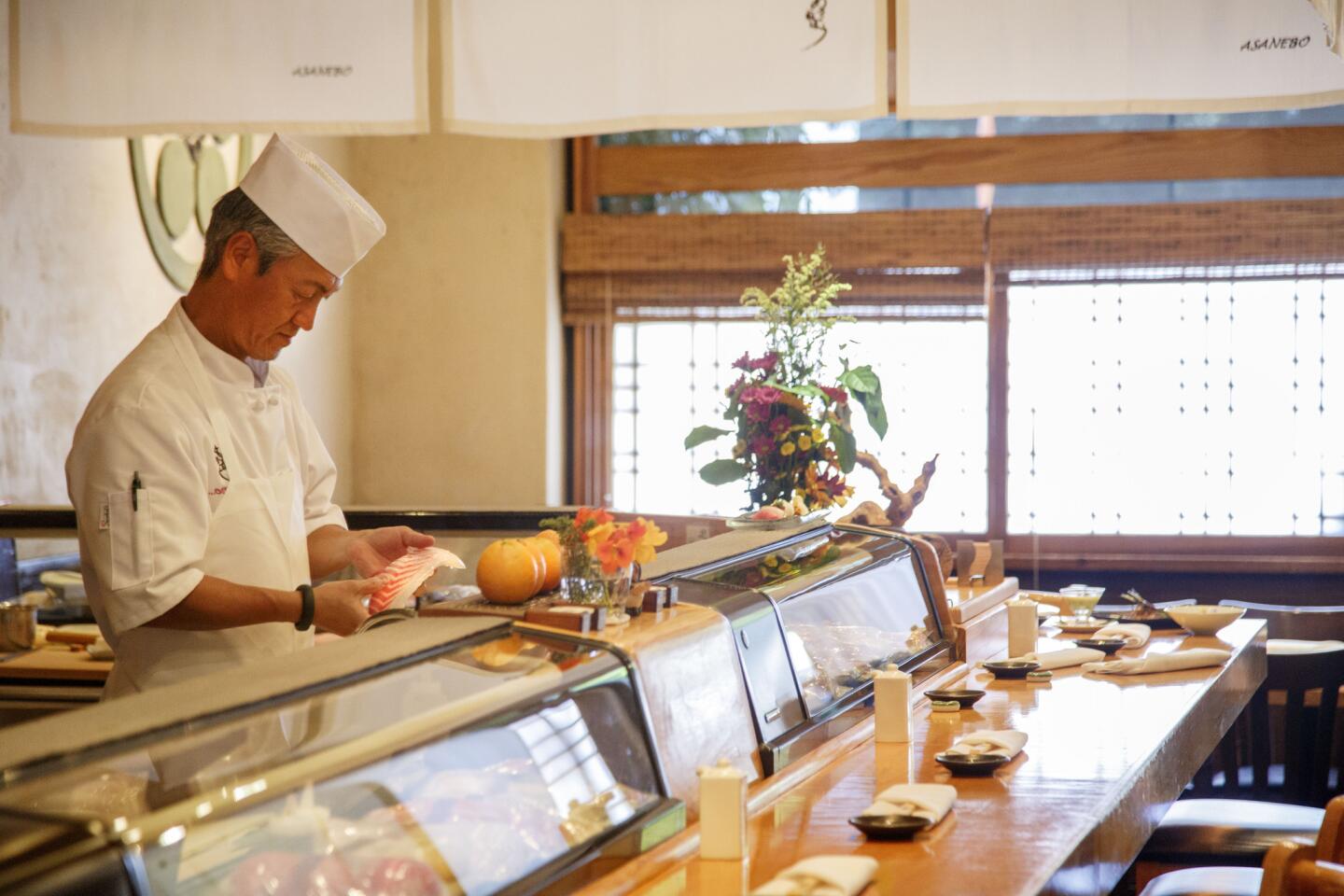 Chef Tetsuya Nakao preparing fish behind the counter.
(Ricardo DeAratanha / Los Angeles Times)
Chef Tetsuya Nakao displays his house-made pickles assortment, "Nukazuke."
(Ricardo DeAratanha / Los Angeles Times)
Chilled organic lava bean sauce.
(Ricardo DeAratanha / Los Angeles Times)
Chef Tetsuya Nakao, center, shares a laugh behind the counter.
(Ricardo DeAratanha / Los Angeles Times)
Los Angeles Times Restaurant Critic
If you want to understand Asanebo, the sleek Japanese restaurant at the heart of Studio City's sushi bar strip, you could do worse than to look at the tiny dish of chawanmushi there, the inevitable beginning to one of the long, multi-coursed omakase meals that are the restaurant's reason for being.
You will find a curl of ruddy sea urchin roe, the sweetly austere stuff shipped in from Hokkaido instead of the lusher Santa Barbara uni, and some briny, lightly chewy bits of stewed abalone atop a shiny glaze of chilled reduced dashi made with deeply smoky katsuoboshi — dried bonito. Microscopic cubes of minced wasabi are strewn over the seafood, almost as much for their crunch as for their bright heat, and the chawanmushi itself, half an inch of egg custard, is crème brûlée-rich, impossibly smooth, steamed just to the point when it is maximally luscious but has not yet released its liquid.
You will eat this in two bites without pausing to reflect on the thousands of air miles, centuries of technique and microseconds of timing that have come together in these few grams of food set in front of you at your table. And you are not meant to reflect — I don't think.
Asanebo first became famous in the 1990s as the No Sushi bar, a raw-fish palace that refused to serve nigiri or tekkamaki to its customers no matter how fervently they pleaded for it between bites of sea urchin tempura with shiso or Spanish mackerel sashimi served with its own crisply fried spine. At the time, the mandate was seen as a kind of fashionable Japanese-chef absolutism, like the guys at Shibucho or Nozawa who would toss you out on your ear if you so much as hinted at a longing for spicy tuna rolls. Later, it turned out that the rule had actually been prompted by a non-compete clause in Asanebo's lease. The restaurant started making sushi the moment the sushi bar next door closed 15 years ago, but it was too late in a way. You may never encounter meatier sea eel or more elegantly pickled kohada sushi than you will here, but sushi still seems almost beside the point.
Asanebo's founders, Shunji and Tetsuya Nakao, were among the original chefs at Matsuhisa. Shunji left a few years ago and ended up opening the restaurant Shunji on the Westside, one of the very best Japanese restaurants in Los Angeles. The two restaurant staffs are still close — you'll see chefs from one restaurant helping out at events with the other — although the styles are somewhat different. Both places serve superb sushi but seem almost reluctant to do so. Both chefs attend the Wednesday Santa Monica farmers market as religiously as they visit the big fish markets downtown.
So at Asanebo, that chawanmushi may be followed by a small plate of shaved orange and purple carrots with a single Hokkaido scallop; tiny, whole steamed firefly squid with dots of house-made miso and neat rolls of kanpachi sashimi; stacked bits of tai, Japanese snapper, with an unusual vegetable called Indian spinach, meaty leaves marinated to resemble seaweed; or a spring composition of sliced alfonsino fish, charred broccolini, sesame miso, grilled eggplant, gelled dashi and a single snap pea, with dried bonito pared over the top like impossibly fragrant pencil shavings. (They like shaved fish here. A recent scallop composition included both the bonito and funkier shavings of cured bottarga. And that strong yet delicate dashi is the chef's secret weapon.)
Miniaturized sashimi planks include things like raw octopus suckers cupping a single brined salmon egg each, belt fish from Japan, tentacles carved into feathery chrysanthemums and whitefish sliced into translucent petals dotted with plum sauce.
There will always be Momotaro tomato, garnished with crab or shrimp, showered with minced shiso and served in a dashi/grapeseed oil vinaigrette. You will be directed to sip the remainder of the vinaigrette from the dessert glass in which it is served. A plate of thinly sliced halibut with arugula and shaved summer truffle is seasoned with too much truffle oil — any truffle oil is too much, really — which is almost but not completely balanced out by the smokiness of the dashi. The upper omakase tiers — Tier A is $85; B and C considerably more — will probably include a course of A5 Wagyu beef from Japan, the highest grade, simply marinated, grilled and served as part of a salad.
Some customers can't get enough of the grilled Alaskan king crab leg, served simply with a dash of peppery yuzu kosho paste from Japan. Others love the simmered Japanese conch, served back in its shell and kept at a low simmer by the blob of flaming Sterno positioned under its base. On my last visit, I was captivated by a steamed Hokkaido hairy crab whose sweetness (and outer-space appearance) were enhanced by the intricate knife work, which made it possible to get at every gram of the delicate flesh without losing a drop of the juice. If you are lucky, you will be served the kanimiso, the organs of the crab whipped into an airy, umami-rich mousse.
And then comes the sushi (you can get only sushi, if that's your thing), which may include mullet with a tart dollop of jellied ponzu, king mackerel with yuzu kosho and minced herbs, tiny sweet shrimp, sweet octopus — really anything. All Asanebo asks from you is an open mind, plus rather a lot of money. In exchange, you spend an hour or so in an elevated state of being.
::
Asanebo
Japanese cuisine for those who want an elevated state of being.
LOCATION
11941 Ventura Blvd., Studio City, (818) 760-3348, asanebo-restaurant.com
PRICES
Sushi, $8-$14; bites, $12-$16; salads, $5-$26; cooked dishes, $10-$28, more for Wagyu beef or large-format seafood. Omakase dinners, $85 and up.
DETAILS
Lunch noon to 2 p.m. Tuesdays to Fridays, dinner 6 to 10:30 p.m. Tuesdays to Sundays. Credit cards accepted. Beer, wine and sake. Valet parking.
RECOMMENDED DISHES
Uni chawanmushi; Conch on Fire; steamed Hokkaido hairy crab; kanpachi miso; sushi.
Get our L.A. Goes Out newsletter, with the week's best events, to help you explore and experience our city.
You may occasionally receive promotional content from the Los Angeles Times.