Jonathan Gold reviews the Cannibal, your New World Order butcher-shop-and-beer restaurant
Chef Francis Derby pours the sauce for General Tso pig's head at the Cannibal.
(Christina House / For the Times)
Chicken parm with tomato conserva and burrata is served at the Cannibal in Culver City.
(Christina House / For The Times)
A 36-ounce dry-aged rib-eye for two with fingerlings, mustard greens and tomato.
(Christina House / For The Times)
Terrine of sliced beef and butter at the Cannibal.
(Christina House / For The Times )
Beef bulgogi with sesame, bean sprout and apple jang.
(Christina House / For The Times)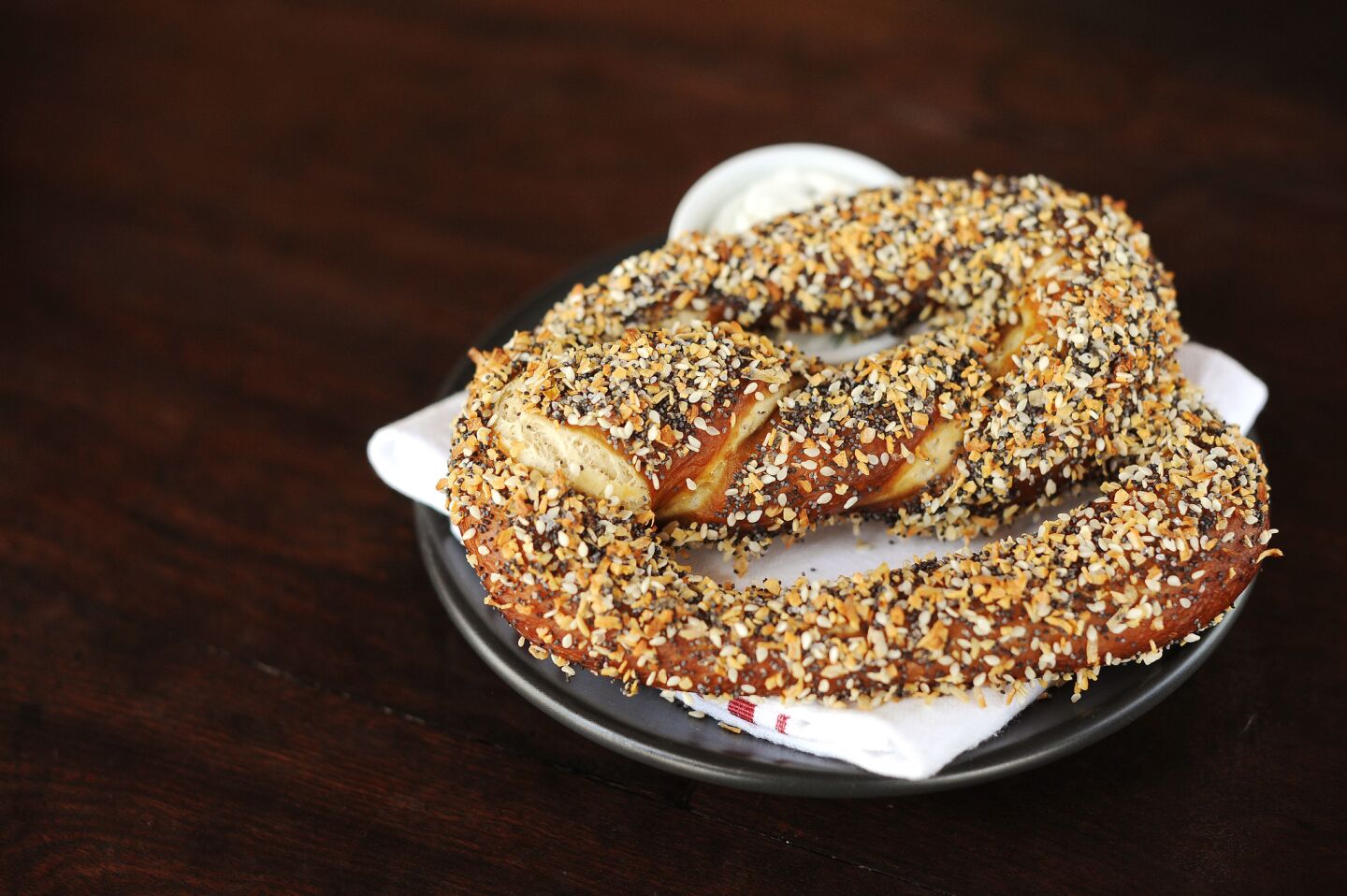 The "everything" pretzel with scallion cream cheese at the Cannibal.
(Christina House / For The Times)
An assortment of beer is offered at the Cannibal.
(Christina House / For The Times)
Grilled shishitos with ricotta, shiso and black garlic are served at the Cannibal in Culver City.
(Christina House / For The Times)
The General Tso pig's head is served with broccoli salad and moo shoo pancake at the Cannibal in Culver City.
(Christina House / For The Times)
Chef Francis Derby is photographed at the Cannibal.
(Christina House / For The Times)
A flux capacitor, which regulates the carbonation levels of each individual draft line, is visible from the bar at the Cannibal.
(Christina House / For The Times)
My brother Mark, who has been to the environmental movement in Los Angeles more or less what James Worthy was to the Lakers, is particular about what he eats. He still hasn't forgiven me for a shark's fin dumpling I accidentally chose from a dim sum cart in 1992, and I once saw him approach something like a state of rigor mortis for 10 minutes until he was reassured that the Amazonian river fish he saw on a Marina del Rey seafood menu was farmed and not the endangered wild kind. Although I'm not sure that he ate anything as a child that wasn't beef, iceberg lettuce or Kraft Dinner, he has mostly been eating lower on the food chain, subsisting on the helpless sea creatures and cruciferous vegetables he mocked until recently; husbanding his carnivorous impulses for the occasional holiday roast or meal out with his enabling older brother. So of course I took him out for dinner at the Cannibal.
You could hardly accuse the Cannibal of being inattentive to the environment. It is in the Platform, a sleek new mall just south of the Culver City stop of the new Expo Line. It is named for Eddy "Cannibal'' Merckx, the cyclist who had all the Tour de France records before Lance Armstrong snatched them away, sponsors a bicycle team of its own, offers freebies to customers who ride instead of drive, and theoretically has a bicycle valet. The restaurant and the attached butcher shop feature mostly sustainable, ethically raised meat, and seem to be fairly dedicated to the nose-to-tail thing.
But I am obliged to report – Mark did not seem delighted when the General Tso pig's head appeared, no matter how ardently I assured him that by feasting on the magnificent half-skull he would in fact be doing his part for conservation, gnawing on lip and eyelid while the shoulder and loin went to people less respectful of the planet's resources. He remained unpersuaded when the waiter plunged a sharp knife into the cheek, prying loose slices of meat and strips of sweet, spicy cracklings. I made him a sort of taco, wrapping a floury Chinese-style crepe around shavings from the jowl, a bit of snout, and a forkful of the bitter rapini salad the restaurant serves as a condiment with the $90 head. You probably could have heard the crunch all the way from the kitchen. Mark was OK.
See the most-read stories in Life & Style this hour >>
The Cannibal is a spinoff of a meaty pub in Manhattan's NoMad district; it's crowded and revered by the beer-geek crowd, but it doesn't tend to register with the people for whom Eric Ripert and David Chang are gods. The chef Francis Derby in fact worked for Chang in New York, as well as for WD-50's Wylie Dufresne and Paul Liebrandt of Gilt. In the Culver City Cannibal, you will find riffs on the usual New York/L.A. small-plates tropes: grilled shishito peppers with ricotta, fried Brussels sprouts with fish sauce, snap peas with dill, and charred carrots served with their tops. You have seen the tartares and the hamachi crudo pretty much everywhere – the béarnaise-crusted beef tartare on miniature toasted crumpets are amusing. The chicken liver mousse differs from the other versions you've seen this year basically in its creaminess, its granola garnish, and the forest-green tint imparted by whipping it with matcha tea.
You know Derby has immersion circulators, dehydrators and all kinds of toys tucked away near the wood grills. He puts foie gras in his cherry tart. He is not the first chef to embrace extended dry-aging for his meat. At a time when so many kitchens are making their own charcuterie, Derby is sourcing a lot of his cured meats from Brooklyn and midtown Manhattan. The Cannibal is an easy place to dismiss.
But whatever else the Cannibal team may be doing, they are giving themselves permission to be weird: sausages given the flavor profile of root beer or breaded and fried like chicken parm; hot dogs topped with tripe chile; bar-snack skewers of beef heart, juicy bacon and salty halloumi cheese instead of chicken and steak. The soft burger, made with aged meat and garnished with long-cooked onions, is almost surprising in its conservative beefiness – you keep expecting a scrap of caramelized kidney or a crunchy wisp of ear. A 60-day short rib, sawed into lateral slices like Korean-style L.A. galbi, was seasoned with little more than salt and age. I loved a simple terrine made by layering butter and thinly sliced beef, which had a luxurious fattiness that not even A5 Japanese Wagyu beef quite approaches.
If you are in the mood for beer, beer director Julian Kurland can take you to the outer limits and beyond, orchestrating an evening of saison-style ale that takes you from Alaska to Belgium to Oklahoma, including bottles of Prairie and Jester King that you have never seen outside their states of origin. For the pig's head, he brought out a series of high-funk beers ranging from sour to quite sour to medical-emergency sour, ending with an ale from the Jura acidic enough to strip the enamel from your teeth. (Even if you spend hours at home browsing the 400-plus-bottle beer list, Kurland will know its odd corners better than you ever will.)
There are snacks served right out of the package, including a lovely, umami-forward beef jerky, cacao e pepe-flavored potato chips and jars of dry-roasted peanuts prepared by the Men's Club of the Englewood United Methodist Church in Rocky Mount, N.C. The crisp, stretchy pretzel, baked with the oniony schmutz you usually find on an everything bagel, is the most satisfying pretzel in town at the moment. The idea of a charcuterie plate dominated by country ham may be straight out of 2012, but the salty, gamy smokiness of aged ham from Nancy Newsom in Kentucky or Allan Benton in Tennessee becomes gentle, subtly delicious, when sliced transparently thin.
And yet we are back with that pig's head on its huge iron plate; uncomfortably full but unwilling to give it up for good. We snap off the ear, or at least its sweet burnt edges, and we scrape strips of chewy meat from the muzzle. We dig along the jaw, and are bothered by the horrible contorted grin of the charred skull more than we are perhaps supposed to be. I am not a stranger to pigs' heads – I have prepared my share of testa, Italian head cheese – but there is a presence, a sense of being about this head that I have experienced in no other. We had been instructed to flip the head and pry out the tongue, but my hands are finally too heavy. I do not get it wrapped up to go.
::
The Cannibal
A new Culver City restaurant with a butcher shop and great beer list
LOCATION
8850 Washington Blvd., Culver City, (310) 838-2783, thecanniballa.com.
PRICES
Snacks $3-$16; small plates $9-$15; vegetables $9-$14; sausages $11-$15; big meat $19-$320.
DETAILS
Dinner Sun.-Wed., 5:30 p.m. to 10 p.m.; Thurs.-Sat., 5:30 p.m. to 11 p.m. Credit cards accepted. Full bar. City lot parking off Landmark Street.
RECOMMENDED DISHES
North Carolina peanuts; "everything" pretzel; fried Brussels sprouts; chicken parm sausage; Cannibal dogs; tater tots.
MORE REVIEWS FROM JONATHAN GOLD
Jonathan Gold reviews Lasa, a temporary Filipino restaurant with long-range ambitions
At Frogtown's Salazar, Jonathan Gold finds a Sonora barbecue joint, steakhouse and evolving tortillas
Jonathan Gold reviews Kali Restaurant: It's too much of a good thing
---
Get our L.A. Goes Out newsletter, with the week's best events, to help you explore and experience our city.
You may occasionally receive promotional content from the Los Angeles Times.