Recipe: Basic gorditas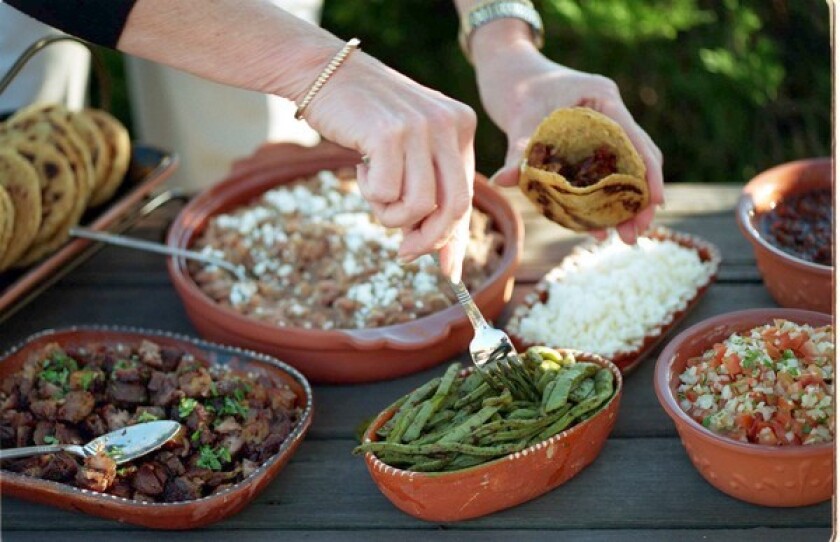 Note: Novelist and frequent Food section contributor Michelle Huneven got hooked on gorditas in Guanajuato, Mexico, and brought her obsession home with her, single-mindedly perfecting the art of making the "little fatties" and throwing gordita parties. When we tasted her gorditas last January, we knew why.
Gorditas are like very thick tortillas, only chewier. They're split and filled with beans and cheese and whatever else is on hand--meat, fish, chicken, vegetables, salad--so they adapt to almost every taste preference. To quote Huneven: "Round, golden, hand-sized and charmingly named, gorditas are simply, inarguably adorable." And delicious.
Gorditas can be filled with just about anything. Here are a few suggestions to cook or purchase: black beans; grilled snapper or shark; grilled shrimp; rotisserie chicken; turkey; leftover steak, roast or chops, diced and warmed; chicharrones (pork skin); sesos (brains); scrambled eggs; guacamole; cotija cheese (crumbly white fresh Mexican cheese); Monterey jack cheese; sour cream or Mexican crema; sauteed or stewed mushrooms, summer squash, squash blossoms; shredded lettuce or cabbage.
4 pounds fresh masa, preferably masa refregada, masa molida, masa no preparada
1/2 to 1 teaspoon salt
4 teaspoons baking powder
Water
1 to 2 tablespoons lard or corn oil
Corn oil
1/2 pound cotija cheese, crumbled
Mix masa, salt and baking powder together with hands. Add just enough water and lard to make dough pliable. Continue kneading until dough begins to feel smooth.
Pull off enough masa to form 1 smooth 2-inch ball. Pat gently back and forth in your hands to form 4- to 5-inch cake about 1/2-inch thick. Cook on hot griddle, 2 minutes on each side. Set aside.
Heat enough oil for frying to 375 degrees. Fry gorditas, 1 or 2 at a time, until they float, about 45 seconds. Remove and drain on paper towels. Split open each gordita with steak knife. (Opening should be wide enough for easy stuffing but should not split gordita.) Stuff with fillings of choice and serve with cotija cheese.
28 gordita shells. Each gordita, without filling:245 calories; 105.7 mg sodium; 0.5 mg cholesterol; 3.43 grams fat; 4.86 grams carbohydrates; 6 grams protein; 0.96 grams fiber.
---
Get our weekly Tasting Notes newsletter for reviews, news and more.
You may occasionally receive promotional content from the Los Angeles Times.