In San Quentin, prison inmates are cooking up gnocchi and brighter futures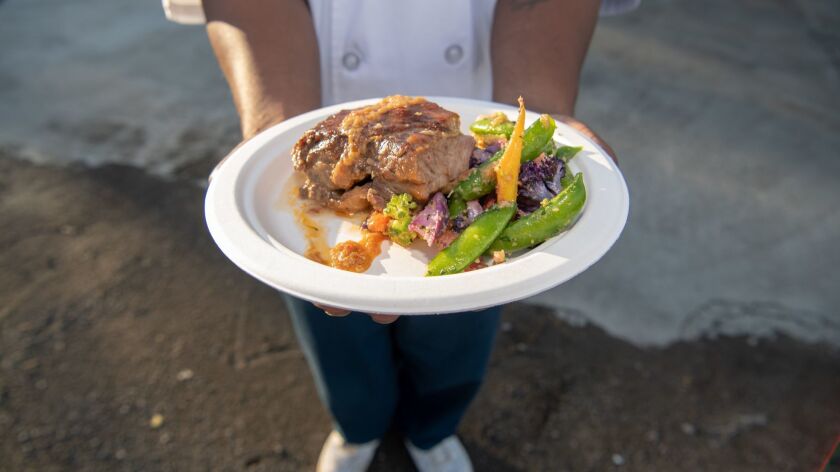 Reporting from San Quentin, CA —
H Unit sits low behind double rows of high steel chain-link fencing, between which loop extravagant rolls of razor wire. It's in a corner of San Quentin State Prison farthest from the front gate and the gift shop, beyond which Interstate 580 runs traffic to and from the well-off towns of Marin County, north of the Golden Gate. Beyond the second gate of H Unit, which rolls open only when the first has closed, and the drab receiving desk, with its officer who lets visitors know that if an inmate takes them hostage, the warden will not negotiate for their release.
For the record:
12:35 p.m. May 31, 2019A previous version of this article said San Quentin houses the state's sole remaining death row. The Central California Women's Facility houses a death row for women.
I am with Huw Thornton, 42, a local cook who's here today to teach the final lesson in the fifth class of Quentin Cooks, a culinary training program for inmates started three years ago. The founders of Quentin Cooks are Lisa Dombroski — like Thornton, a former restaurant chef — and Helaine Helnitzer, who owns a wholesale bakery in San Francisco and is a veteran of several volunteer rehabilitation programs at San Quentin.
Each semester, the program enrolls up to a dozen men from H Unit. Students need to have clean disciplinary records and, ideally, a parole date within two years. H Unit houses about 700 prisoners of the more than 4,000 at San Quentin. Quentin Cooks seeks to give men the basic and advanced skills they'd need to land a job in a commercial kitchen. It also teaches inmates how to work as a team with guys from diverse backgrounds — something prison life, with its cliques and tribal affiliations, doesn't really prepare them for.
Backed by scrubby hills and facing San Francisco Bay, San Quentin is California's oldest state prison. It houses the state's sole remaining death row for men. Lifers are confined to cell blocks in the multistory main facility, but in low-rise H Unit, where most inmates are up for parole in 10 years or less, men live in concrete barracks and move relatively freely within the fences. After the 12-week semester of Quentin Cooks (it can take longer, as it did this semester, after lockdowns caused class postponements), graduates receive a food handler certificate from the county health department, required for all restaurant workers in California. In five sessions, 45 men have graduated from Quentin Cooks, out of which 29 have been released. And while some were subsequently deported, a dozen graduates of the program did find work in commercial kitchens, including at Homeroom in Oakland and the barbecue joint Smoke Berkeley.
H Unit's dining hall sits at the end of the recreation yard, past weedy patches bare of asphalt, a locked and fenced-off garden within which lush roses bloom, and punching bags twirling lazily from chains. The mess is a bland midcentury cinder block hall. Through a single door is the vast kitchen, which pumps out three square meals a day for the inmates.
Thornton and his assistant, Adelaar Rogers, are untangling the neck loops on a chaotic pile of aprons for the inmates, who filter in: seven men, some carrying composition books with pens clipped on, in baggy denim prison pants and sky-blue smocks. There's also a TA, Aaron Tillis, who graduated from the previous session. He's tall and wears his long braids tied back. He hovers at the periphery, waiting to jump in where needed. I don't ask the inmates why they're here, the crimes that led to incarceration. "That focuses on their shortcomings and mistakes-slash-poor judgments," Dombroski tells me, "rather than their potential, their growth and their rehabilitation."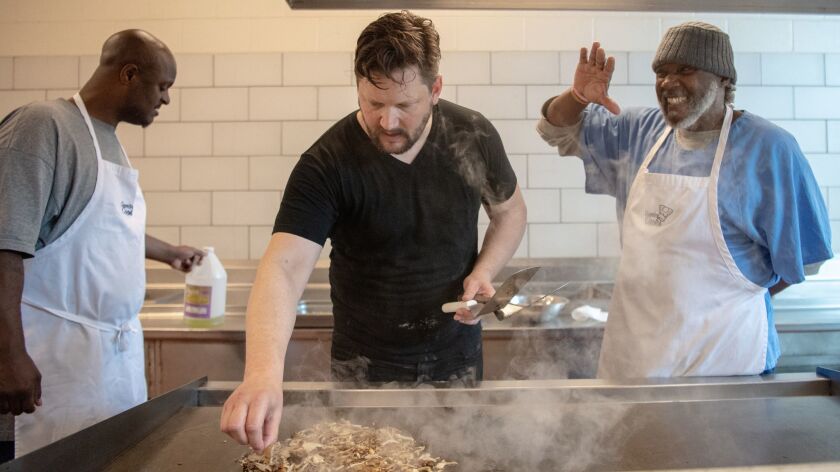 "Guys," Thornton says, as the students lay down plastic cutting boards on one of two long, wobbly stainless steel prep tables. "Today we're gonna stretch pasta by hand." He lists the things they'll cook over the next two hours: ricotta gnocchi in chicken brodo and maitake, fresh egg noodle sheets they'll stuff to form agnolotti and ravioli, and pappardelle served with pancetta-free Bolognese sauce (since many inmates are Muslim, pork is not allowed in H Unit's kitchen).
Thornton lays out the workflow for this morning's session. "Priority No. 1," he says: "Salted water. I'll teach you guys how to flavor it for pasta." Challenge No. 1 is the cooking equipment. Open flames aren't allowed here, so there are no gas burners. Thornton has a couple of donated portable induction burners, though they take a while to boil a pot of water. Fortunately the kitchen has a pair of 5-foot flattop griddles, a standalone oven the size of a large closet and two 40-gallon steam-jacketed industrial kettles. When the students need knives, the guard has to bring them from the office. There's a 4-foot chain screwed to the butt of the plastic handle of each, which he padlocks to the lip of the prep tables. When Thornton asked if he could bring in blenders and a food processor, he had to fill out several forms and wait a month to get the right official to sign off.
None of this really fazes Thornton. "We're doing actual grandma-style pasta making," he tells the men, and there's excitement in his voice.
I find out later that most of these guys had never even chopped an onion before the semester began. The few with restaurant experience picked it up at Denny's, Claim Jumper, McDonald's or Five Guys.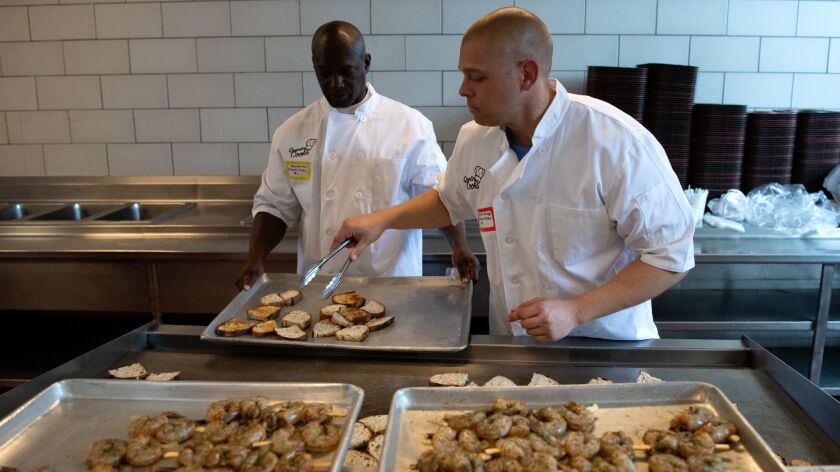 "This is stuff you'd cook in restaurants," Thornton says, measuring out ingredients for gnocchi, reciting the cups and tablespoons for the guys bothering to copy the formula into their notebooks.
One student, Daniel Martinez, 39, is scheduled for parole in a matter of days. Last week, he'd asked Thornton if they could cook asparagus for his last class. Thornton pulls four bundles of fat spears out of the bags he's lugged through the front gates.
"Hey Daniel," he says, holding up his hand for a high-five. "I remembered the asparagus."
"Alriiiight," Martinez answers, grinning and slapping Thornton's palm.
As much as possible, he tries to teach the guys what they want to learn. Last semester, Tillis asked several times if they could make an Indian curry. Thornton showed them how to blend whole spices, grind coriander seed and asafetida. They made yogurt raita, chana saag (chickpeas and spinach) and chicken curry. Afterward, Thornton asked Tillis if it lived up to the curries he remembered. Tillis said he wasn't sure, since this was the first one he'd ever tasted.
"I'd read about curry," he said, "and it sounded kind of interesting."
Thornton's a refugee from the restaurant grind. He started cooking in San Jose by talking his way into a prep gig, without the benefit of an expensive cooking school. He rose through the cooking stations and made it to San Francisco — the big show — working under then-chef Nate Appleman at SPQR and A16.
But he recalls feeling empty.
How a former gang member ended up a baker at Bouchon Beverly Hills »
"I was cooking for rich people I didn't know," Thornton says, "and quite frankly who I stopped caring about."
But in the innocence — the purity — of guys like Tillis, Thornton hears an echo of his own original sense of discovery. "In restaurants we talk often in this snotty and jaded way," Thornton tells me. "I got to the point where I didn't know if some of the people I worked with even liked food anymore. Here, there's not an ounce of cynicism or jadedness with these guys when it comes to food. It's just sheer enthusiasm."
When it's time to roll out the pasta dough everyone made, there's a new challenge. Thornton brought in his old Pasta Queen hand-crank roller, the kind you attach to a counter with a vise clamp, but it's not working. The metal prep tables have a rolled edge, with nothing to clamp to. Phillip Sims, one of the students, finds a piece of cardboard and tries to jam enough under the table to create enough thickness. It works for a couple of turns of the crank but soon jiggles loose. Rogers comes up with a padlock, same ones on the knife chains. "Aha!" Thornton says. "You're a genius." But again, the clamp won't hold. Another student, Alvis Taylor, has found a tapered rolling pin, and Thornton tries to clamp the vise to that. No use. Finally a couple of the guys try to hold it to the table while Thornton cranks, but it keeps wobbling. "Oh, prison!" Thornton cries in mock anguish.
The machine itself is rusted at the edges. Thornton tells me it was in the trunk of his '96 Nissan Sentra when he broke up with his girlfriend and his life sort of fell apart. "When I got it back," Thornton says, "I realized my Pasta Queen had been in the trunk for three years." He soaked it in vinegar and scrubbed as much of the rust off as he could before bringing it today.
The paper-plated lunch we all finally sit down to in the cavernous dining hall is more delicious than seems possible, considering the scramble to cook it. The asparagus Martinez was craving had been seared and softened on the flattop, and spooned with a vinaigrette into which chopped, toasted pistachios had been stirred. "When you toast nuts — tree nuts — you get that strong aroma," Martinez tells me. He's been studying.
The gnocchi in brodo, a broth made by simmering chicken thighs in water on the induction burner, is amazing. Thornton dropped a plug of soft butter into it before serving, and the maitake, combined with a small amount of wild black trumpet mushrooms, has profound depth. Another inmate, Tim Fielder, had asked if he could crisp the discarded chicken skins on the flattop, which he chopped and stirred into the gnocchi — an inspired act of improvisation.
"That's the best thing I learned from Chef Huw," Fielder said to me as he dropped slippery chicken skins onto the griddle, "that you can take something you almost threw away and make it good."
---
Get our weekly Tasting Notes newsletter for reviews, news and more.
You may occasionally receive promotional content from the Los Angeles Times.