Jonathan Gold posthumously awarded James Beard award for restaurant criticism
Jonathan Gold in 2010, when he was food critic for the LA Weekly.
(Anne Cusack / Los Angeles Times)
Los Angeles Times food critic Jonathan Gold handles a sea urchin during a Food Bowl event in Manhattan Beach in May.
(Jay L. Clendenin / Los Angeles Times)
Jonathan Gold in 2017.
(Patrick T. Fallon / For The Times)
Jonathan Gold and Phil Rosenthal of "I'll Have What Phil's Having" at The Taste in September 2017.
(Patrick T. Fallon / For The Times)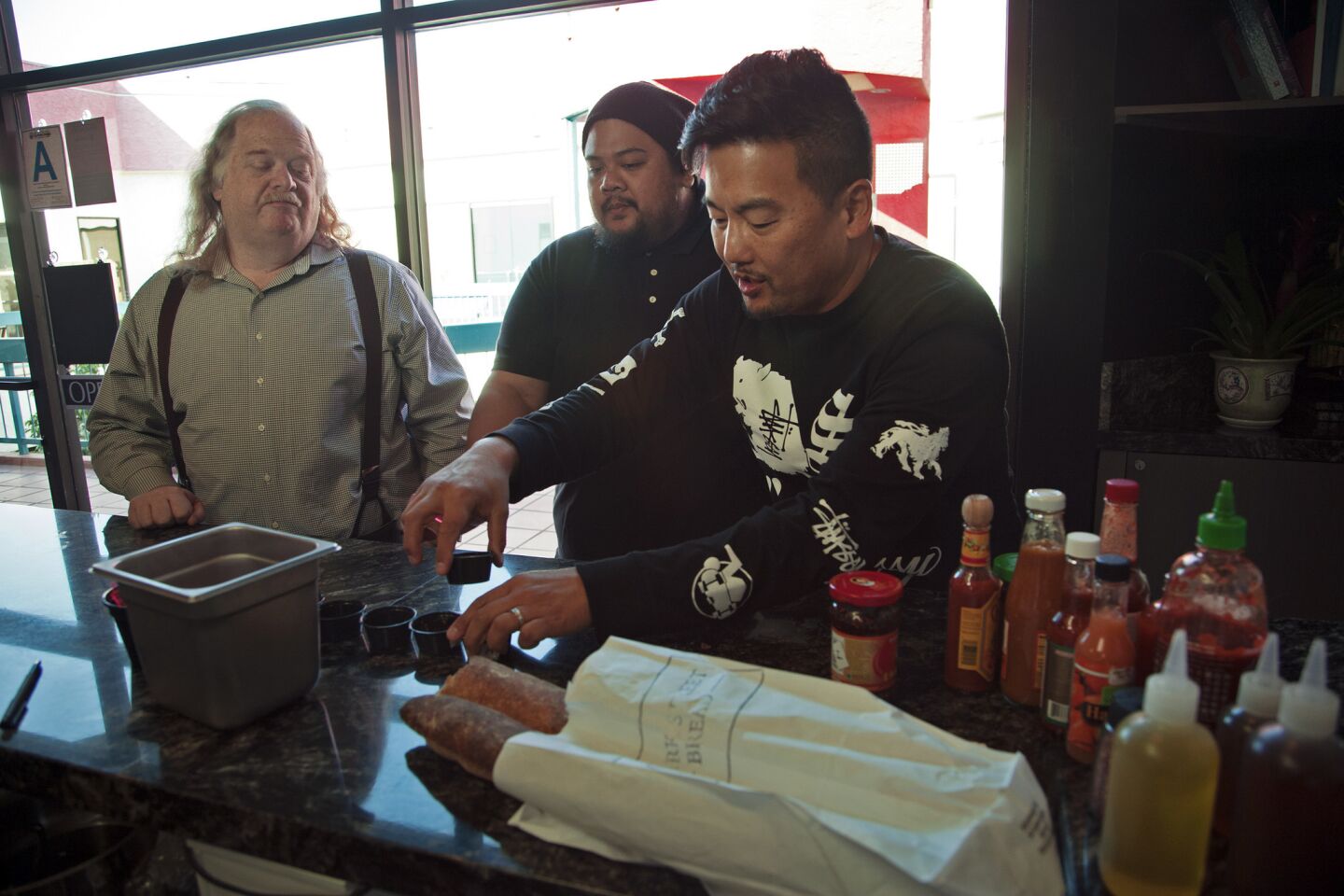 Jonathan Gold, left, chef Alvin Cailan of Eggslut and Ramen Champ, and chef Roy Choi of Kogi taste hot sauces to see if they can find a new favorite.
(Myung J. Chun / Los Angeles Times)
Jonathan Gold was honored with the James Beard Foundation's award for best restaurant criticism Friday evening.
The late Los Angeles Times restaurant critic, who died of pancreatic cancer in July at 57, was named the winner of the prestigious Craig Claiborne Distinguished Restaurant Review Award at the foundation's media gala in New York City. The national culinary foundation awards prizes annually to restaurants, chefs, food writers and other industry players.
His entry consisted of three reviews written in 2018: "The Hearth & Hound, April Bloomfield's new Los Angeles restaurant, is nothing like a gastropub"; "There's crocodile and hog stomach, but Jonathan Gold is all about the crusty rice at Nature Pagoda"; and "At Middle Eastern restaurants, it all starts with hummus. Jonathan Gold says Bavel's is magnificent." His review of Bavel, which this week was named The Times' 2019 Restaurant of the Year, was his final for the paper.
Los Angeles Times restaurant critic Jonathan Gold dies at 57 »
In accepting the James Beard award, Laurie Ochoa, Gold's wife and The Times' arts and entertainment editor, said: "I miss Jonathan every day. It's like a phantom limb — I think he's still here."
Gold earned numerous journalism awards during his career as a restaurant critic; Friday's win was his ninth James Beard award. In 2007, when he was writing for L.A. Weekly, Gold became the first restaurant critic to win the Pulitzer Prize for criticism; he was again a finalist in 2011.
Friday's ceremony also marked the first time the foundation gave out its Jonathan Gold Local Voice Award, established last year and intended to recognize writers "who are telling stories of their cities and regions, just as Jonathan continually shone a light on his beloved Los Angeles." Brett Anderson, the restaurant critic at the New Orleans Times-Picayune, was the inaugural recipient.
Twitter: @byandreachang
Instagram: @byandreachang
Get our L.A. Goes Out newsletter, with the week's best events, to help you explore and experience our city.
You may occasionally receive promotional content from the Los Angeles Times.