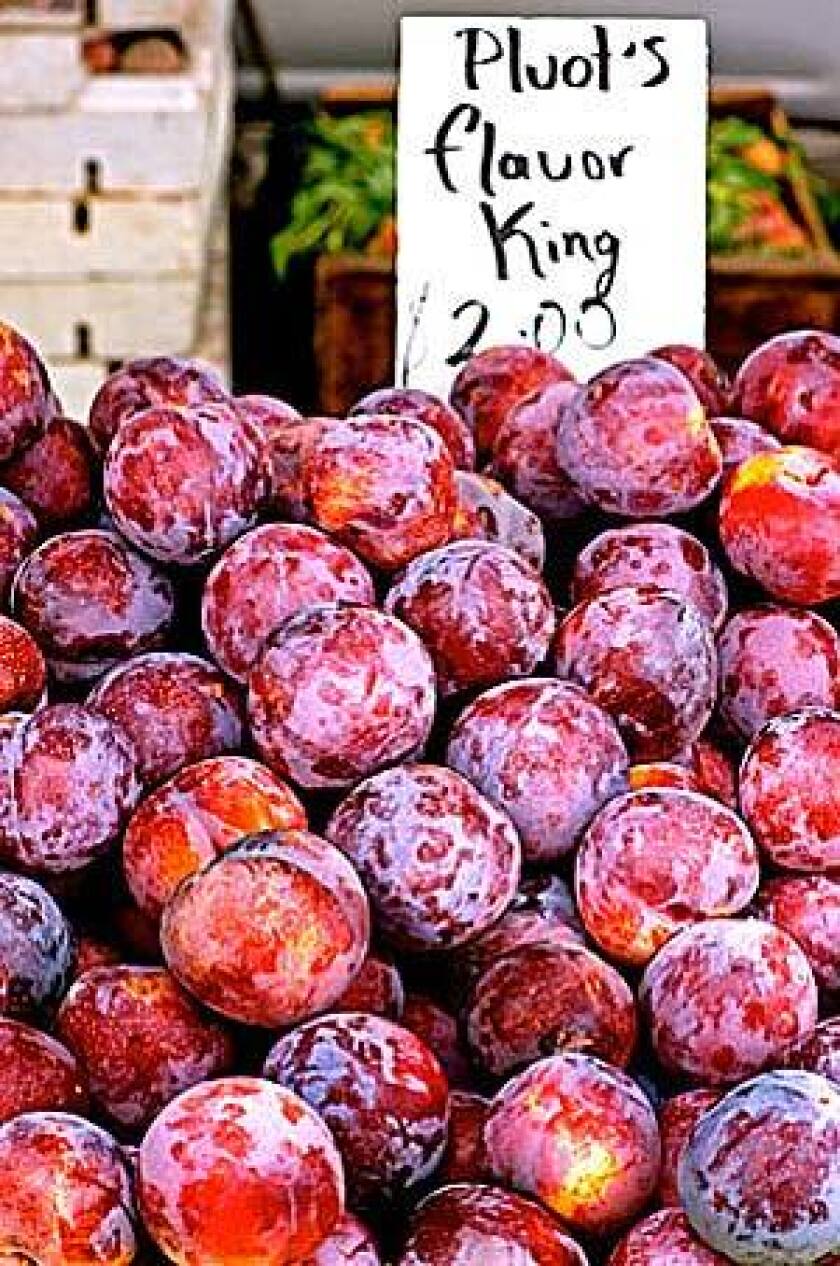 Is it possible to fall in love with a fruit? Six or seven years ago a young Web producer named Chip Brantley was browsing the Culver City farmers market when he encountered a yellow-skinned, outrageously sweet fruit that changed his life. It was a Pluot, probably the Flavor Queen variety, one of the first and tastiest of a series of hybrids of plum and apricot, with plum character predominant, bred by the Zaiger family of Modesto.
Brantley had never heard of Pluots, and was astounded to hear that such hybrids existed. But at the time he was falling in love with the woman who would become his wife, and his ardor for her spilled over into his response to the fruit.
Previously aimless, he found his obsession. Cue violins.
Some months later he telephoned me, saying that he'd read an article I'd written on the Zaigers and wanted to interview me for a whole book about them. Before agreeing to meet, I checked with Robert Wooley, the owner of the nursery that sold the Zaigers' trees, but he did not encourage me to make myself available. So I told Brantley I was busy.
In retrospect I wish I'd been more receptive, because the book Brantley eventually wrote, just published by Bloomsbury, is an engaging one. Titled "The Perfect Fruit: Good Breeding, Bad Seeds, and the Hunt for the Elusive Pluot," it is not just about the Zaigers and Pluots -- that would be a bit much for anyone but die-hard fruit geeks -- but a wide-ranging look inside the California stone fruit industry, its breeders, farmers, history and commerce, its controversies and intrigue.
His central theme, the struggle to deliver flavorful fruit despite the compromises of industrial growing and marketing, should interest anyone who cares about food.
Brantley admits that he knew little about fruit at the beginning, but he takes the reader along for the ride as he learns, visiting San Joaquin Valley orchards and packinghouses. He brings a keen sense for personalities, landscape and language: the tule fog endemic to the area in winter "sits there, like a bored ghost"; stone fruit is a "sell it or smell it commodity"; Floyd Zaiger, patriarch of the family, looking at a tree of the rootstock variety that was his first commercially successful hybrid between stone fruit species, spoke with the "wistful tone a man might take standing over the burial marker of a cherished hunting dog."
Zaiger, now 83, certainly deserves to be celebrated. Many fruit breeders work their entire lives without significantly affecting their crops, but Floyd and his children have created a novel genre of interspecific stone fruit, not just Pluots but also Apriums (apricot-like hybrids), Nectaplums, Cherums (cherry and plum) and Peacotums (peach, apricot and plum). In addition, they single-handedly created a new series of low-acid peaches and nectarines that enabled the commercial revival of white-fleshed varieties in the United States.
The Pluots that first caught Brantley's fancy, the Flavor Queen and the intense, complex Flavor King, represent the Zaigers' creations at their tastiest, although they ultimately proved commercially inviable. Brantley encountered plenty of other captivating fruits, and bought into the industry contention that "the days of growing stone fruit that tasted like cardboard were waning," and that the future is "full of flavor."
The problem is, Brantley, who moved to Massachusetts soon after starting his research for the book, may not have the experience to evaluate such claims; one frequent visitor to the Zaigers' tours of their test orchard recently told me that it took him three years to become familiar with their varieties.
In fact, many of the most recent stone fruit varieties that I've tasted have been just new variations of "big red rocks," which are demanded by stores and shoppers hooked on cosmetic appeal but undermine the industry in the long run.
"Whether you love a low-acid, white-fleshed peach that crunches like an apple or rue the day that peaches stopped dripping down your chin as you ate them, you have the Zaigers to thank for it," Brantley writes. But it is not clear how he feels about this matter.
This issue is critical to the chief drama of the book, which concerns growers' battles to survive disastrous market conditions. These were depressed during the 2007 season, when the author conducted much of his research, and subsequently worsened: Just in the last year half a dozen longtime packinghouses closed their doors, including Ballantine Produce, Ito Packing, Sunny Cal Farms and George Brothers, and growers pulled out an estimated 9,000 acres of stone fruit.
The causes of this debacle -- overproduction, consolidation of supermarket chains, and increased competition from other fruits -- are complex, but one leading breeder whom Brantley met "wondered aloud whether people might be sick of eating bad fruit."
The book closes on an optimistic note, as Brantley visits two branches of the Jackson family who vie ferociously to secure proprietary rights to new super-sweet varieties, like black apricots and plums with flesh as dark as beets, and seem to be prospering. I stopped by these growers recently and felt the same excitement as Brantley, a sense that at least some of the new fruits in the pipeline were fantastic.
Most people eat fruit, but very few realize how radically their experiences are affected by the inspirations and foibles of a few breeders and farmers. Brantley deserves credit for exploring a world little known to the general public.
---