Market Watch: Cuyama, the perfect hideaway for Pink Lady apples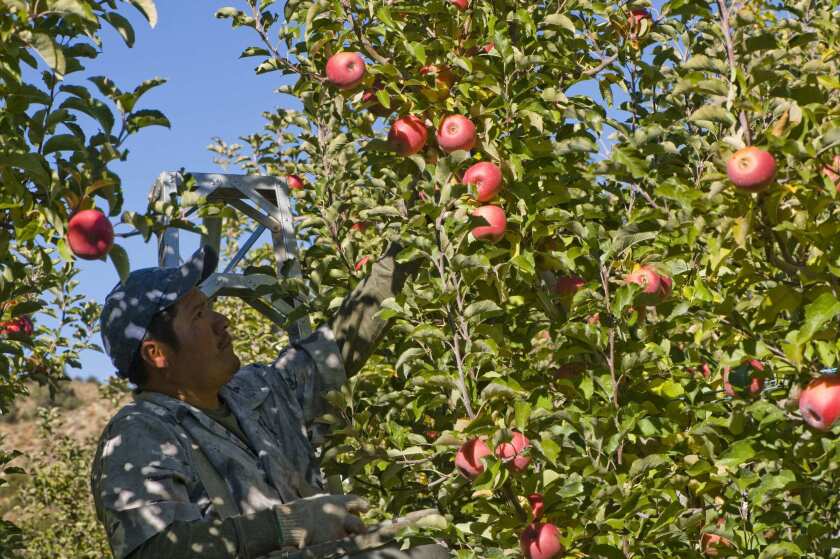 Special to the Los Angeles Times
The Cuyama Valley is just 30 miles northeast of Santa Barbara and two hours from downtown Los Angeles, but it's a world of its own, rimmed by stark, rugged mountains, sparsely populated and little known. At the extreme southern end of the valley, the location where Cuyama Orchards grows apples is particularly remote, surrounded by the Los Padres National Forest, with only bobcats and bears as neighbors; it has no telephone lines or cellphone reception, and when it rains hard, the adjacent Cuyama River floods the only incoming road for a week or more.
It so happens that this secluded area offers the perfect conditions for growing the Pink Lady apple, which originated at about the same latitude, although in the Southern Hemisphere, in Manjimup, Western Australia. This antipodean wunderkind arose in 1973 when fruit breeder John Cripps crossed Lady Williams with Golden Delicious and came up with a new variety named Cripps Pink.
It flourishes despite moderate winter chill and takes advantage of the area's ultra-long growing season to develop both very high sweetness and acidity, for powerhouse flavor. It matures exceptionally late, and keeps firm and crunchy in storage for many months; its distinctive barrel shape and unusual pink color make it easily identifiable in the marketplace, where Cripps Pink fruits that meet certain standards are sold under the trademarked name Pink Lady.
The Cuyama Valley, at elevations above 2,000 feet, hits the sweet spot of warm days and cool nights that brings out the best color, flavor and crunch in this variety, as well as in many others. Even within this area, Cuyama Orchards, at 3,200 feet, is special, drier and cooler, with more intense mountain sunlight, and air free of dust and smog.
At even higher elevations, as in Tehachapi, spring frosts often zap the buds and young fruits; in Washington state, which grows 4,800 acres of Pink Ladys, the great majority of domestic production, autumn frosts sometimes destroy the crop, encouraging growers to pick early. After a brief but intense boom and bust, California now has just a few hundred acres of Pink Ladys, none more ideally situated than the 45 acres farmed by Howard and Jean Albano of Cuyama Orchards.
Howard, 79, grew up on a farm in Idaho, earned a degree in Russian studies and then moved to Los Angeles, where he prospered in the high-end video equipment business. In 1980, on a whim, he and his wife bought a property in Cuyama, where they raised hay for horses. In the late 1980s, they saw that several neighbors had planted apples and appeared to be doing well, and in 1993 they jumped on the bandwagon and put in a planting of their own.
Historically, remote Cuyama was never a major apple growing area, although there were scattered plantings; the Sunburst religious community, regarded by some as a cult, bought a farm with 4,000 apple trees in 1973. Then in the late 1980s, with apple prices high, Cuyama seemed ideal for growing Pink Ladys, and half a dozen growers put in more than 2,000 acres of apples.
Their concept was good, but their market timing was wretched. Just as the orchards were coming into full production, in the late 1990s, an international glut of apples caused a catastrophic crash in prices; meanwhile, grocery chains were consolidating and increasingly preferred apple shippers who, unlike Cuyama growers, provided a yearlong source.
Furthermore, though historically California apples were focused on the early season, because of its higher elevation Cuyama's growers had to compete head-on with Washington state's.
The largest apple growers in Cuyama, the Logoluso family, placed an especially aggressive bet on Pink Ladys, sparing no expense on their more than 1,000 acres of the variety, a few crucial years before the brand was fully established in the marketplace; in the ensuing debacle they reportedly lost tens of millions of dollars.
In an article that appeared 10 years ago, I sadly observed the carnage: bulldozed trees stretching to the horizon. All the Cuyama apple growers, including Fred Kosmo, who sold at many farmers markets, lost their orchards, which mostly were converted to growing carrots.
Except the Albanos. How did they survive? According to the family, they were more cautious originally about expanding their plantings; they earned higher prices when their orchard became certified organic a decade ago, a transition made easier by their isolation from the pest pressures of other farms; and they were close to the large, affluent markets of Southern California just as interest in locally grown food was taking off.
"Being 100 miles from L.A. is a big, big deal, I can tell you that, in terms of a marketing advantage," Howard Albano said during a visit to his orchard for the harvest of Pink Ladys on Monday.
The family's entry into farmers markets was late but decidedly old-school. That is, son Byron Albano, who markets the farm's crop from an office in North Hollywood, did not have time to supervise a farmers market program himself, but his friend Philip Santiago happened to have gone to UCLA with Diana Rodgers, manager of the Mar Vista farmers market, and was looking for new opportunities after a career in marketing vintage clothing to Japan.
Assisted by his parents, Norma and Edward, Santiago started with that one market last year. Customers loved the fruit, and this season they have added the downtown Los Angeles and Echo Park markets on Fridays, Brentwood on Sundays and Culver City on Tuesdays. They plan to start selling at the Torrance market on Tuesdays within the next few weeks.
The Albanos now grow a dozen varieties commercially, including Gala, Fuji and Honeycrisp, on 300 acres, and most of their sales go to upscale chains such as Whole Foods, Gelson's and Bristol Farms.
The farmers market outlet might seem like an afterthought but actually serves a crucial role as a proving ground for new specialty and heirloom varieties, says Byron. There's Arkansas Black, dramatically dark and hard as cement; venerable Newtown Pippin, lopsided but intensely flavored and long-keeping; and Howard's favorite, Crimson Gold, a tiny, flattish apple with rich flavor and crunchy flesh.
Some varieties eventually don't succeed in production orchards, like Esopus Spitzenburg, which the Albanos yanked last year because of its extreme susceptibility to fire blight. But they recently planted 200 trees each of Calville Blanc D'Hiver, the classic French variety for making tarts, and Kandil Sinap, a bizarrely elongated but exquisitely flavored Turkish heirloom.
Growers in Washington have started to plant new mutations of Cripps Pink that are redder and ripen earlier, and although the Albanos have test trees of some of these, they will not plant them commercially unless they are convinced that they are equal in eating quality to the original variety.
And whether at farmers markets or grocery stores, there's one thing you won't get with their apples: MCP, a chemical compound (1-Methylcyclopropene) that preserves the crunch and extends the storage life of most commercial apples, at the expense of aroma. That means that the season for even the latest Cuyama Orchards apples ends in spring, rather than extending year-round, but the color, crunch and flavor of the fruit all derive from the natural advantages of their growing area, in its pristine seclusion.
---
Get our weekly Tasting Notes newsletter for reviews, news and more.
You may occasionally receive promotional content from the Los Angeles Times.