Recipe: Korean <i>galbi jjim</i> pressure cooker-style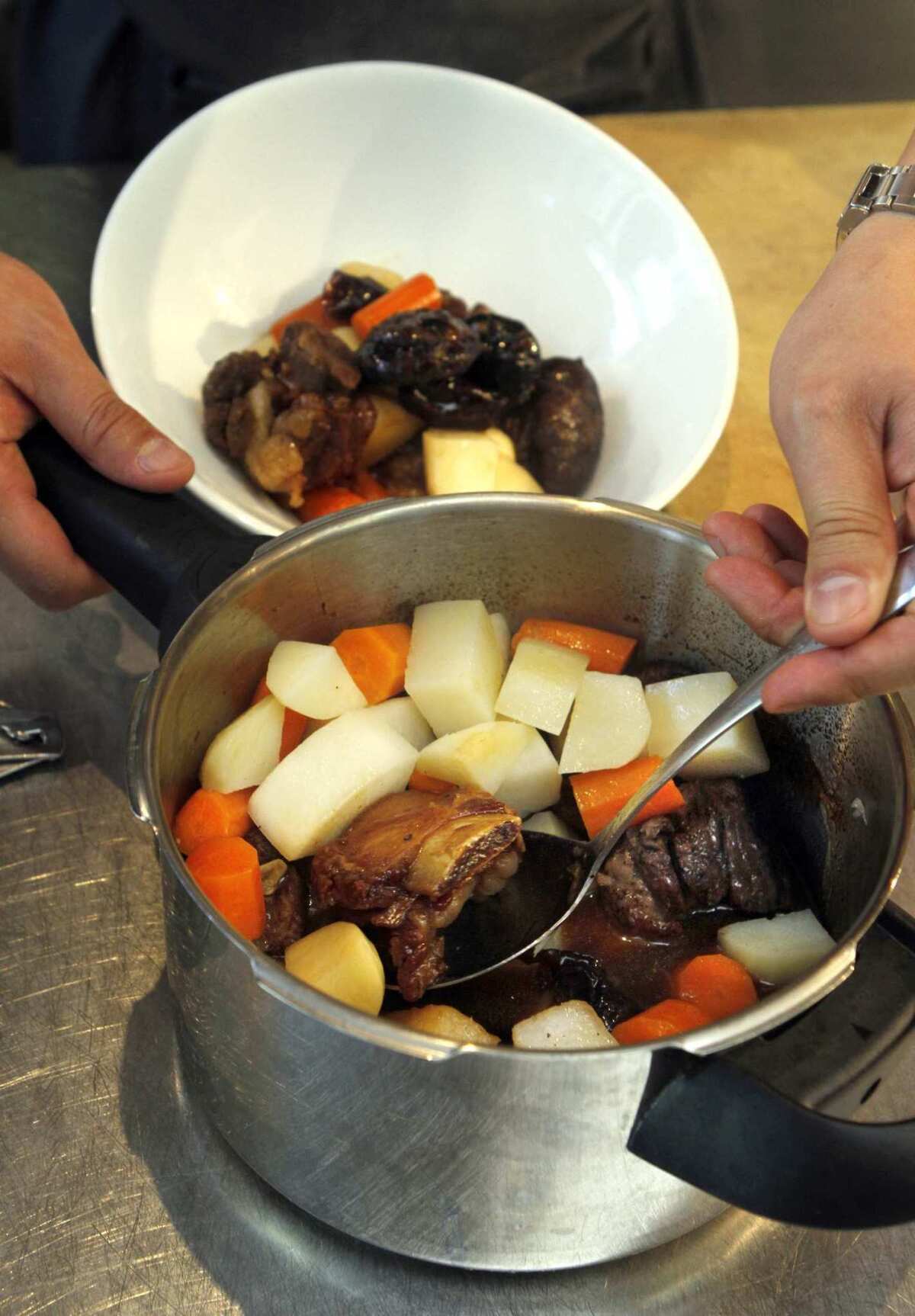 Total time: 2 hours
Servings: 6 to 8
Note: Serve the ribs with steamed rice and radish kimchee. Korean soy sauce, malted rice syrup, jujubes and Korean sesame oil can be found at Korean markets and select Asian markets.
3 1/2 pounds bone-in beef short ribs, cut crosswise (flanken-style) into 2- to 3-inch strips
Kosher salt
1 tablespoon canola or vegetable oil
1/2 cup Korean soy sauce
1/4 cup Korean malted rice syrup
1/2 cup mirin
1/2 onion, grated
4 ounces daikon radish, grated (½ cup)
1/2 Asian pear, grated
6 cloves garlic, minced
5 dried shiitake mushroom caps
5 dried Korean red dates (jujubes)
12 (1½-inch) daikon radish cubes
2 carrots, cut into 1½-inch lengths
1 potato, cut into 1½-inch cubes
1 tablespoon Korean sesame oil
1 teaspoon ground black pepper
1/4 cup chopped green onions
Toasted sesame seeds, for garnish
1. Trim the short ribs of excess fat and cut between each bone. Make two vertical cuts in each piece of rib down to the bone. Season each piece of rib with one-eighth teaspoon salt, rubbing the salt on all sides of each rib to cover completely.
2. Heat a sauté pan (preferably cast iron) over medium-high heat until hot. Add the canola oil and sear the ribs in a single layer until browned on all sides, 8 to 10 minutes (the ribs may need to be seared in batches). Drain the seared ribs on paper towels and set aside.
3. In a mixing bowl, combine the soy sauce, malted rice syrup, mirin, onion, grated daikon, pear and garlic.
4. In a 3½-quart stove-top pressure cooker, combine the seared meat and soy mixture. Stir in the dried mushrooms and red dates. Cover and cook at high pressure (15 psi) for 1 hour. Start keeping time once it has come to full pressure, reducing the heat just to maintain pressure (but watch to make sure the cooker does not go below full pressure for the entire hour).
5. Manually release the pressure on the cooker, then open the top. The meat should be very tender when checked for doneness.
6. Taste the sauce and season again if desired; it should be sweet and savory. The volume of liquid should have increased after cooking for 1 hour. Gently stir in the daikon radish cubes, carrots and potato, along with the sesame oil and black pepper. Close the cooker and heat over high heat to bring the cooker back to full pressure (15 psi). Once the cooker has reached full pressure, remove from heat and allow the pressure to reduce naturally; do not release the pressure from the valve manually.
7. When the pressure is released, open the cooker. Check the vegetables; they should be tender. Cool slightly, then serve with a garnish of green onions and sesame seeds, along with a drizzle of additional sesame oil if desired.
Each of 8 servings: 626 calories; 41 grams protein; 24 grams carbohydrates; 2 grams fiber; 40 grams fat; 14 grams saturated fat; 139 mg cholesterol; 7 grams sugar; 1,047 mg sodium.
---
Get our L.A. Goes Out newsletter, with the week's best events, to help you explore and experience our city.
You may occasionally receive promotional content from the Los Angeles Times.