The craft beer project that grew from Masumoto Family Farm's peach trees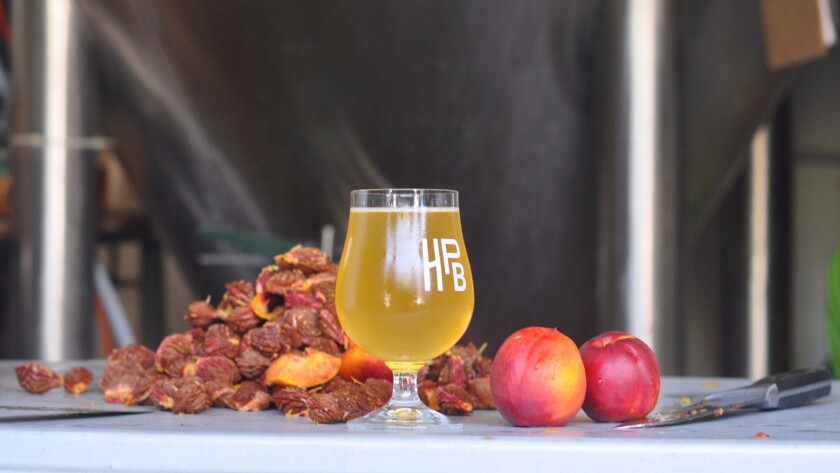 Not long ago, brewers were ridiculed for daring to adulterate their beer with fruit, and drinkers largely bought into the idea that beer should be free from additives beyond the malt and hops integral to the beverage.
The craft beer awakening has changed that outlook, and many American craft brewers are dusting off the traditional techniques of Belgian brewers who've long created complex, fruit-flavored brews.
California's craft brewers enjoy an edge in this new fruity arms race: Thanks to the bounty of the Golden State's farms and Chris Quiroga — a beer geek turned fruit broker — a dozen breweries in Southern California have access to some particularly noteworthy peaches. Quiroga has become the conduit between a network of adventurous brewers and a singular farmer famous for his passion — and his heirloom peaches.
On 80 dusty acres south of Fresno, David "Mas" Masumoto grows organic grapes, peaches and nectarines. The struggles to save his beloved Sun Crest peaches and forge a new connection to land that his family had farmed for three generations was the subject of one of Masumoto's nine books, 1995's "Epitaph for a Peach." Also a columnist and speaker, Masumoto explores the farmer's shifting place in society, and his latest book — "Changing Season: A Father, a Daughter, a Family Farm," about his daughter taking over the farm — was released this year. But it took the death of a backyard peach tree for Masumoto fruit to catch on with brewers.
The dead peach tree belonged to an employee at San Diego's Lost Abbey brewery, and the last peaches it bore — before blowing over in a windstorm around 2008 — were used to make that brewery's Yellow Bus. That experimental golden, sour ale became a craft beer sensation even though (or perhaps because) only 50 gallons were brewed. A regular at the brewery's tasting room and special events, Quiroga — then 29 and working as a residential contractor — loved Yellow Bus and wanted to help the brewery make more peach beer.
Looking to source the best peaches in the country, he asked an "online beer-nerd acquaintance" in Florida for leads; his beer-trading buddy pointed him to the Adopt-a-Tree program at Masumoto Family Farm.
Masumoto screens applicants of the program, and he wants to know how the fruit will be used. "We want people who care about the food, care about the farm ... and who are serious," he says. The plan to use his fruit in beer intrigued Masumoto, and he offered Quiroga a tree to harvest in 2011.
Quiroga enlisted the help of "like-minded beer nerds" for the trek to Fresno and the hands-on work of picking the peaches. That first year's harvest — over 600 pounds of Sun Crest peaches and Lagrange nectarines — went primarily to the Lost Abbey, Pasadena's Craftsman Brewing Co. and some of Quiroga's homebrewer friends. The fruit was not as large or as picturesque as supermarket peaches, but it had what the brewers were looking for: flavor and a balance of sweetness and acidity.
Craftsman Brewing founder Mark Jilg is particularly fond of the Masumoto fruit, and he's worked with it more than perhaps any other brewer. He describes the character of the finished beer as biting into a peach, but in reverse — that the tannins in the peach skin add a drying sensation to the beer's finish. "Like peach fuzz, but at the end of the sip instead of the beginning of the bite," he says.
With each harvest, the collaboration between Masumoto and Quiroga expands, and Quiroga has no trouble finding brewers eager to add Masumoto peaches and nectarines to their brews. At the end of this year's harvest — his sixth — over 10,000 pounds of Masumoto fruit had been delivered around Southern California, and each piece is hand-sorted and inspected by Quiroga before delivery. "The whole thing started as a beer nerd who wanted a crazy project," he says.
Quiroga's love of Masumoto peaches is shared by all the brewers with whom he's chosen to work, including Orange County's the Bruery and San Diego's Modern Times Beer. In Los Angeles, Highland Park Brewery co-founder and brewer Bob Kunz has used the fruit since before his brewery opened, and on days that he receives a shipment of fruit, it's like a brewery-style barn raising. Friends gather in the cramped brewery space to wash and breakdown hundreds of pounds of fruit while it's at the peak of ripeness. Most of the beer featuring Masumoto fruit is wood-aged and takes months to mature; many of the brews won't be released until the spring.
"These old varieties are finding a home and resonating with the work the brewers do," Masumoto says. "We're not just having fun together, we're in these endeavors together."
Masumoto has even started farming with the brewers in mind. "My sense is to really push this high-acid, high-sugar balance," he says, "so I'll do things like alter some watering practices and look for the fruit that will really work for Chris."
On the last weekend of the harvest in late July, Quiroga traveled to the farm and shared a selection of peach-infused beers from several breweries with the Masumoto family.
"It's a real thrill for our whole family, to see our name actually on a beer label," Masumoto says. "There's nothing like sampling a beer made with your fruit, under the trees that grew that fruit. It's really a cool experience."
---
Get our weekly Tasting Notes newsletter for reviews, news and more.
You may occasionally receive promotional content from the Los Angeles Times.