'Not real foodies'? The Michelin Guide eats its words, will return to Los Angeles
L.A. Times Today airs on Spectrum News 1, Monday through Friday at 7 p.m. and 10 p.m.
Nearly a decade ago, after the Michelin Guide retreated from Los Angeles following a brief and rocky tenure, the then-director of the storied restaurant ratings summed up the city's diners as such:
"The people in Los Angeles are not real foodies," Jean-Luc Naret said. "They are not too interested in eating well."
Michelin appears to be eating its words now, with the vaunted but divisive guide expected to announce Tuesday that it is making a comeback.
By the summer, Michelin — whose star ratings are considered among the most prestigious honors a restaurant can earn — will release a California guide that will include L.A., ending years of speculation that it would return to the city after publishing just two guides here.
L.A.'s always been a great dining town — it just never got its due.
— Sang Yoon, chef of Lukshon
It will be the first time Michelin and its team of anonymous inspectors evaluates restaurants across an entire state in the U.S. rather than a specific city, a nod to California's prowess as a premier food destination, guide officials said.
"Michelin recognizes California as a booming culinary destination which is setting the dining trends for the future," International Director Gwendal Poullennec said. A statewide edition "will enable Michelin to extend its reach to new areas, and in doing so engage with a broader audience of foodies who love the high-quality, laid-back dining scene."
It's also a tacit acknowledgement that what makes California cooking great is not confined to the Bay Area, which has long been held up as the standard of exemplary dining on the West Coast; a San Francisco Michelin Guide has been published annually since 2007.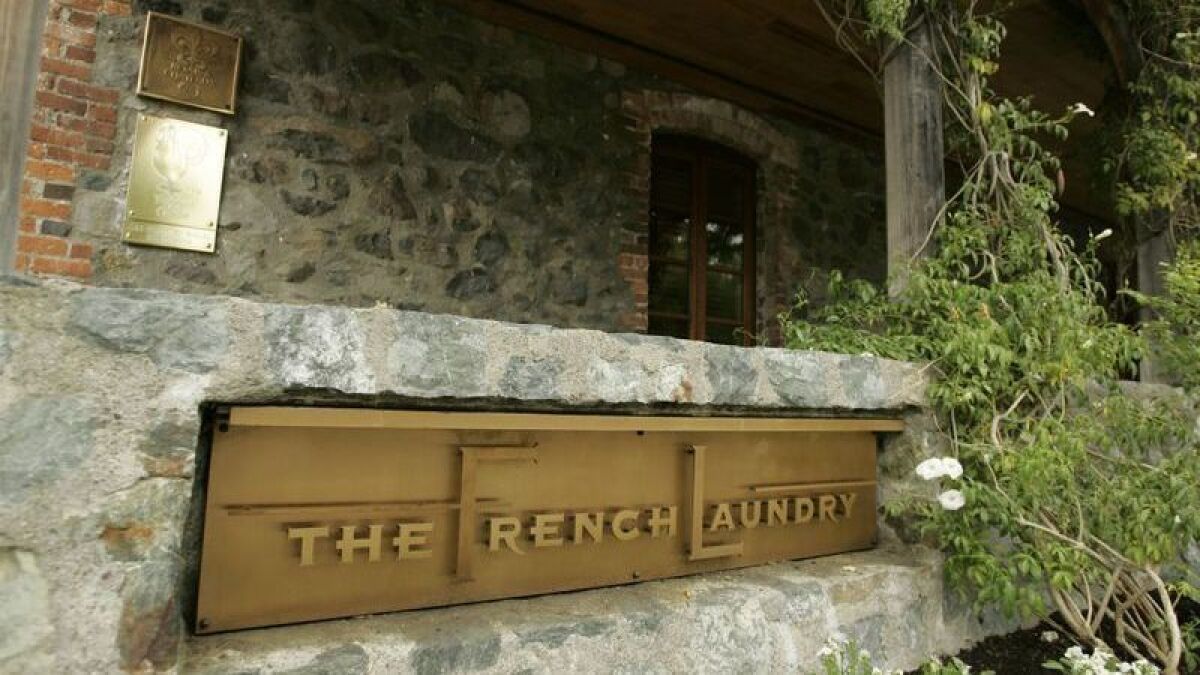 After years of being overlooked, many Los Angeles chefs say they're pleased to see Michelin back — a sign, they say, that the guide recognizes the evolution of the city's exciting dining scene as well as its longstanding, distinctive strengths. In short, it's not that L.A. has caught up to Michelin standards, but that everyone else is finally paying attention to L.A.
"I just think Michelin is way late," said chef Josef Centeno, whose five restaurants include Orsa & Winston and Bäco Mercat downtown. "There were Michelin-worthy restaurants in the '80s and '90s. Like Nancy Silverton and Evan Kleiman and Wolfgang Puck — there were so many important chefs that changed the way America started cooking and eating, but L.A. never got the proper recognition."
Sang Yoon, chef of Lukshon in Culver City, said as vegetable-forward cuisine and imaginative regional cooking became more valued among diners worldwide, people began to perceive Los Angeles as a top-tier dining destination.
"There's a palpable shift," he said. "L.A.'s always been a great dining town — it just never got its due."
The reality is whatever perspective you have on it, it's a global guide that's respected and it puts L.A. on the map.
— Dave Beran, chef of Dialogue
Whether Michelin should return to L.A. has been a hotly debated topic in the restaurant community. First published by the French tire company in 1900, the guide has become an indispensable resource for high-end diners; for restaurants, earning a coveted star (three stars is the highest) is typically accompanied by a surge in business and prestige.
But it has also been criticized for prioritizing opulence over food, for giving more weight to pricey French restaurants while overlooking other cuisines and for helping fuel a checklisting mentality among star-collecting diners.
"Some people will tell you Michelin is a very dated, antiquated system, no one really understands it; some people will tell you it's the Bible," said Dave Beran, who was chef de cuisine at Alinea when the Chicago restaurant received three Michelin stars in 2011 and opened the intimate, tasting-menu-only Dialogue in Santa Monica two years ago.
"But the reality is: Whatever perspective you have on it, it's a global guide that's respected," he continued, "and it puts L.A. on the map."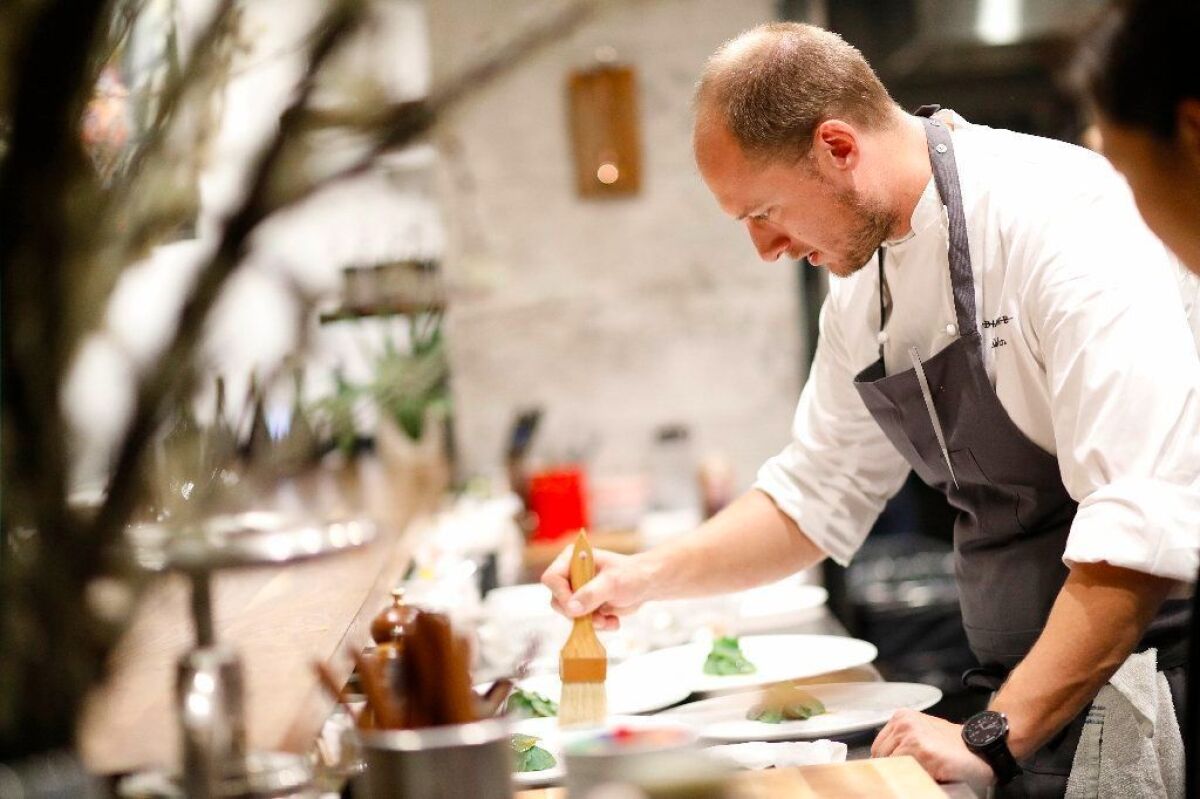 Michelin first released a Los Angeles guide in 2007, ceasing publication two years later because of financial challenges (its time in L.A. overlapped closely with the Great Recession, a period when Americans cut back heavily on dining out and other discretionary spending). It also contended with sluggish sales and mixed reception.
The L.A. guide was most famously slammed by late Los Angeles Times critic Jonathan Gold, who was outspoken in his disdain for Michelin's presence in his hometown. Writing for the L.A. Weekly in 2008, when he was that paper's critic, Gold contended that the "boneheadedness" of the guide was ill-suited to a city with a dining scene so complex, unique and wide-ranging.
"Last year's inaugural Michelin Guide to Los Angeles restaurants was appalling, ignorant of the way Angelenos eat, reading as if it was put together by a team too timid to venture further than a few minutes from their Beverly Hills hotel," he wrote. "This year's guide, although it is more or less identical, is just boring."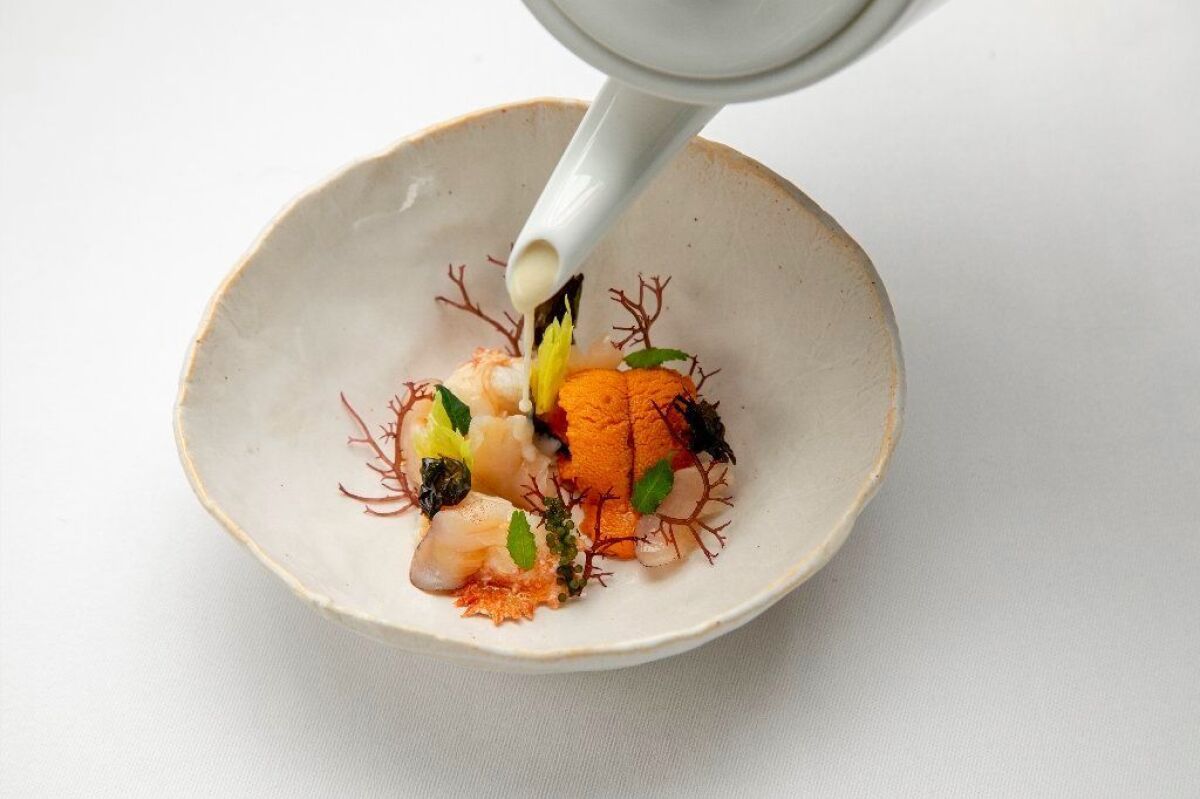 Gold went on to lament the absence of stars for any Korean, Middle Eastern, Central American, regional Mexican or regional Thai restaurants. (A handful of restaurants in those categories did receive Bib Gourmand recognition, Michelin's separate award for "good quality, good value cooking.")
"We historically have not been a city that fits with the Michelin aesthetic, and I agreed when Jonathan said we're not a Michelin town," Yoon said. "But I also don't think it's a city that is the same as it was 10 years ago."
Indeed, much has changed. Half of the 20 restaurants that received stars in the final L.A. guide have closed. Those that remain include Providence, Spago and Urasawa, which each received two stars, and such one-star recipients as Osteria Mozza, Asanebo, Cut and Water Grill.
Joining them is an impressive roster of newer and ambitious restaurants that have been credited with helping push L.A. to the forefront of national dining conversations. Vespertine, n/naka, Bavel, Trois Mec, Taco María, Dialogue, Orsa & Winston and Lukshon are all likely Michelin contenders.
It remains to be seen whether inspectors will award stars to a wider range of L.A. restaurants this time around — and if, for the first time, any receive the much-heralded three-star ranking. In the U.S., San Francisco holds the most number of three-star restaurants with eight.
Chef Daniel Patterson, whose restaurants include the two-Michelin-starred Coi in San Francisco and the new Alta Adams in Los Angeles, said that when the California guide is released in a few months, whether certain restaurants did or did not receive stars "are the things you can endlessly debate."
"But what I don't think you can debate is that Los Angeles deserves to be considered at the same level as the Bay Area," he said. "The quality of cooking, the quality of ingredients is extraordinary in both places."
The official Michelin announcement will be made Tuesday morning in Sacramento during an event co-hosted by the state's tourism board and attended by roughly 150 food journalists and such three-starred chefs as Thomas Keller of the French Laundry and Corey Lee of Benu. The smaller cities that the California guide will include will be revealed there.
What I don't think you can debate is that Los Angeles deserves to be considered at the same level as the Bay Area.
— Chef Daniel Patterson, whose restaurants include Coi in San Francisco and Alta Adams in L.A.
Michelin publishes 32 guides annually in more than two dozen countries, including four in the U.S.: San Francisco, New York, Chicago and Washington, D.C. The San Francisco edition will fold into the larger California guide as part of the expansion, a spokesman said.
L.A. chefs said they look forward to the heightened awareness and attention Michelin's return will bring, particularly among tourists who depend on the guide.
"It's going to be good for the city as a whole," Beran said. "More people are going to want to come here to dine; it's just going to make the restaurant scene better."
"As a town, we deserve all the accolades," Yoon said. "That said, we've come this far without Michelin."
Twitter: @byandreachang
Instagram: @byandreachang
Get our L.A. Goes Out newsletter, with the week's best events, to help you explore and experience our city.
You may occasionally receive promotional content from the Los Angeles Times.