Recipe: Olive oil-thyme monkey bread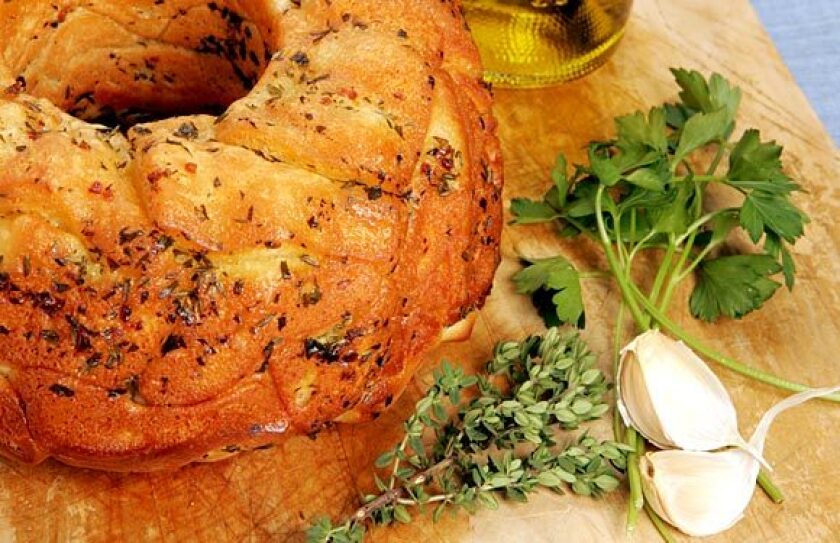 Olive oil-thyme monkey breadTotal time: 1 hour, 10 minutes plus rising timeServings: 10 to 12 1/4 cup plus 2 tablespoons olive oil1 tablespoon fresh thyme leaves, lightly packed2 tablespoons minced fresh parsley1 1/2 teaspoons minced garlic 1/4 teaspoon saltFreshly ground black pepper1 recipe basic monkey bread dough1. In a small bowl, combine the olive oil, thyme, parsley, garlic, salt and a few grinds of black pepper. Set aside.2. Punch down the dough and turn it out onto a lightly floured work surface. Roll the dough into a rectangle one-fourth-inch thick. Using a pizza cutter or sharp knife, cut the dough into 1-by-2-inch rectangles. (The dough can also be cut into triangles, but rectangles are speedy and easy. It's OK if some of the end pieces are not perfectly rectangular; intersperse them among the prettier rectangles and the bread will bake up great.)3. Dip each piece of dough into the herbed olive oil mixture to lightly coat, shaking off any excess oil. Arrange the rectangles in the bottom of a nonstick Bundt pan, crisscrossing and overlapping the pieces. Continue until you have used all of the dough and olive oil.4. Cover the Bundt pan loosely with plastic wrap and set aside until the dough rises almost three-fourths up the sides of the pan, about 1 hour. Meanwhile, heat the oven to 350 degrees.5. Uncover the pan and bake until the bread is puffed and lightly golden brown, about 25 to 30 minutes, rotating the pan halfway through for even coloring.6. Remove to a rack and cool the bread, still in the pan, for 15 minutes. Invert the bread gently onto a serving plate or platter. Serve warm.Each of 12 servings: 280 calories; 5 grams protein; 31 grams carbohydrates; 1 gram fiber; 15 grams fat; 6 grams saturated fat; 22 mg. cholesterol; 5 grams sugar; 253 mg. sodium.
---
Get our new Cooking newsletter.
You may occasionally receive promotional content from the Los Angeles Times.