Recipe: Beer and caraway mustard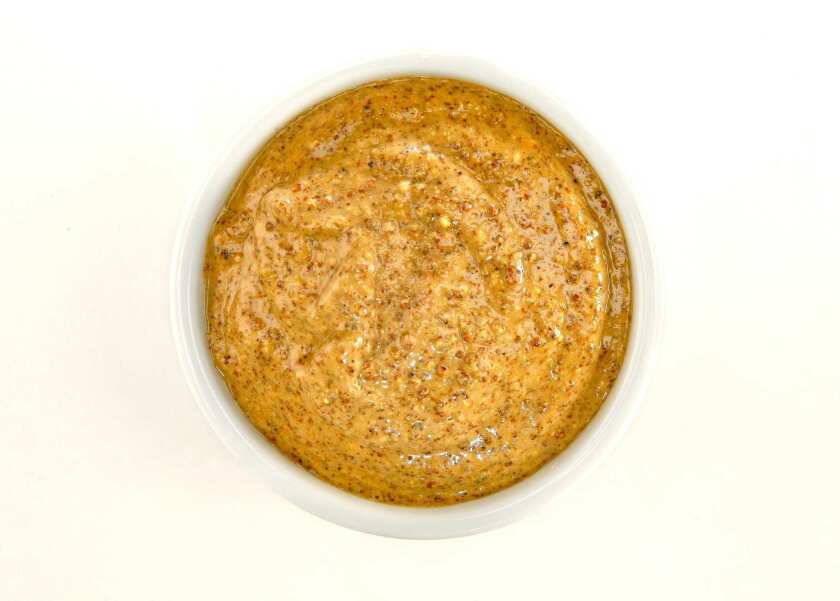 Beer and caraway mustard
Total time: 15 minutes, plus overnight soaking time for the mustard
Servings: Makes about 1 2/3 cups mustard
Note: To toast caraway seeds, place them in a small skillet. Heat the skillet over medium heat, just until the seeds become aromatic, 1 to 2 minutes, shaking the pan occasionally to keep the seeds from burning.
About ¼ cup plus 3 tablespoons (2½ ounces) brown mustard seeds
About ¾ cup (2½ ounces) mustard powder
1 tablespoon toasted and crushed caraway seeds
1/2 cup water
3/4 cup flat beer, preferably stout or a dark ale
1 1/2 teaspoons kosher salt
2 1/2 tablespoons dark brown sugar
1 teaspoon Worcestershire sauce
1. Soak the mustard seeds: Place the mustard seeds, powder and crushed caraway seeds in a medium glass or ceramic bowl along with the water and beer. Set aside, covered (but not sealed airtight), for 24 hours.
2. Place the mixture in a food processor along with the salt, sugar and Worcestershire sauce. Process for 1 to 2 minutes until the seeds are coarsely ground. This makes about 12/3 cups mustard.
3. The mustard will be very pungent at first. Cover and refrigerate for at least one week before using, to allow the flavors to mellow and marry.
Each tablespoon: 36 calories; 2 grams protein; 3 grams carbohydrates; 1 gram fiber; 2 grams fat; 0 saturated fat; 0 cholesterol; 1 gram sugar; 68 mg sodium.
---
Get our weekly Tasting Notes newsletter for reviews, news and more.
You may occasionally receive promotional content from the Los Angeles Times.