What We're Into: Cheeseburger dumplings at My Little Dumpling in Beverly Grove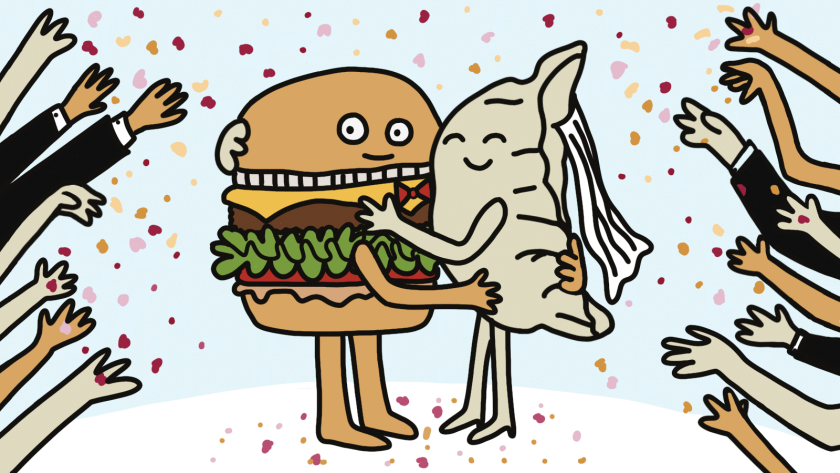 I've spent most of my life eating as-traditional-as-it-gets dumplings, noodles and congee in the San Gabriel Valley. Regardless, I'm magnetically drawn to the idea of the next dumpling/burrito/doughnut/taco/cupcake hybrid. Sometimes the results are life-changingly good — see Korean barbecue tacos — sometimes they are Cheetos cupcakes, which are not.
At the new My Little Dumpling in Beverly Grove, owners Robert and Anthony Mandler (Robert opened Chin Chin in the early '80s) are making cheeseburger dumplings.
"One day I said, 'Why don't we put In-N-Out Burger in a dumpling?' " Anthony said.
It's a blasphemous slap at a food I find sacred, but I ordered it anyway. The dumplings arrived in two small pucks, each cut in half, revealing a hamburger patty crowned with sautéed onions, sliced dill pickle and oozing American cheese. It's encased in a crisp dumpling wrapper that's pan-fried then stuck in the oven to cook through. If you were to put the filling on a potato bun you could call it a very good hamburger. Wrapped in a dumpling wrapper, it's still a good hamburger, with no bun to detract from the meat-cheese-and-pickle situation. The dumplings are served with a ramekin of lychee ketchup that tastes like a fruitier version of the Heinz stuff we all know and love.
This is food as spectacle — a degradation of my Chinese American upbringing. I felt dirty eating it, but I plan to again and very soon.
8432 W. 3rd St., Los Angeles, (310) 450-9393, mylittledumplingla.com
Instagram: @Jenn_Harris_
---
Get our weekly Tasting Notes newsletter for reviews, news and more.
You may occasionally receive promotional content from the Los Angeles Times.