Column: For cramped New York, an expanding dining scene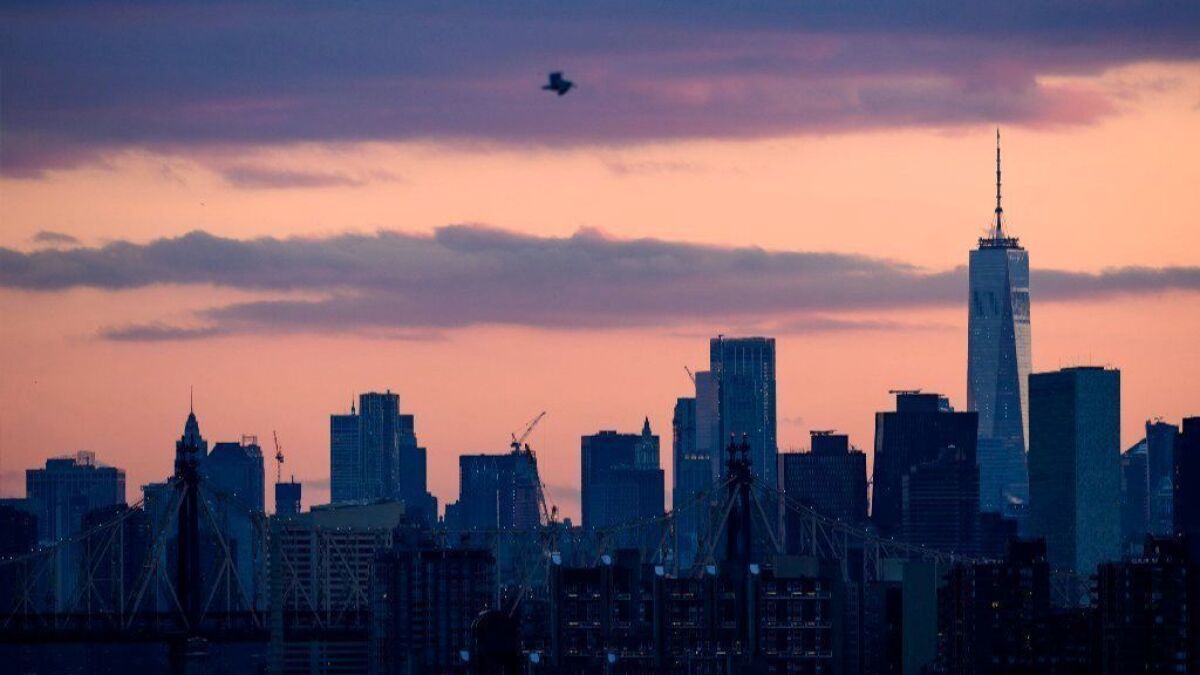 Food Columnist
The bright lights of New York City beckon to the restless and the hungry. In the city that never sleeps, as they say, the marquees of Times Square nearly make one forget the concrete dystopia of what is seemingly an unlivable urban wasteland. Surrounded by rats, black trash bags and graffiti-tagged storefronts on Broadway Street, New York's primary thoroughfare, I wondered aloud if I would be able to find a decent meal in what was surely a culinary heart of darkness.
In Los Angeles, we're spoiled by the breadth and quality of our dining options. In addition to outstanding year-round produce, I can get great huaraches, refreshing mul naengmyeon and impeccable chả giò within 15 minutes of where I live. But what about New York, a largely culturally bereft island that sits curiously between the Hudson and East Rivers at the foot of the Catskill Mountains? Sure, we've all heard of hot dogs, a staple of every New Yorker's diet, famously gnawed on by rodent and human alike in that "toddling town."
But as it turns out, there's more. A lot more. A number of daring restaurants have opened in recent years, vastly improving the city's scrappy culinary scene and making it a legitimate dining destination. Others are emphasizing seasonal fruits and vegetables in what seems to be a clear nod to Los Angeles. A weekend spent in the "city so nice they named it twice" leads this writer to recommend, rightly or wrongly, that food enthusiasts consider paying a visit to New York (The Big Apple in local jargon), a city that just years ago was terrorized by "Son of Sam" David Berkowitz.
My first culinary encounter was with pizza, a mysterious kind of baked tlayuda, covered in macerated tomatoes and milk coagulation, and occasionally smothered with a type of thinly sliced lap cheong called pepperoni. The odd dish, sometimes referred to as a pie, washed ashore from Naples some years ago. While the taste takes some getting used to, pizza can be enchanting when done properly.
Read the official breakfast cereal power rankings: Part I »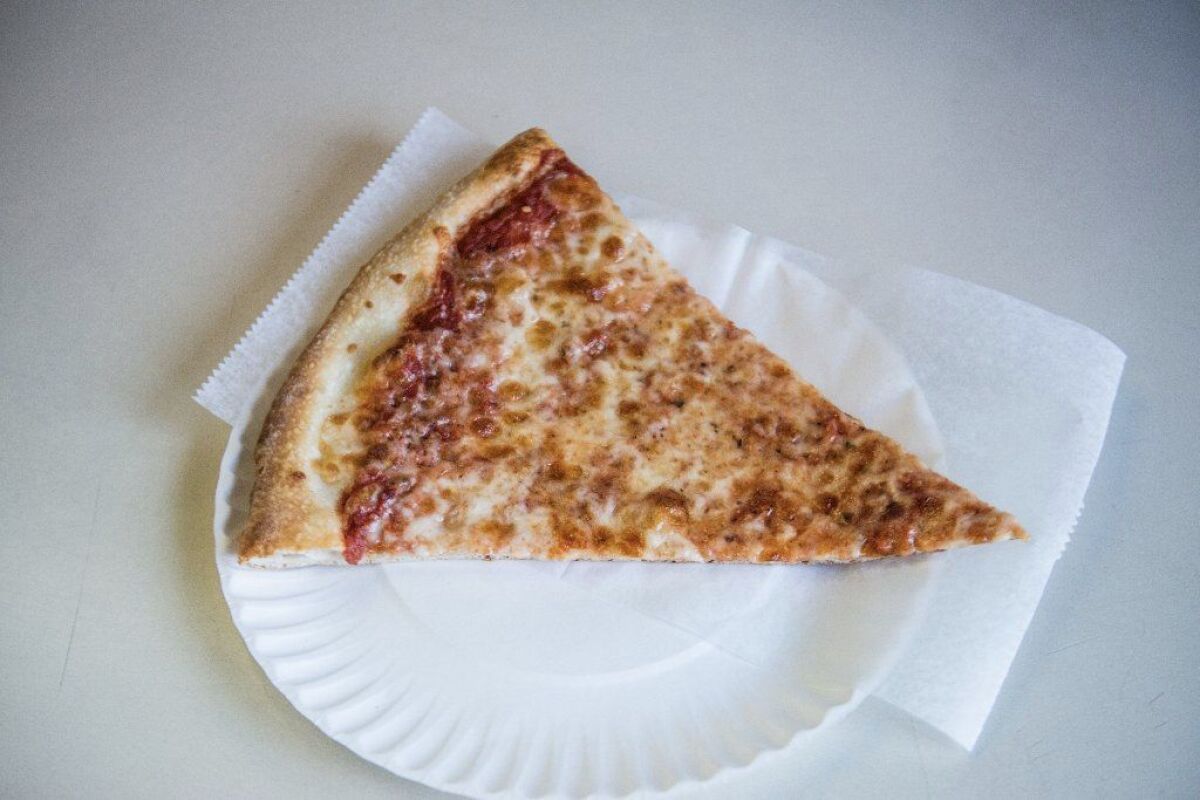 Look no further than Roberta's in up-and-coming Brooklyn, a dangerous, brooding suburb accessible through the city's antiquated system of underground metal cars (similar to Los Angeles' Metro system, but more expensive). It was, nevertheless, worth the arduous trip to enjoy a Lil' Stinker pizza ($18), covered in tomato mash and curdled milk, along with garlic and tangy peppers.
On the topic of transportation: While New Yorkers don't drive, cars are seemingly everywhere, especially in the form of yellow rented automobiles (taxis) that traverse the city. Near the large quadrangular park in the middle of the city, horse and buggy is, shockingly, still the preferred mode of transport. Uber and Lyft, both of which launched in California, would seem to make sense and help modernize a place like New York, which has few viable means of transportation. Perhaps these services will catch on.
"I'm walking here!" a man growled at me as I brushed past him in a crosswalk. The New Yorker temperament is famously brusque, but I was at fault in this case. I was distracted by the bagel I'd purchased at Russ & Daughters, an outfit that has seemingly popped up overnight into a store with a bustling cafe down the street.
The Jewish-style delicatessen I am well familiar with — Los Angeles has the strongest deli scene in the country, after all — but I'd somehow never had a bagel before, a dense version of a baozi that's boiled, then baked. With a vaguely alkali exterior and a chewy but pliant center, the bagel was puzzling but nevertheless a treat. And that hole in the middle? Apparently, it's supposed to be there.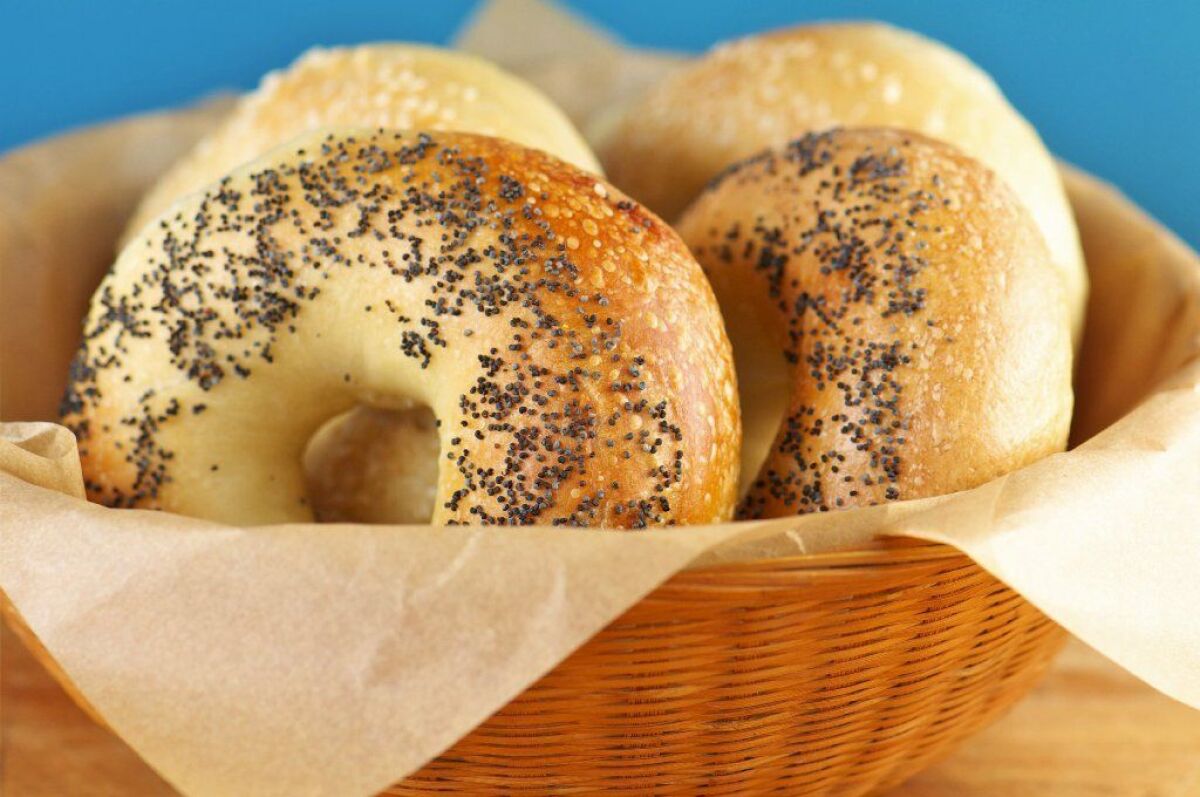 One could be forgiven for not wanting to visit New York at all; Personal space is not available, nor even particularly desired. Residents willingly live in densely packed warehouse-like buildings and commute daily to the Midtown neighborhood, the city's cultural and spiritual hub, to labor.
And yet I enjoyed a lovely walk one afternoon from my lodgings in the happening Murray Hill neighborhood, crossing Houston (pronounced "HOW-ston") and into the wilds of the Lower East Side. I passed the buzzy eateries of David Chang and Danny Bowien, two young chefs who've gained a local following with their versions of Asian fusion cuisine. Heading west on Canal Street into Chinatown, I wandered up and down the narrow byways, baffled by paper lanterns, religious icons, traditional foods and stall after stall of seemingly useless items.
For all of New York's achievements, the city has sadly failed to develop the infrastructure to feed its residents. Grocery stores puzzlingly do not exist in the city, leaving residents to forage for sustenance in 24-hour corner stores, or tienditas. Coffee is available but must be purchased through Greek purveyors of an ancient origin, who, as demonstrated by inscrutable gold lettering on blue-and-white cups, have obtained a lockdown on the coffee trade within the city.
The official fast food French fry power rankings »
At Diner in Williamsburg, however, one counterintuitively does not go for the coffee. Despite the greasy-spoon aesthetic of its name, Diner does not serve much diner food at all. Instead of hash and eggs, expect waitstaff clad in retro-era clothing (mustaches and high-waisted "mom jeans" appear to be making an ironic comeback in this neighborhood) to bring you comfort food like chicory and rye spaetzle, or an expertly prepared pork schnitzel. While I was confused by the servers writing the menu on the tablecloth – only in New York – I do think chef Andrew Tarlow may be onto something.
And, given time, New York's dining scene may very well be onto something too. For beneath the city's coarse exterior, there are gems to be found. Enough, I wager, that you'll definitely want to spend a New York minute here, or maybe two. Consider it an offer you won't want – or even be able to – refuse.
Get our L.A. Goes Out newsletter, with the week's best events, to help you explore and experience our city.
You may occasionally receive promotional content from the Los Angeles Times.