A comeback for pastry chefs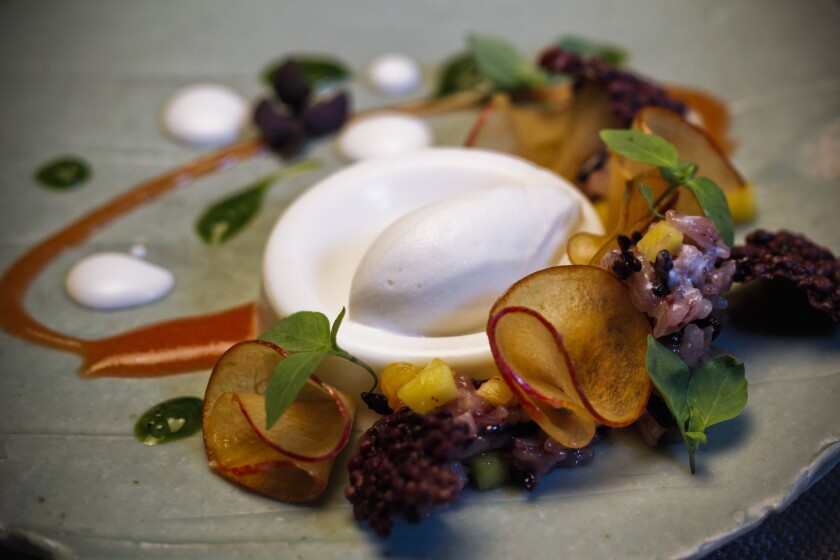 After some rough years, conditions are just right for the return of those responsible for diners' sugargasms. The proof is in, so to speak, the pudding.
T
he final flourish of your meal arrives at the table — a rich pudding of chocolate cremeux ("creamy" in French), candied pistachios, a crumble made from ground pistachios, and both dehydrated and frozen mandarin. Its deliciousness almost obscures the effort that went into its making. Behind the chocolate, cream and fruit are the blood, sweat and tears that were shed for the sake of dessert — years of practice and hours of production.
It's true. The life of a pastry chef isn't all butter and glamour. And the status that comes with it has had its ups and downs. Pastry king Antonin Careme in 18th century France might have been considered the first celebrity chef, but it wasn't until the late 1980s that the names of the people responsible for your sugargasms even regularly appeared on menus, credited alongside executive chefs.
More recently the decline in the economy (the Great Recession) and the rise of the gastropub (the Small Plates Revolution) might have displaced the pastry chef. All those architectural spun-sugar towers of cake and mousse already had given way to homier, more comforting (and more easily prepared) dishes — the seasonal crostatas and buttermilk panna cotta that were the legacy of Berkeley's Chez Panisse and proliferated by the likes of Nancy Silverton in Los Angeles and Claudia Fleming in New York. When money got tight, chefs figured they didn't need experts to bake pie or bread pudding. They could make their own rustic desserts (but could they, really, as well as a Silverton or a Fleming?).
But in a pendulum swing to the fantastical, the pastry chef is ripe for a comeback. Fine dining is returning, which means more of the kinds of restaurants and menus that require the skills and creativity of an experienced dessert whiz, whether traditional or avant-garde. In the last year, the climate for dessert makers in many cities has shifted. In L.A., Margarita Manzke helms the sweet side at restaurant Republique and has launched its bakery, Sherry Yard will reinvent Helms Bakery, and a new generation of pastry chefs such as David Rodriguez at Providence remains on the cutting edge. Even in France, a pastry slump has been replaced by a renaissance noted by the BBC: "France has always loved patisserie, but for some reason it now loves its patissiers more than ever."
"Pastry chefs aren't going away," says Jacquy Pfeiffer, who founded the French Pastry School in Chicago, the only professional school in the U.S. dedicated to pastry making, which is now part of the City Colleges of Chicago. The school graduates 144 students a year, up from 24 when it was founded.
Says Pfeiffer: "People will always want dessert."
David Rodriguez, the pastry chef at Providence, pores over a gleaming porcelain plate with all the concentration of a surgeon in mid-procedure. Running through his mind is where to place an edible purple star flower: on top of a strip of poached rhubarb rolled into a tube, or next to a cut-out cylinder of beet-flavored genoise sponge cake. In the rarefied world of spectacular desserts, no detail is too small.
Spread before him are all the tools of an artist, including a palette knife, tweezers and spoons. He spreads a thin smear of cassis crème at the bottom of the plate, forms tiny quenelles of crème fraiche mousse and pipes pomegranate tapioca from a pastry bag so that it looks exactly like raspberries. He dots the dish with raspberry-shiso sauce and sprinkles both red and white pomegranate seeds (the white are sweeter and less acidic than the red, he points out).
Next come the salt-preserved and rinsed cherry blossoms, amaranth flowers, more purple, red and white star flowers and meringue powder (a Swiss meringue made from rehydrated egg white powder and vanilla, then dried and pulverized). Finally the beet chips, white chocolate pearls, crème fraiche sorbet and smashed frozen raspberries. A miniature crimson forest of cake and cream and flora.
All told, that's 20 components carefully and elaborately positioned on one dessert plate.
Rodriguez, who is 30 years old, has a baby face and and a demeanor as stoic as his desserts are whimsical. He was born in East L.A. and grew up in Ontario – the Ontario in Southern California. "I always have to explain that I'm not from Canada," he says.
He always loved cooking but never thought of it as a career until his ex-wife's mother suggested culinary school. It was during school at Cordon Bleu College of Culinary Arts in Pasadena that Rodriguez discovered his affinity for pastry. "There was more attention to detail. I liked the science of it."
He was determined to land a job at Providence with pastry chef Adrian Vasquez, who eventually hired him. Then he worked with Jordan Kahn at XIV and Red Medicine, whose surreal landscape plating (the legacy of French chef Michel Bras that seems to have touched so many chefs' approach to plating) — obviously had an influence. At just 27, Rodriguez was tapped as executive pastry chef at Providence after the departure of Vasquez.
Rodriguez carries with him everywhere a notebook for writing down ideas for flavor and ingredient combinations. "I write something down — flavors, colors — let it be, then go back to it and just keep going back until you end up with a list. Mushroom, brioche, caramel, milk. … Raspberry, shiso, beets, crème fraiche" (which is the dish he has just composed and calls "Red 40"). "And it goes from there."
"Every day for a year, I was making tart shells a little larger than the size of a nickel over and over again," says Kriss Harvey, the pastry chef at the Bazaar by José Andrés, of his induction into the pastry world. "The best pastry chefs know this is how you get good at something. It's like being a body builder. You lift and lift and lift. That's what the biz is, people."
It's about being tough, working past fatigue, falling short all the time until you get it right for your guests.
"Fortunately for me, what made me what I am is I had great mentors at an early stage of my career, guys who were still kind of old school," says Harvey, who didn't attend culinary school.
Instead, he worked his way through tart shells, pastry cream, custards, chocolate, crème brulee, mousse, "all the basics," in restaurants from Florida to Washington, D.C. He fell in love with it — the ingredients, the flavors. "There was something about serving the guest their last taste. And I thought the flavors were more interesting, brighter, not as muted, there were different notes -- of bitterness, acidity."
In Washington, he worked with Sylvain Guyez at the Ritz Carlton Pentagon City, a pastry chef's pastry chef. "He gave me my life in pastry. Not a day goes by that I don't think of him and what he taught me."
Harvey, now 43, moved to France, trained with a master ice cream maker and worked at the Hotel de Crillon in Paris. "It really refocused me. I felt I'd gotten a little sloppy, but going back over there changed my attitude," says Harvey, who is slim and precisely coiffed. "That sustained me for a long time, for several years, and coming back I got $15,000 more at my next job because of that experience."
Now fully ensconced at the SLS Hotel, Harvey oversees a staff of 17 devoted to making desserts, breads both savory and sweet, yogurt and jams for the Bazaar by Jose Andres, the adjoining Ssam tasting-menu-only dining room and the more casual Tres, as well as the patisserie's chocolates, nougats, caramels, pâte de fruit and marshmallows — thousands a week.
"I think there's new interest in pastry," Harvey says. "I wish people [working their way up] would get back to the basics a little more. If you can make praline, you can use it 16 different ways. Some have never made a croissant or puff pastry, or a proper crème anglaise. Those are never going to go out of style."
Sherry Yard's dessert of apple givré speaks volumes about her as a pastry chef. The queen bee of L.A. dessert makers — she was pastry chef at Wolfgang Puck's Spago for 19 years and plans to open Helms Bakery sometime in 2014 — isn't one to be satisfied taking Jonagold apples and baking a pie with them.
For her givré — usually a dessert of fruit "frosted" in sugar — she hollows out apples with a melon baller, brushes their exteriors with butter, covers them in crystal sugar and roasts them along with their tops. She layers the inside of the apple with baked parsnip olive oil cake; dried figs, dates and apricots; and honey whipped cream from a siphon. The spheres of apple interior she poaches in apple cider, brown sugar, honey and cinnamon.
Apple givré
Sherry Yard makes an apple givré with figs and hand spun sugar.
Then it's garnished with pomegranate seeds; oregano; sliced grapes; apple sorbet; and tiny doughnuts dipped in honey seasoned with dehydrated lemon, saffron and pink pepper. For the finale, she creates a spun sugar garnish from caramel, pulling hot sugar from a pan with gloved hands.
Her approach: "How can I manipulate this [apple] and keep it as integral as I can?" she says. "You have to perform surgery. That's the key to it." Her goal: "It can't be heavy. It's about lightness and seasonality. The last thing you want is someone to regret what they ate. Guests have to think, 'I'm going to drive across town for this.'
"If you're a pastry chef, you're really a chef. Or, as I like to say, we're the veterinarians of the food biz. Like vets need to know about dogs, mice, birds, cats, you have to know how to make chocolate, breads, viennoiserie [such as Danishes and croissants], especially at hotels. You're always balancing six things at a time. And if you're good, you'll get a job no matter what.
"L.A. pastry chefs … at the Bazaar, Spago, Bouchon, Patina, Bottega Louie, the Jonathan Club … vie with New York, and are better than in San Francisco."
As a kid growing up outside of Seattle, Donald Wressell watched "The Galloping Gourmet" with his grandmother and knew then that he wanted to be a chef, and eventually a pastry chef. "I liked the beauty, the precision, the architecture. I grew up in the country; we had doughnuts and giant eclairs from Safeway."
Now the pastry chef for Guittard Chocolate Co., two-time medalist in Le Coupe de Monde de la Patisserie (the World Pastry Cup) and winner of the National Pastry Team Championship, his aren't the sprawled-across-the-plate desserts of modernists, nor are they what he calls "homespun deluxe." They're the layered classic-lined productions that are the stuff of competitions.
Hazelnut cake with apples and yuzu
Donald Wressell plates a hazelnut financier with yuzu apple gelee and yuzu poached apples.
"Competing makes you get better and better," says Wressell, whose pastry career began at Watergate Pastry in Washington, D.C., while he also was cooking on the line for the influential French chef Jean-Louis Palladin. "I made a lot of mousse. Mousse was big in the '80s."
He unmolds a rectangular piece of apple yuzu gelée on a plate, then with a tweezer adds a layer of poached apple spheres, on top of which he places a piece of hazelnut cake that has been baked in an individual pan — made in his own machine workshop — so that a hollow channel runs through the center. Inside the channel he pipes caramelized apple compote.
"The orchestration of plating is like a dance. You have to think about different textures, temperatures — how to keep it hot, or the cold components cold — even the sounds it will make" while eating it, he says.
With a specialized Plexiglass tool that Wressell also fabricated himself, he applies compressed finely diced apple atop the cylinder of apple compote. And finally he balances a paper-thin apple tuile filled with pastry cream lightened with creme fraiche.
"It was the Food Network that was a simultaneously a good and bad thing [for pastry chefs]," he says. "It exposed what we do. But what's happening is people who want to be pastry chefs want to have a TV show. They don't realize people have worked an entire life, worked places, know things. It's not about Sriracha, a cool haircut and a bunch of tattoos."
Della Gossett stepped into Sherry Yard's shoes as executive pastry chef at Spago Beverly Hills when Yard decided to leave and focus on her plans for Helms Bakery.
Gossett hadn't always wanted to be a pastry chef. She has a degree in arts education and painting from the University of Illinois and was an art teacher at elementary and middle schools when she decided to enroll in what was then the Cooking and Hospitality Institute in Chicago.
She worked first at Trio in Evanston, Ill., with Gale Gand and Rick Tramonto. "They needed someone to scoop sorbet and cut croutons. Seriously. I did that for a year and went from there. I was drawn to the pastry kitchen, baking bread, making ice cream, baking tarts. [Plating desserts] was a good way of putting my art skills to use.
"It wasn't for a couple of years that I was promoted to pastry chef."
Gossett ended up working for the late Charlie Trotter at Trotter's in Chicago for 10 years and was an instructor at the French Pastry Insitute. "I always had high goals. My mom would say, 'Why don't you work at the Red Robin in the mall close to home?'
"But even after doing this for 15 years I will never feel like I'm an expert. I'm my own worst critic. That's what Charlie would say, 'You must never become complacent!'"
Coconut panna cotta and sticky rice
Della Gossett's coconut panna cotta dessert includes mango black sticky rice, fried black rice chips, slices of plum and baby Thai basil.
So she arrives at the restaurant at 9 a.m. and "tries to leave by 11 or 11:30" at night, working through lunch service, prepping during the day, working on menus, rolling out bread, plating desserts for dinner service. "You have to love what you do. And I like to do it all." At Spago that includes making 100 sesame tuiles a day for Wolfgang Puck's spicy tuna tartare in miso sesame cones (which customers still order despite its not being on the menu anymore), wedding cakes, chocolates or maybe 6,000 desserts for an Emmy party.
"I've never had a non-working vacation," she says. Any extra time away from the kitchen was always spent at a class or other training."
Bespectacled Gossett drizzles plum sauce and coconut sauce on a plate, then gently slides a disk of coconut panna cotta onto the dish. She sourrounds the panna cotta with mango black sticky rice, fried black rice chips, slices of plum that she folds into a flower shape, Thai basil sauce with basil seeds and baby Thai basil.
"Sometimes I pinch myself," she says. "Because I get to make this."
Early in his career, Lee Smith, now the pastry chef at the Montage Laguna Beach, moved to Scotland from his hometown of Leicestershire, England, to work at the majestic Gleneagles Hotel. Set on 1,000 acres, it was known for golf and grouse shooting (right up there with polo at Deauville) and a Michelin two-star restaurant.
As an apprentice to Ian Ironside (the pastry chef, not the soccer player), the work was regimented and hierarchical. From tourier making doughs -- choux paste, savory dough, hot water paste, puff pastry, tarts and pies – he worked his way up to glacier making ice creams. Then sponge and cake bases. From there chocolatier, then banquets and kitchen artist, turning out giant eagles made of butter and ice sculptures. It was a 24-hour operation, baking throughout the night.
Chilled almond soup with citrus and torrone
Pastry chef Lee Smith shows a light hand with a citrus-y chilled almond soup.
"In Europe chefs have cliques who know each other coming up," says Smith. "You work hard, do a good job, learn a lot. They take care of you and get you your next job. I was lucky." Ironside sent him to the Michelin three-star Waterside Inn in London, founded by Michel and Albert Roux. "I was the only pastry person, and [Michel] challenged me, 'Every day you're going to present a dessert to me and I'll critique it.'
It was about discipline at that level. Everything has to be spot on."
Several Michelin-starred restaurants, hotels and countries later, including the Regent Kuala Lumpur where he helmed a pastry staff of 23, Smith is leading another 24-hour operation, "baking every single thing [at the Montage], desserts, all the jams, all the breads and he estimates about 20,000 pieces of chocolate a month.''
He's inclined to adapt classics, with less sugar and fat. "Classic recipes come from a time before refrigeration, so we can change them."
He pours chilled almond soup over dehydrated citrus and olive oil powder, South Coast Farms lemon marmalade, torrone and nougat glacé, garnished with salted marcona almonds, lemon zest, local Skyhawk olive oil and a yogurt tuile.
"Guests' tastes change constantly," says Smith. "It's only when you learn correctly that you're able to adapt and innovate.... It's what you learn when you're younger and what you put into it. The building blocks are there, you have to do the time putting in the work.
"I see great people in the industry making these right moves. There's great hope for pastry chefs."
Follow Betty Hallock (@bettyhallock) on Twitter
---
Get our weekly Tasting Notes newsletter for reviews, news and more.
You may occasionally receive promotional content from the Los Angeles Times.