Recipe: Oatmeal crispies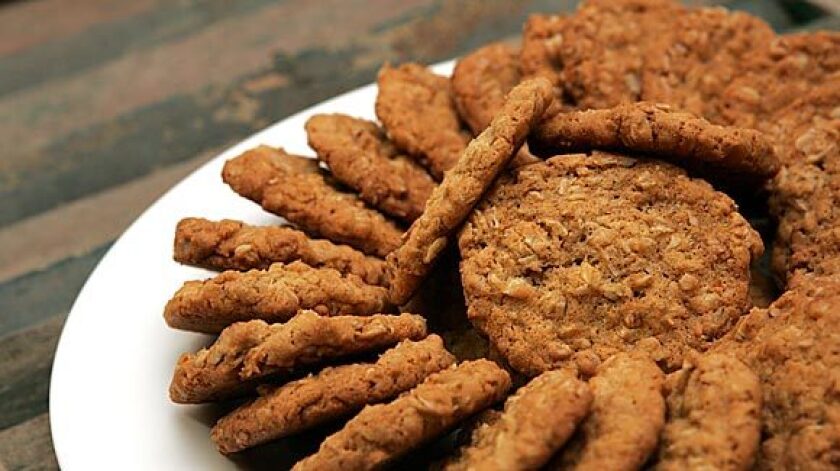 Total time: 40 minutes, plus chilling time for the dough
Servings: Makes 4 to 5 dozen cookies
Note: Adapted from "The Pioneer Woman Cooks" by Ree Drummond. Drummond writes, "I usually keep 3 or 4 rolls of dough in my freezer at all times. These cookies go fast."
1/2 cup pecan halves
1 cup shortening
1 cup packed dark or light brown sugar
1 cup sugar
2 eggs
1 teaspoon vanilla extract
1 1/2 cups flour
1 teaspoon salt
1 teaspoon baking soda
3 cups rolled oats
1. Finely chop the pecans, using a rocking motion with the knife. Set aside.
2. In the bowl of a stand mixer using the paddle attachment, or in a large mixing bowl using an electric mixer, beat together the shortening and sugars until combined.
3. In a medium bowl, lightly beat together the eggs and vanilla.
4. Add the egg mixture to the sugar-shortening mixture and beat thoroughly to combine.
5. In a separate medium bowl, combine the flour, salt and baking soda, stirring to combine.
6. Add the flour mixture to the egg-sugar mixture and stir until combined, then stir in the oats and pecans until incorporated.
7. Divide the dough into fourths. Place each quarter on a sheet of waxed paper and roll into a log 1 1/2 inches in diameter, wrapping the waxed paper tightly around the log.
8. Chill the logs until ready to use, up to 1 week. (The rolls may be frozen up to 3 months.)
9. When you're ready to bake the cookies, heat the oven to 350 degrees. Unwrap the dough from the waxed paper and slice into rounds approximately one-half-inch thick. If the dough is frozen, there is no need to thaw; just increase the baking time by 1 or 2 minutes.
10. Place the rounds on a cookie sheet and bake until light golden brown, about 10 minutes. Using a spatula, remove the cookies from the sheet immediately. Cool the cookies on a rack.
Each of 5 dozen cookies: 92 calories; 1 gram protein; 12 grams carbohydrates; 1 gram fiber; 5 grams fat; 1 gram saturated fat; 7 mg. cholesterol; 63 mg. sodium.
---
Get our weekly Tasting Notes newsletter for reviews, news and more.
You may occasionally receive promotional content from the Los Angeles Times.