What we're into: The pizza crust dip at Jon & Vinny's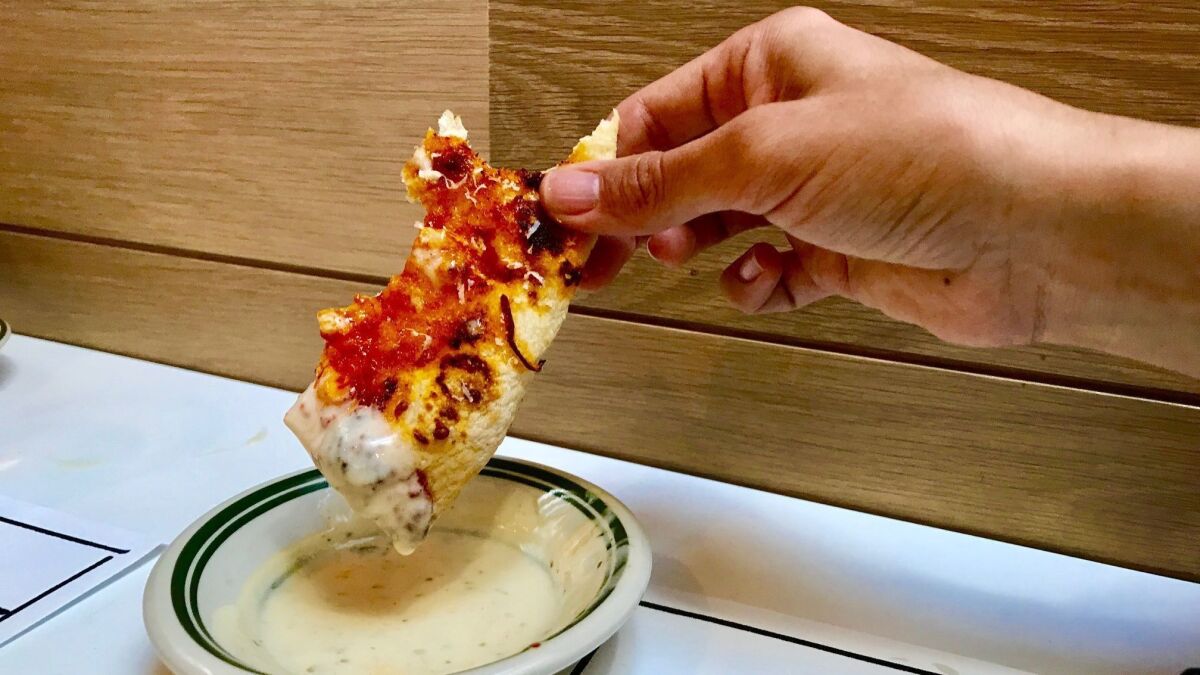 Pizza crust — even the really good kind — is a problem. I realize hardcore pizza purists may take umbrage at that stance, but in my world, crust takes up space in your stomach otherwise reserved for the better parts of the pizza: the parts with cheese and toppings.
The solution: crust dip.
I don't remember much about the pimply sophomore in my Humanities class study group in college, but I remember that the cup of ranch dressing he slid over to me for the crusts of my pepperoni pizza made him seem like a genius.
When Jon Shook and Vinny Dotolo opened Jon & Vinny's, their take on the red-sauce Italian restaurant on Fairfax Avenue in 2015, there it was — crust dip — listed on the menu as an actual thing you could order for $2.
These are the chefs who introduced Los Angeles to oxtail poutine at Animal, so it should come as no surprise that they revolutionized the pizza crust game in a way no Papa John's commercial ever could.
What we're into: Cookies at a gas station in Cheviot Hills »
"We are very into crust dip ourselves," wrote Dotolo in an email. "We have always ordered extra sauces, vinaigrettes and dressings to dip our crust into as kids and adults."
When Shook and Dotolo opened a new location of Jon and Vinny's in Brentwood a couple of weeks ago, they put the same crust dips on the menu.
The restaurant offers marinara, ranch or creamy Italian for your dipping pleasure. The marinara and creamy Italian dressing are used elsewhere on the menu (the marinara on the pizza and the creamy Italian on the chicory salad) and are repurposed for a worthy cause, while the ranch was developed specifically as a crust dip.
I personally find the marina useless because there is a very good chance that my pizza will already be sauced with marinara, but to each her own. And the ranch makes me think of that pimply-faced sophomore. But the creamy Italian, that's the stuff.
» What we're into: Village Bread in the Inland Empire
The dressing arrives in a small ramekin, a tiny bowl of punchy, tangy sauce not unlike the stuff you might find in a squeeze bottle at the grocery store. Only this version is pumped up with fresh garlic and made even creamier with a mixture of mayo and crème fraîche.
"This is a way to lure you into eating your crust every time," wrote Dotolo.
It will turn all your stray crusts into prized dunking vessels you may actually end up fighting over.
11938 San Vicente Blvd, Los Angeles, (310) 442-2733, www.jonandvinnys.com.
Instagram: @Jenn_Harris_
---
Get our L.A. Goes Out newsletter, with the week's best events, to help you explore and experience our city.
You may occasionally receive promotional content from the Los Angeles Times.