Recipe: Pretzel rolls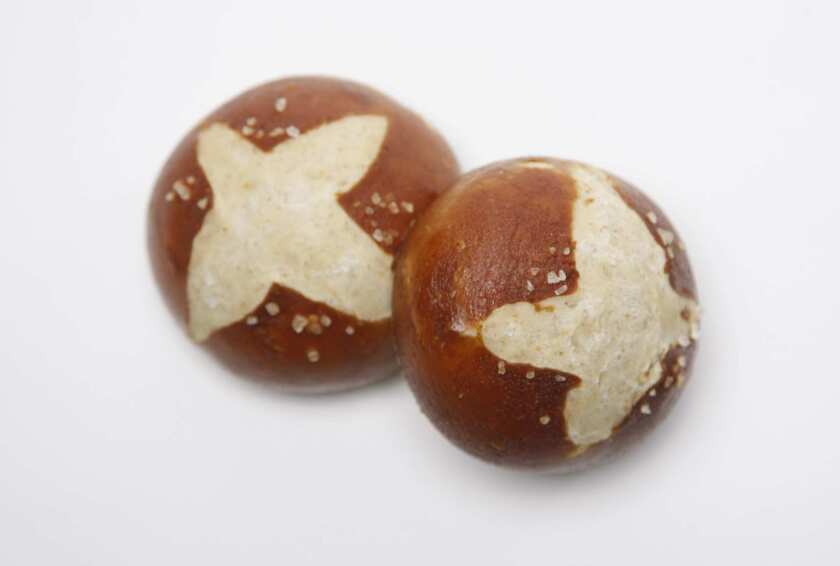 Pretzel rolls
Total time: 1 hour, 20 minutes plus rising time
Servings: 12
1 (¼-ounce) package active-dry yeast (2¼ teaspoons)
1 3/4 cups warm water
2 teaspoons light brown sugar
5 cups (22.5 ounces) bread flour, divided
1/2 cup (2 ounces) rye flour
2 teaspoons salt
3 tablespoons butter, melted
Pretzel wash (see chart)
Toppings, as desired
1. In the bowl of a stand mixer or in a large bowl, sprinkle the yeast over the warm water. Stir in the sugar and one-half cup of the bread flour. Set aside until the yeast begins to bubble, about 10 minutes.
2. Meanwhile, in a medium bowl, whisk together the remaining bread flour with the rye flour and salt.
3. Beat the melted butter into the large bowl with the yeast. Using the dough hook (if using a stand mixer) or a fork or wooden spoon (if mixing by hand), slowly mix in the remaining flour mixture, a spoonful at a time, until all of the flour is added and a firm, thick dough is formed.
4. Move the dough to a lightly floured board. Knead the dough until it is smooth and elastic, 2 to 3 minutes.
5. Remove the dough to a large, oiled bowl. Cover and set aside in a warm place until the dough is almost doubled in size, 45 minutes to an hour.
6. Meanwhile, prepare the pretzel wash and heat the oven to 375 degrees.
7. Divide the risen dough into 12 pieces, each weighing about 3½ ounces. Form each piece into a ball, pinching the seams together at the base of each one.
8. Dip each roll into the pretzel wash (wear rubber kitchen gloves and goggles if using lye) for 15 to 20 seconds, turning the roll over halfway to coat evenly. Remove the roll to a greased nonreactive baking sheet and top as desired (if using an aluminum baking sheet, line the sheet with parchment before greasing).
9. Use a serrated knife or razor blade to make a crosswise slit into each roll about one-half-inch deep. Top with salt, or as desired. Set the rolls aside until puffed and risen, about 15 minutes depending on the temperature in the room.
10. Bake the pretzel rolls, 1 sheet at a time, in the center of the oven until puffed and a rich golden brown (color will vary depending on the wash), about 20 minutes. Rotate the sheet halfway through baking for even coloring.
11. Remove the baking sheet to a rack and set aside until the pretzel rolls have cooled slightly before serving.
Each pretzel roll: 238 calories; 7 grams protein; 43 grams carbohydrates; 2 grams fiber; 4 grams fat; 2 grams saturated fat; 8 mg cholesterol; 1 gram sugar; 390 mg sodium.
---
Get our new Cooking newsletter.
You may occasionally receive promotional content from the Los Angeles Times.