Wes Avila, from fine-dining track to fine Guerrilla Tacos off a truck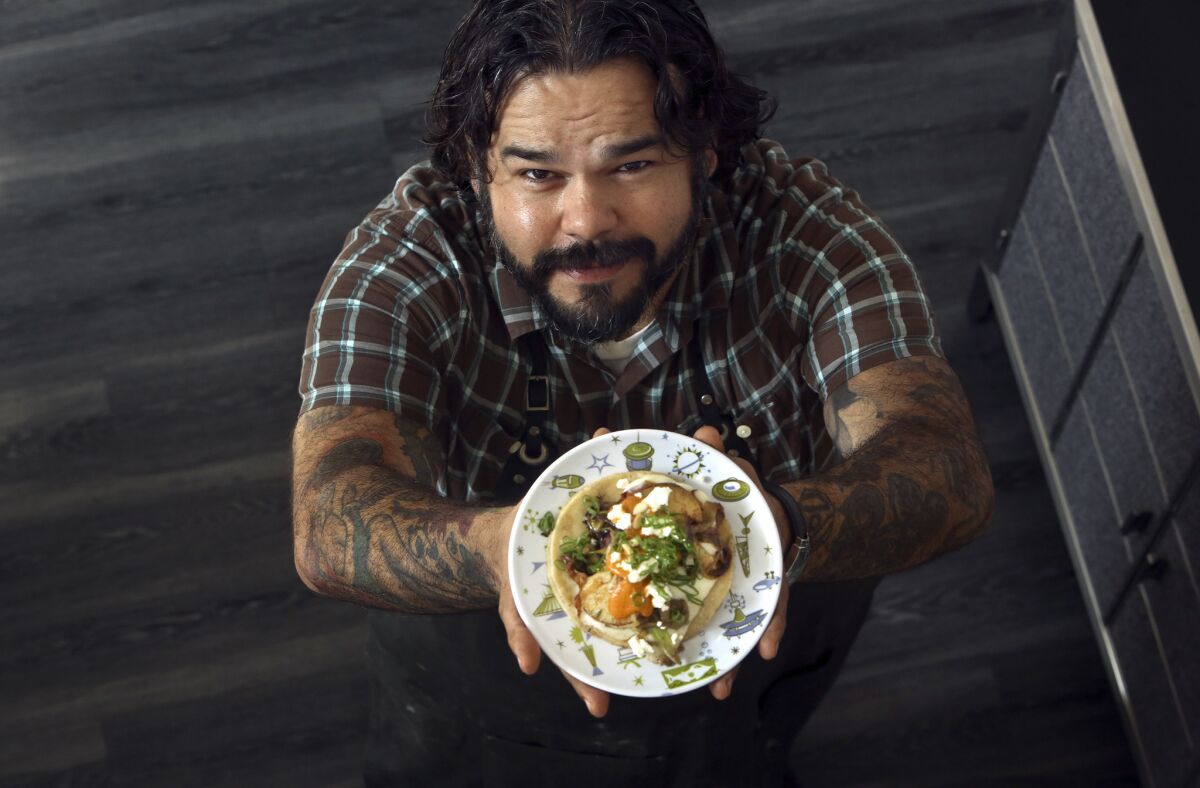 When Wes Avila was interviewing for a job at Le Comptoir, Gary Menes' temple of vegetable cookery, Menes asked him what his ultimate career goal was.
"To be the best taquero in Los Angeles," Avila replied.
And while it's impossible to say who is the best taco cook in this city of splendid taco cooks, only a few years after working for Menes, the 35-year-old Pico Rivera native is just about guaranteed to be on any knowledgeable shortlist.
His Guerrilla Tacos truck, now three years old, serves compelling dishes that are equal in complexity to those at many fine-dining restaurants, even though they're served on warm tortillas and eaten standing up.
In Guerrilla's first year, Avila's taco made with roasted squash, Oaxacan cheese, a hint of chile and smoky charred tomato made Times restaurant critic Jonathan Gold's list of best dishes of 2013.
Cooking with Avila at the Glendale condo he shares with wife Tanya Mueller, a professor at East Los Angeles College, and their French bulldog mix, Pono Dog, that blend of French technique and Eastside soul is obvious.
Recipe: Sweet potato tacos with leeks and almond salsa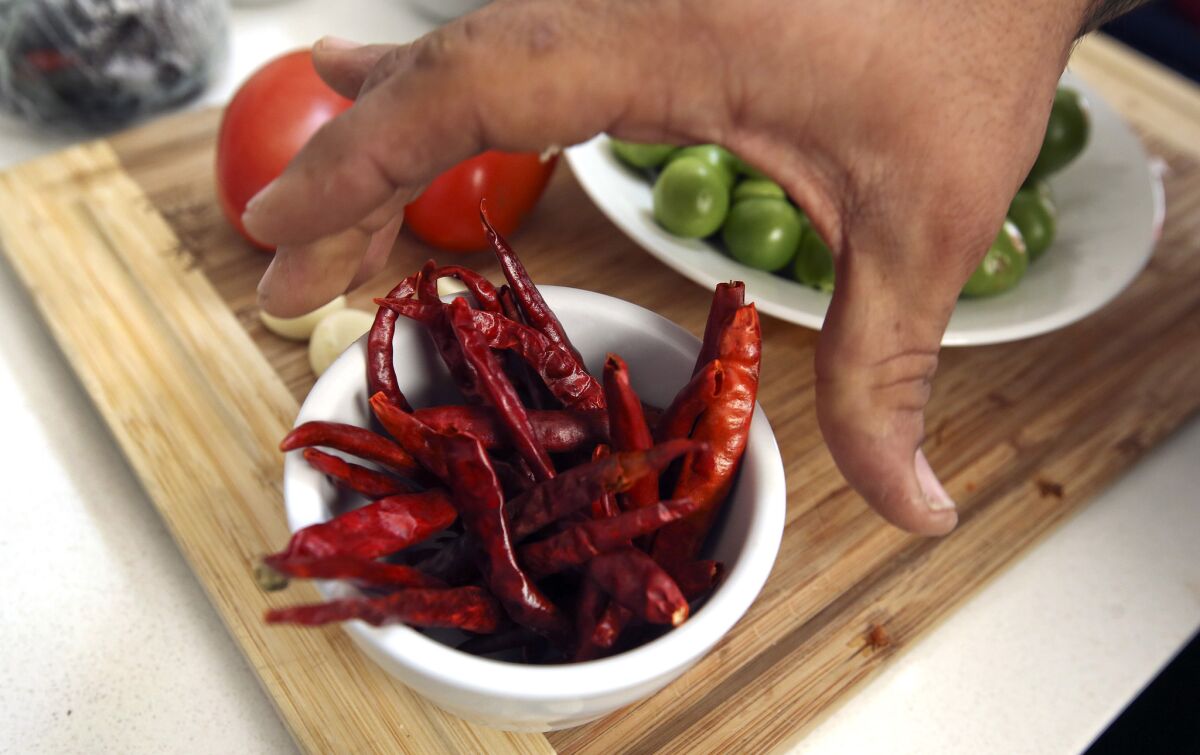 To make the leek garnish for his sweet potato tacos, he first sears the leeks in butter, then poaches them until tender in a broth made with browned carrots and whole garlic cloves, fresh thyme and parsley and a bottle of wine. Then he pats them dry and sears them in butter again. And that's just one element of the dish.
A few ribbons of those leeks go on a corn tortilla (he swears by La Princesita brand), with browned slices of creamy Oaxacan or panela cheese, a slice of roasted Japanese sweet potato that's been fried in butter, a salsa made with almonds, pine nuts, chiles de árbol and tomatillos (the small ones, called milpero, have the best flavor, he says), crumbled feta and green onions.
The result is rich, mouth-filling flavor, at once creamy, salty, sweet and spicy, with an equally wide range of textures. It's stupendous. And once the various elements have been prepped, all it takes is a couple of minutes and a griddle to finish. You could serve it as a taco, but it's pretty enough to make a plated appetizer.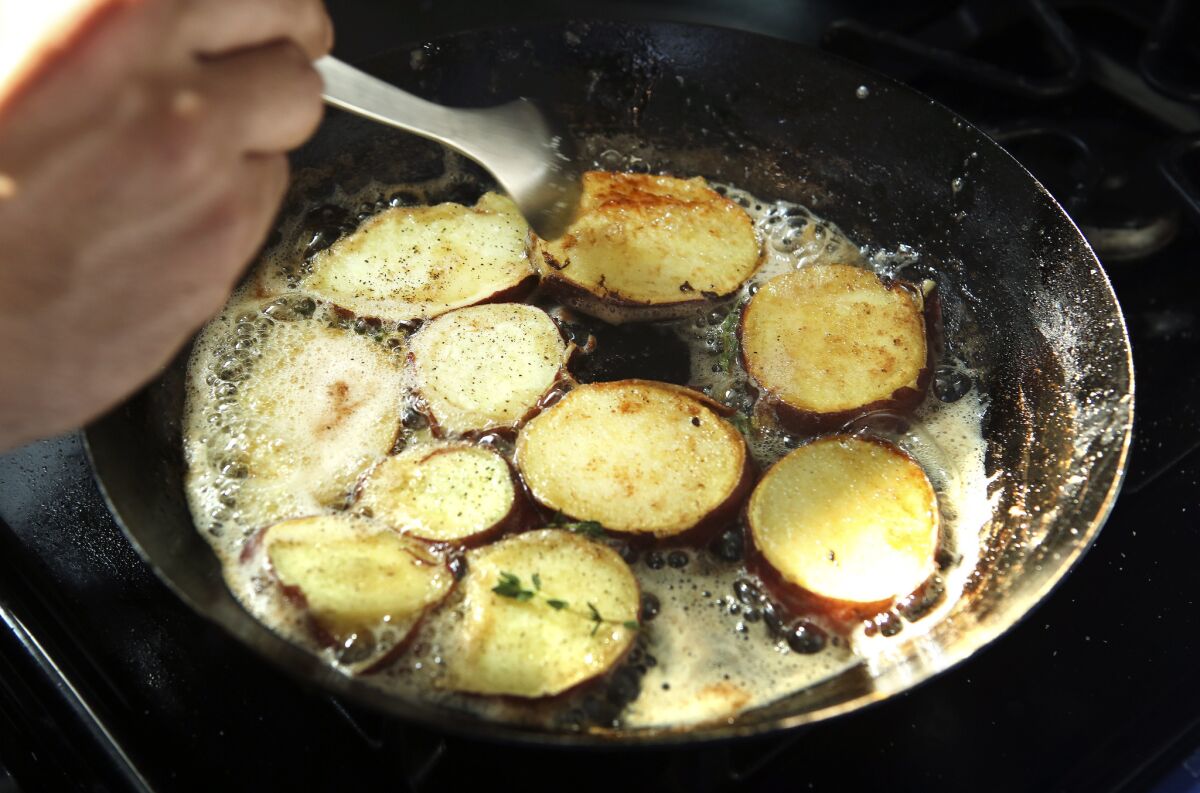 That's the kind of attention to detail he learned working under chefs such as Menes and Republique's Walter Manzke (then at Auberge Carmel).
A 2005 graduate of Le Cordon Bleu cooking school in Pasadena, Avila started out on the typical big-deal restaurant track, including staging in France with Alain Ducasse. But he didn't find it satisfying.
"I found myself getting drawn deeper and deeper into fine dining," he says. "You know how intense that is: It's like working at a temple. I was counting the number of peanuts that went onto a dish.
"It was a really good learning experience, but that wasn't the direction I wanted to go with my cooking."
So Avila started Guerrilla Tacos on a card table set up outside Handsome Roasters in downtown L.A. When that got shut down (he had no permits), he jumped on the first taco truck he could find.
A brick-and-mortar restaurant is still his dream, he says.
"I've always got people talking to me. They'll say, 'Hey, I've got a really good spot you have to go into.' And then they ask if I have $200,000 to move in. No, but thank you for asking."
Until then, Avila says, he'll stick with selling tacos out of his truck.
"First, it's my favorite food to eat. Plus, I love to interact with people, get face-to-face with my customers. I get to see what they like and what they don't like. And believe me, they'll tell you, whichever way."
Avila's open mind extends even to microwaving
You can pick up a lot of tips cooking with Avila.
For one, he's not afraid to cook in the microwave. "I learned that in France," he says. "I went into the kitchen, and they told me to microwave something. I thought, 'What?' But if you know what you're doing, it's cool. It cooks without adding any moisture, but it doesn't caramelize the way roasting does. It's just like any other tool: You have to know how to use it."
His favorite place to shop is the predominantly Middle Eastern Super King Market. "They have, like, four different kinds of Oaxacan cheese and eight different fetas," he says. He prefers French Valbreso but says he'll always buy Danish white double cream if it's in stock (it's made by Karoun Dairies in San Fernando).
And he salts early and often, including sprinkling raw ingredients with salt before they go into the pan. "I try to use just a little salt at every stage to build the seasoning," he says.
Avila's taco goals: crunch, balance, layers
What does it take to make a great taco? Avila says it comes down to crunch and balance.
"They have to have a mix of textures," he says. "I don't like one-dimensional. You want crunch meets soft. In my farmers market quesadillas, there are sautéed vegetables, Oaxacan cheese, then something fried for extra crunch, and raw arugula.
"It's about layers of textures. Beef tendon is very gelatinous — I make a beef tendon taco by putting the braised tendon in a shell and then deep-frying it. You get crunch and you get smooth. It keeps the palate interested."
The same goes for flavor.
"You want layers of flavor too," Avila says. "If you're doing something braised, you want something sharp, like pickled onions or radishes or marinated cabbage."
Avila has three favorite chiles
Chile de árbol: "It's not overpowering, but it's got a good amount of smokiness. It doesn't taste like barbecue sauce the way a salsa made with chipotle would. It tastes like something my auntie would make."
Guajillo: "It's more of a complementary chile; it gives the árbol more depth.
Morita: "It's like a chipotle, but it's smaller and hotter and fruitier."
---
Get our weekly Tasting Notes newsletter for reviews, news and more.
You may occasionally receive promotional content from the Los Angeles Times.