Recipe: Noodles with cabbage, poppy seeds and pepitas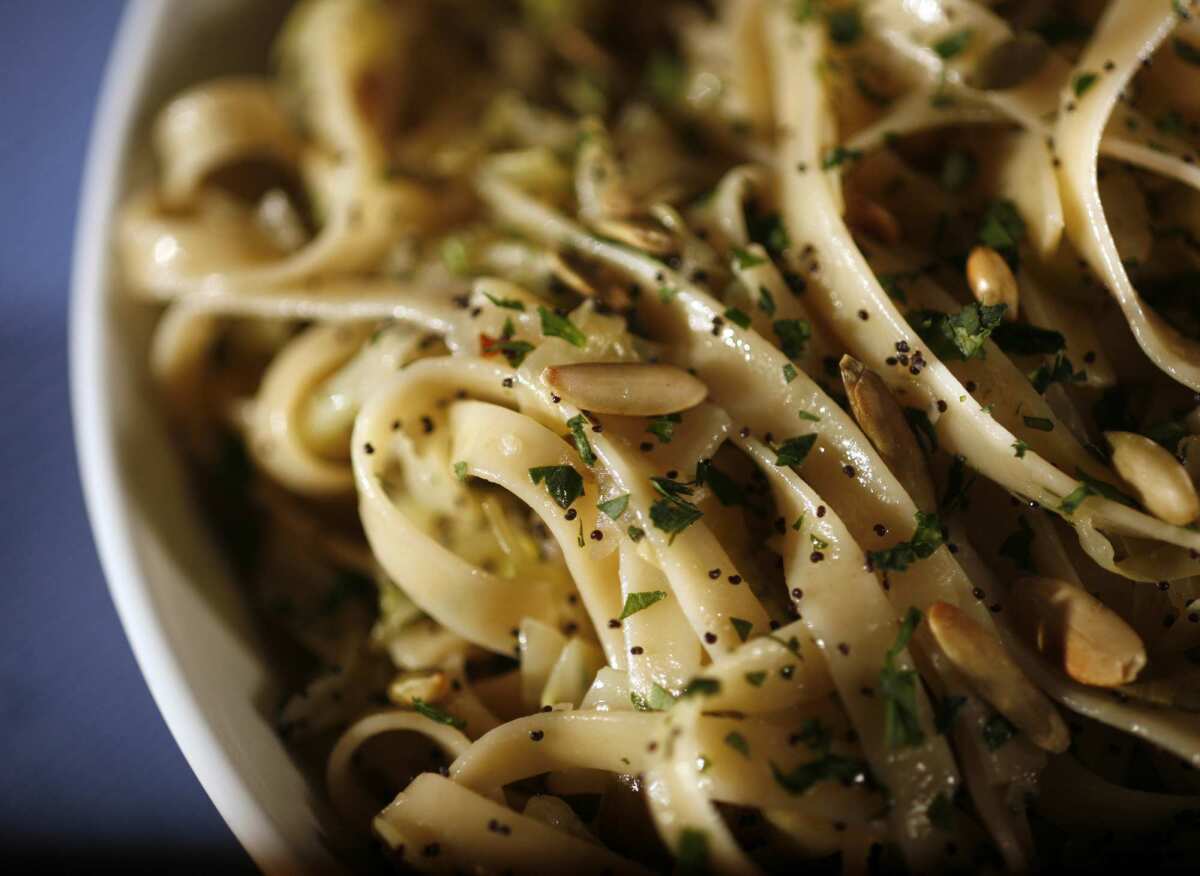 Total time: 50 minutes
Servings: 4
Note: You can cook the cabbage and onion mixture ahead and keep it in a covered container in the refrigerator for up to 2 days. Pepitas, or shelled pumpkin seeds, are generally available at well-stocked markets. Poppy seeds are also generally available at well-stocked markets, as well as at Eastern European and Middle Eastern markets.
1 small head cabbage (1½ to 1¾ pounds)
1/4 cup extra virgin olive oil, divided
2 onions (about 1 pound), chopped (2¾ cups)
Salt and freshly ground pepper
1 teaspoon sugar
8 ounces medium-width noodles or fettuccine
5 teaspoons poppy seeds
3 tablespoons toasted pepitas
1/3 cup chopped Italian parsley
1. Quarter the cabbage lengthwise. Put each quarter on its side and shred with a heavy knife by cutting the cabbage in thin slices, first crosswise, then around the core; remove the core and any thick ribs. You should have 11 to 11½ cups shredded cabbage.
2. Heat 3 tablespoons of oil in a wide, heavy stew pan. Add the onions and cook over medium heat, stirring occasionally, until they begin to turn golden, about 18 minutes. Add the cabbage, and season with a pinch each of salt and pepper. Cook uncovered over medium heat (the cabbage will seem like a very large amount at first, but it will cook down), stirring often, until the vegetables are very tender, about 20 minutes. While the cabbage is cooking, bring a large pot of salted water to a boil.
3. Sprinkle the mixture with sugar and cook over medium-high heat, stirring often, until the vegetables are lightly browned, about 7 minutes.
4. Meanwhile, cook the noodles uncovered in the boiling water until al dente according to the instructions on the pasta packaging (check the pasta 1 to 2 minutes before the time indicated to make sure it isn't already done). Drain, reserving one-half cup of the pasta cooking liquid.
5. Add the noodles to the pan of cabbage. Toss over medium-low heat for 1 minute. Add about 3 tablespoons of the reserved noodle cooking liquid, or enough to moisten the mixture lightly, and cook until the noodles are well coated with the cabbage mixture, 1 to 2 minutes. Stir in the poppy seeds. Off heat, add the remaining tablespoon of olive oil.
6. Stir most of the pepitas and parsley with the pasta and cabbage, leaving about one-fourth of each to sprinkle over as garnish. Taste, and adjust the seasoning as desired. Serve hot, sprinkled with the reserved pepitas and parsley.
Each serving: 485 calories; 14 grams protein; 64 grams carbohydrates; 9 grams fiber; 21 grams fat; 3 grams saturated fat; 48 mg cholesterol; 13 grams sugar; 53 mg sodium.
Get our L.A. Goes Out newsletter, with the week's best events, to help you explore and experience our city.
You may occasionally receive promotional content from the Los Angeles Times.