Recipe: Quince clafoutis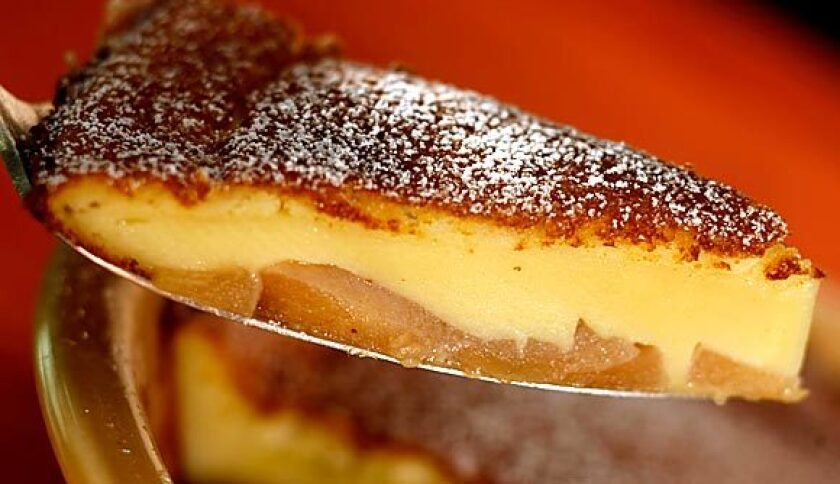 Total time: 1 hour and 10 minutes, plus poaching and chilling times for the quince
Servings: 10
Note: Adapted from Barbara Ghazarian's "Simply Quince." Light, rich and creamy, this pudding-like dessert is a French classic. Sublime when served slightly warm or just at room temperature.
Poached quince
8 cups water
1 cup sugar
2 tablespoons fresh lemon juice
1 3-inch cinnamon stick
2 pounds fresh quince, peeled, cored, quartered and cut into 1/2 -inch-thick wedges (about 7 cups)
In a large, heavy-bottom pot, combine water, sugar, lemon juice, cinnamon stick and quince. Quickly bring to a boil over high heat, stirring to dissolve the sugar. Reduce to a simmer and continue to cook, uncovered, until the quince is tender, about 1 1/4 hours, stirring occasionally. The fruit will turn golden, then a blush salmon-pink color. The fruit is done when a knife pierces it easily. Discard the cinnamon stick and cool to room temperature. This makes about 4 cups poached quince, slightly more than is required for the remainder of the recipe. Poached quince may be jarred in its poaching syrup, stored in an airtight container and chilled (in the refrigerator) for a week, or frozen.
Quince clafoutis
1 tablespoon butter, room temperature
1/3 cup plus 1 tablespoon sugar, divided
3 extra-large eggs, at room temperature
6 tablespoons flour
1 1/2 cups heavy cream
1 teaspoon lemon zest
2 teaspoons vanilla extract
2 tablespoons apricot brandy
1/4 teaspoon salt
2 to 3 cups poached quince, drained, patted dry with paper towels, and chilled in an airtight container for at least 2 hours before using
Powdered sugar, for dusting
1. Heat the oven to 375 degrees. Butter a 9-inch round deep-dish pie pan. Sprinkle the bottom and sides of the pan with 1 tablespoon of the sugar. Set aside.
2. In the bowl of a stand mixer with the whisk attachment, or in a large bowl using an electric mixer, beat together the eggs and remaining one-third cup sugar until the eggs are pale yellow, light and fluffy, about 3 minutes. Add the flour, cream, lemon zest, vanilla, brandy and salt and mix over low speed just until combined. Set aside the mixture for 10 minutes.
3. Meanwhile, arrange the quince slices in a single-layer fan or wheel pattern on the base of the prepared pan.
4. Pour the custard evenly over the prepared fruit, leaving one-half inch gap between the top of the custard and the top of the pan. Bake the clafoutis in the middle of the oven until the top is golden brown and the custard is firm, about 30 to 40 minutes, rotating halfway through for even coloring. Remove to a rack; the clafoutis will settle and deflate slightly as it cools.
5. Dust the top of the clafoutis with powdered sugar, slice and serve slightly warm or at room temperature. Best served the day of preparation; the custard tends to firm and crack when held over.
Each serving: 295 calories; 4 grams protein; 34 grams carbohydrates; 1 gram fiber; 16 grams fat; 10 grams saturated fat; 123 mg. cholesterol; 19 grams sugar; 99 mg. sodium.
---
Get our weekly Tasting Notes newsletter for reviews, news and more.
You may occasionally receive promotional content from the Los Angeles Times.