Review: At Ma'am Sir, Charles Olalia delves deeper into the foods of his Filipino heritage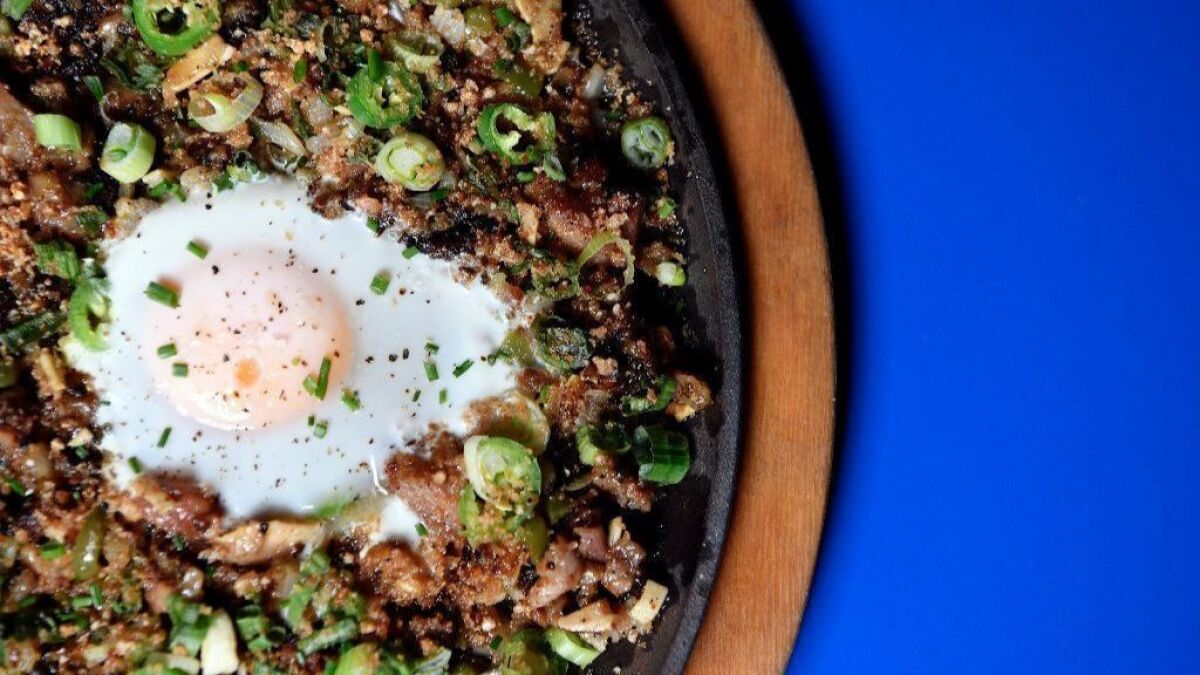 Restaurant Critic
"You have to remove the pork taste," Charles Olalia remembers his grandmother intoning about the crucial ingredients in the classic Filipino dish called sisig. She would have her whole household in Pampanga (northwest of Manila in the Philippines) scrubbing pig ears, snouts and cheek meat with water and baking soda. As a child Olalia wondered: Why would you want to take the pork taste away from, well, pork? When he began recipe development for Ma'am Sir, his new restaurant in the Sunset Junction area of Silver Lake, he understood her directive for the first time. Cooking those parts of the pig's head together after only a quick rinse left the final product pungent to the point of distraction.
Now he soaks cheeks, snouts and ears in a few changes of salted water over several days; braises them in court bouillon and vinegar until they're cooked but still firm; cools them, grills them, chops them, folds in veal sweetbreads (an unorthodox addition) for contrasting texture, and then depth-charges the whole thing with plenty of onion, vinegar, chile and the extra-sour juice from calamansi citrus. It arrives sizzling on an oval platter, preferably with an egg on top that's quickly setting in the heat.
There's too much happening for the taste buds to decipher every individual element. In its blitz of richness and acidity, they can only send up one constant signal: more, more, more.
As in Olalia's adaptation of sisig, his opening of Ma'am Sir — a boisterous, beachy homage to the Filipino foods on which he was raised — represents a cumulative journey in memory, effort and experimentation. Olalia attended culinary school in Manila when he was 20 and shortly afterward relocated to the American West; his ambition led him to positions at Guy Savoy in Vegas and, briefly, the French Laundry in Napa. Settling in Los Angeles, he landed at Joachim Splichal's Patina at Disney Hall.
And then, in the spring of 2015, he, like many chefs of his generation, stepped away from haute kitchens to concentrate on food closer to his own marrow. He started Rice Bar, a tiny counter restaurant in DTLA that doles out full-throttle grain bowls built on Filipino flavors. The response proved electric.
Rice Bar came online at a moment when Filipino cuisine was being singled out nationwide as one of the emergent cuisines in America this decade. But Filipino culture is no novelty in Los Angeles, of course. The city houses the largest Filipino population outside the Philippines. Restaurants across the metro map prepare the standards that express the cuisine's unique Indonesian, Chinese, Arabic and Spanish influences — dishes like crackling lumpia, vinegar-thwacked adobo, peanut-laced kare kare, lechon with shatteringly crisp skin, cornbread bibingka glossy from rice flour and coconut milk. More recently, restaurants such as Rice Bar and Lasa in Chinatown have reframed traditional Filipino cooking in modern, personalized ways.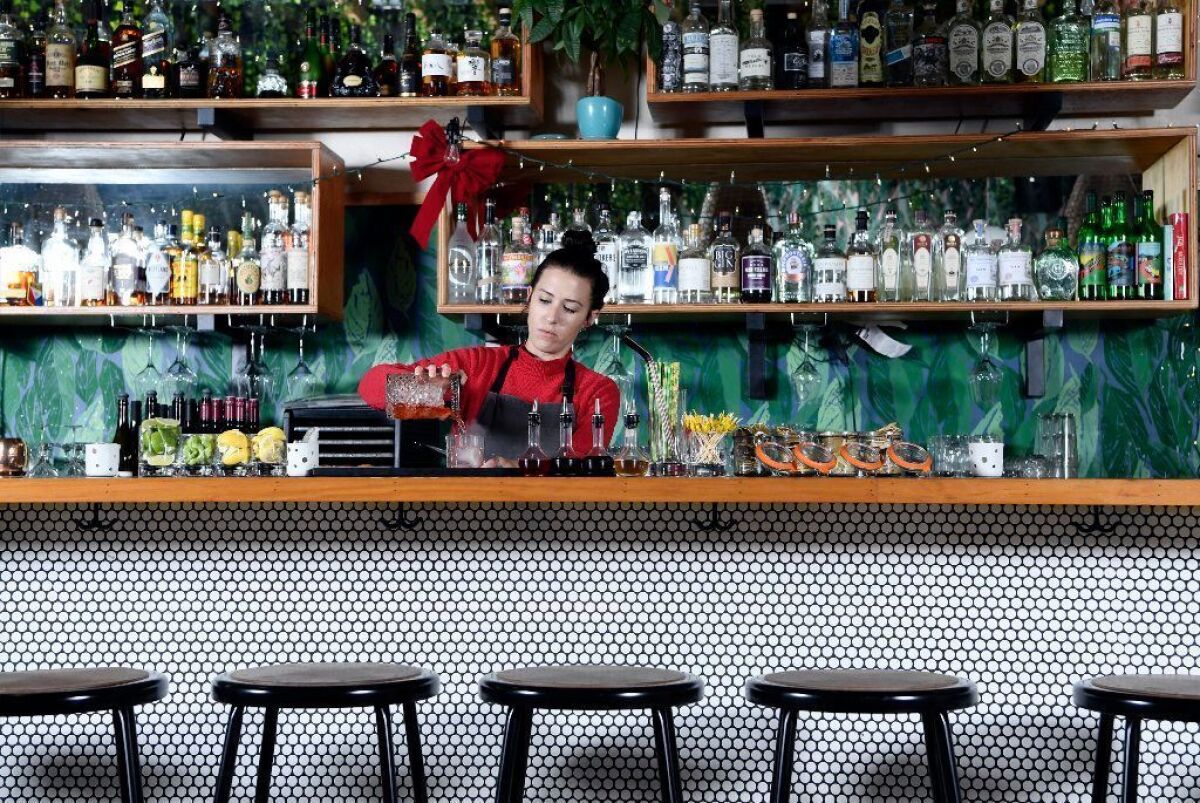 Ma'am Sir keeps the conversation moving. Crowds squeeze in among the rattan-covered light fixtures swaying over the bar and a dining room wall covered in a tropical, leafy print whose color scheme calls forth the words "peach and seafoam green" from the depths of my 1980s childhood. Efficient, cheerful servers careen among the tables, delivering glasses of orange wine or balanced cocktails made with mezcal, green chartreuse, honey, lime and bitter melon.
With 70-plus seats, Ma'am Sir gives Olalia the literal space to keep delving into his relationship with the foods of his heritage; a starter of lumpia illustrates his ability to both epitomize and re-imagine them. Olalia aimed for a version of fried spring rolls liberated from grease or heaviness; he wanted luxury. So he fills wrappers with shrimp mousse and lardo, pairs them with garlic vinegar for dipping and, for pure gilding, drapes tongues of uni over top. At their hottest they scorch and cool, sting and soothe and, in their balance of flavors, unite sea and land.
The only constant among Pinoy adobo recipes is that cooks have their own variations. Olalia's adobo walks a middle path of clarity and simplicity. He marinates chicken thighs in coconut or cane sugar and a dark Filipino soy sauce, or toyo, with a distinct nuttiness, and finishes the dish with roasted garlic-soy vinaigrette and a garnish of chopped tomato. A blanket of rice underneath catches all the goodness.
The masterful adobo should really be the centerpiece of a meal: Surround it with lechon, its skin a stained-glass window, and oxtail kare kare, in which a glorious zap of shrimp paste is cooked into the dish. Start with the "Happy birthday fried chicken," an ode to the bird served at Filipino fast-food chain Jollibee, which is what Olalia craves on his special day. A simple, shaved salad with lime vinaigrette and crisp noodles nicely offsets the richer dishes; neither a lighthearted hit of fried maitake mushrooms in sweet and sour sauce nor kabocha squash with spiced caramel veer too sugary.
After four recent meals at Ma'am Sir (which opened in June), I'm hooked on its charisma but have one caveat: Olalia's presence is a linchpin. When he isn't in the restaurant, stationed at the kitchen window guiding his staff, meals have been noticeably more erratic in execution or delivery: tepid lumpia, garlic crab noodles and grilled milkfish that were overcooked, sisig missing its final vital contrast in textures. The perspective and heart in his conception of the menu is so evident; the execution just needs more consistency in his absence.
What never wavers at Ma'am Sir is its ebullient spirit. The restaurant's name refers to a longstanding, gender-neutral greeting used in the Philippines, particularly in the hospitality trade. It conveys a gracious respect for the customer, though Olalia's cooking also transmits something beyond politeness. This is a chef settling into his own address. He decides here how much porky taste the pork sisig should retain, and it turns out to be exactly the right amount.
Ma'am Sir
Building on the success at DTLA's Rice Bar, Charles Olalia serves his modern expression of Filipino cuisine in boisterous Silver Lake digs.
Location: 4330 W. Sunset Blvd., Silver Lake, (323) 741-8371, maamsirla.com
Prices: Pica pica (smaller sharing plates) $6-$19; ulam (entrees) $14-$25; vegetable dishes $6-$14; desserts $8.
Details: Credit cards accepted. Full bar. Street parking.
Recommended dishes: Pork and sweetbreads sisig; lumpia; "Happy birthday fried chicken"; shaved vegetable salad; chicken adobo; beef oxtail kare kare.
---
Get our L.A. Goes Out newsletter, with the week's best events, to help you explore and experience our city.
You may occasionally receive promotional content from the Los Angeles Times.