The Los Angeles Times names two restaurant critics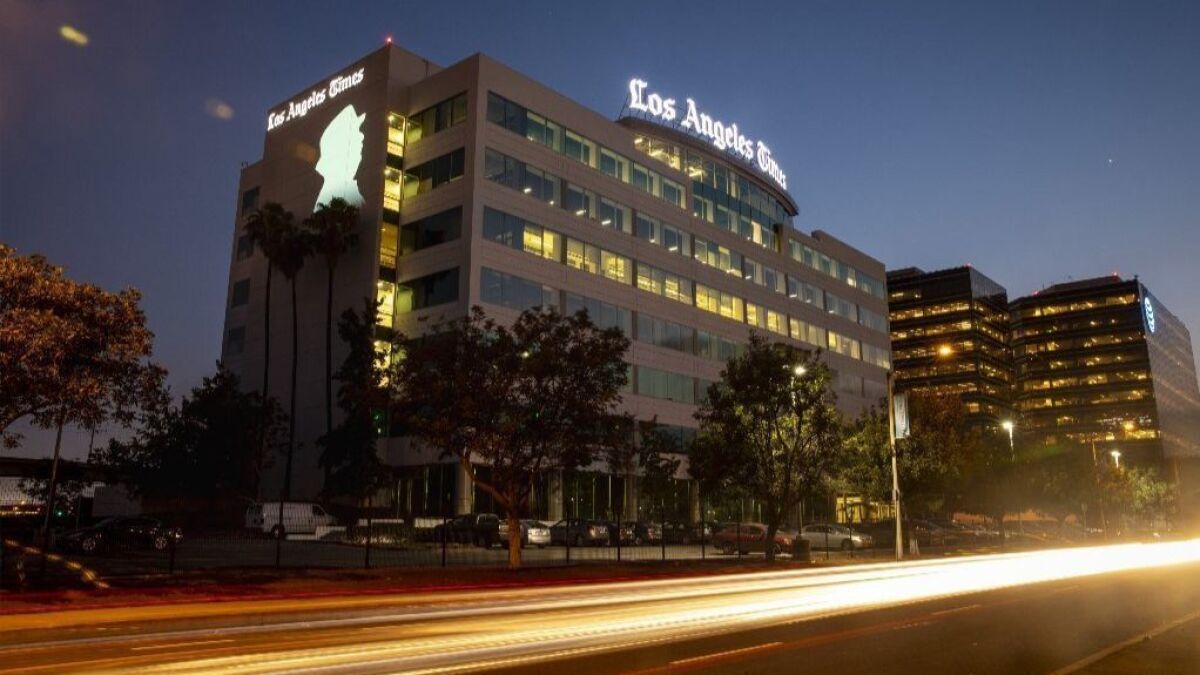 The Los Angeles Times has hired two critics to bring weekly restaurant criticism back to the pages of the paper after a months-long void following the death of Jonathan Gold.
Bill Addison, the national food critic at Eater, and Patricia Escárcega, a food writer at the Arizona Republic and former restaurant critic at the Phoenix New Times, have been named to the positions.
They will split duties, filing reviews on restaurants throughout Southern California (and occasionally beyond) with neither one limited to a geographic area or type of cuisine. Both will review anonymously.
Their hires mark a return to the paper having two restaurant critics: Gold and S. Irene Virbila shared the role from 2012 to 2015.
In addition to the new critics, The Times also announced Friday that it has hired Lucas Peterson to launch and appear on a number of new food video series; he will write food and travel articles for the paper as well. Peterson has been the Frugal Traveler columnist for the New York Times for nearly three years and producer and host of Eater's longest-running video series, "Dining on a Dime," since 2015.
The hires are the latest in a major expansion for the Food staff, which has been rebuilding after Gold died in July of pancreatic cancer. The team has grown to eight people from three, and is ramping up its coverage of food, restaurants and cooking across multiple platforms.
Play our holiday gift guide game and find presents for everyone »
"This new group of talent — an A-list of diverse journalists with varied backgrounds — represents a step forward in The Times' commitment under Dr. Patrick Soon-Shiong's ownership to create comprehensive, engaged and world-class coverage of the city's food scene," said Peter Meehan, who joined the paper's Food section as contributing editor in October.
Executive Editor Norman Pearlstine said that the paper, from its vantage point in L.A., is "uniquely able to tell the story of California food, cooking and dining."
"Today's announcements demonstrate our continuing commitment to expand our coverage and our ability to attract some of the world's best food writers and critics," he said.
Addison has been the national critic and restaurant editor at Eater since 2014, and previously reviewed restaurants for Atlanta magazine, the Dallas Morning News and the San Francisco Chronicle.
In the last year, he traveled for 34 weeks and ate nearly 600 meals in 36 cities around the country. His premier annual list, America's 38 Essential Restaurants, was released Tuesday and included four L.A. picks: Mariscos Jalisco, Park's BBQ, Here's Looking at You and n/naka. A separate post revealed the three restaurants that almost made the coveted 38; Taco María in Orange County was one of them.
"I can think of no other city I'd rather call home than Los Angeles, because Los Angeles is the capital of American food in the 21st century," Addison said. "It's where so much is happening that steers the conversation around food today. Its incredible multiculturalism reflects who we are and how we relate to one another through dining."
Gift wrapping ideas, tree lightings and where to shop for the holidays »
"I'm not a stranger to this city," he added. "I don't know it intimately yet, but I know it well enough to know how and where to jump in."
The job will be a homecoming of sorts for Escárcega, who was born and raised in Riverside.
"Even though I didn't get to eat out much growing up, food was a huge part of my childhood," she said. "My brother and I were definitely not raised on tasting menus. It was a lot of great home cooking." She recalls eating caldo de res on Sundays at her grandmother's house nearby and childhood trips to downtown L.A. with her family to get lunch on Olvera Street.
Escárcega has ties to a local piece of Mexican American food history: Her grandmother's aunt, Lucia Rodriguez, founded Mitla Cafe in San Bernardino in the 1930s. The restaurant's crispy tacos dorados are said to have inspired Glen Bell to open Taco Bell, which popularized hard-shell tacos.
Escárcega was the restaurant critic at the Phoenix New Times, an alt weekly, for three years. In Los Angeles, she said she will look for restaurants that reflect "where Los Angeles is at the moment."
"It's an embarrassment of riches in Los Angeles, and getting to write about that scene is a huge honor," she said. "Jonathan Gold was a longtime writing hero of mine, and what I enjoyed was how deeply omnivorous and egalitarian he was. He would eat anything and anywhere, and I really admired the way he acknowledged that no one food is better than another. That's pretty much my ethos."
Peterson is a "Jeopardy" champion and former actor who speaks several languages — including Mandarin, Spanish and Dutch — and has traveled extensively around the world for his Frugal Traveler column and "Dining on a Dime." He has lived in L.A. for 12 years and has also written for GQ, Lucky Peach and the New York Times Magazine.
Peterson said he was excited to be joining the Food team during "a renaissance of sorts for this beloved institution."
"I am truly looking forward to helping improve the already outstanding coverage of L.A.'s incredible food scene and bring some new dimensions to our coverage, including different video and multimedia projects," he said.
All three will begin at The Times in December; reviews will appear in the new year.
Twitter: @byandreachang
Instagram: @byandreachang
---
Get our L.A. Goes Out newsletter, with the week's best events, to help you explore and experience our city.
You may occasionally receive promotional content from the Los Angeles Times.