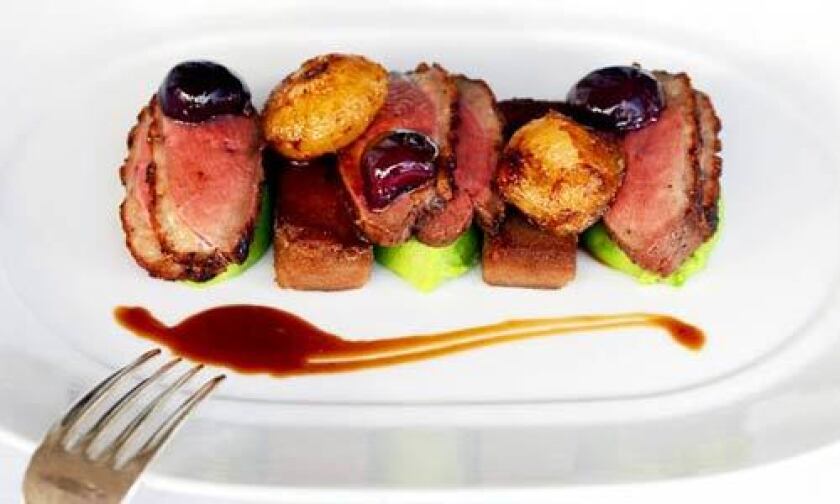 Restaurant Critic
As friends and I approach Studio, the restaurant at Montage Laguna Beach set on the edge of a bluff, I can see chef Craig Strong silhouetted against a silvery mauve sky as he talks to a table of guests on the outdoor terrace. Palm trees in front are ablaze with the setting sun and in the grass behind him, a trio of bunny rabbits play and nibble. We're seated outside, too, the better to enjoy the sea air and the unobstructed view of the coastline. What a spot!
After eight years as chef at the Dining Room at the former Ritz-Carlton Huntington in Pasadena (now the Langham Huntington Hotel & Spa), Strong is in an enviable position as the new executive chef at Studio, replacing opening chef James Boyce. He's entirely comfortable cooking in a hotel system, having worked for Ritz-Carlton for much of his career in Atlanta and Barcelona before Pasadena. And this is a plum assignment.
No other restaurant in Southern California has this mesmerizing view, and this happy combination of setting, great food, polished service and deep wine list makes Studio at Montage one of the region's true destination restaurants. Talking to that table, the chef seems quietly confident, proud of what he's doing here. He has traded in the old-school dining room of the Ritz-Carlton for this free-standing Craftsman-style building. And he has changed Studio's culture in the process. The whole place feels warmer and a tad more relaxed, and, most important, people seem to be having more fun. A hostess leans out the door to welcome guests. Tall French doors are thrown open to let in the salt sea breeze.
Passion for his work
I hear Strong tell his guests, obviously fans from his previous post, that it took him three months to fully introduce his own menu. And now he's taking over the dessert menu "because it's close to my heart." It's refreshing to find someone at his level still so passionate about what he does.
Though it's hard for the setting not to trump the food, Strong's menu at Studio is delicious by any standard. Of course, he's got a tasting menu, but it's a reasonable number of courses (just six) and anything on it can be ordered a la carte, which broadens the choice of a handful of starters and main courses. And nothing is set in stone: Each time I visited, there were at least a few new dishes to keep the menu fresh.
Once everybody is settled at table, out comes an amuse, which could be, for example, an elegant terrine of guinea hen in a black truffle vinaigrette or a single marvelous fried butterflied shrimp with a few slices of vinegared cucumbers, both light, and, well, amusing.
His cooking has a distinctive Mediterranean and even Catalan influence that doesn't come from books, but from his time in Barcelona. So you find seared Monterey calamari with baby arugula and a garlicky aioli. The squid is as sweet and meaty as cuttlefish, the body stuffed with breadcrumbs and herbs.
Or a stunning dish of lightly roasted lobster tail with fideo noodles in a green curry lobster sauce. Forget the lobster, however delicious, I just want to scoop up those broken noodles, cooked like risotto so they drink in that wonderful stock. And who wouldn't enjoy wild striped bass served with tiny brown "clamshell" mushrooms and green beans in a "bouillabaisse" sauce whipped into a froth that gives foam back its good name?
That time spent by the Mediterranean may be why the chef is so strong on fish. One night I had a fabulous piece of Columbia River salmon with finely diced rhubarb on top -- just a little pinker than the salmon -- served in a suave beurre rouge sauce.
French turbot came with soft pillows of semolina gnocchi with artichokes and peas in a mussel nage, or bath. And Alaskan halibut in a verjus sauce was as perfectly cooked as I've ever had, served with parsnips, pea shoots and tender roasted apples.
Strong can use sweet to his advantage, too, as in an appetizer of thinly sliced cantaloupe and honeydew melons wrapped around lump crabmeat to resemble cannelloni. The sweetness of the melon and the crab woven with the honey-sherry vinaigrette on the swatch of salad creates a dish with bright, melodic flavors.
As the wind picks up one night, a server offers blankets to those of us sitting outside. One woman wraps herself up in one like an Indian chief and gets up to stand at the edge of the bluff, mesmerized by the moon on the water. The wine and the main courses warm us up.
Strong serves thick medallions of duck breast with Bing cherries glistening on top. It's emphatically not sweet, perfect against a basil-fingerling-potato purée. Nothing ever goes over the top here, not even a luscious lamb chop served with "melted" tomato -- cooked for a long time at slow temperature and stuffed with a finely diced ratatouille and served on top of white beans wrapped in Tuscan cabbage.
And for those who want something plain and familiar, the grilled Brandt beef has wonderful flavor and is served with a little ragout of short ribs in a Bordelaise sauce. Which is when that great bottle of Châteaneuf-du-Pape or less expensive St.-Joseph should make its entrance.
Vast wine selection
Wine service is excellent. The St.-Joseph is throwing a little sediment, so the sommelier asks whether it's all right if he decants it. From a list of more than 2,200 selections, wine choices run deep and mostly expensive, but there are enough good wines under $100 to keep anybody happy. On the other hand, if you want to spend big, the list can accommodate you with, say, a Marcassin Chardonnay for $1,200.
The occasional dish misses its mark. Perfectly manicured squash blossoms stuffed with brandade are a bit dull. And though Strong's liquid polenta is beautiful to behold, the slightly gluey texture is off-putting. Basically, he purées polenta, then passes it through a fine sieve and serves it with a poached quail egg and shavings of black truffle. This is what's interesting: The truffles come from Australia, from trees inoculated with truffle spores, which are just beginning to bear. The quality is excellent and they're fresh: It's winter in Australia.
In the O.C., his cooking is not exactly toned down, but it doesn't seem as edgy as I remember it being in Pasadena. It may simply be the difference between a hotel and a resort, where guests tend to stay longer and the kitchen has to cook for more sorts of people -- the well-heeled but not necessarily foodies or food sophisticates.
Also, at resorts like Montage, guests want to be pampered, and they want it to be very obvious. You have only to turn your head and a waiter is there to answer a question or get whatever you want, without ever being annoying or intrusive. That's a feat in itself.
And those desserts? Strong goes for direct, focused flavors: a peach Napoleon made with delicate crisp rice flour pastry and served with an oval scoop of exquisite lemon verbena ice cream; a dreamy meringue shaped like a marshmallow comes with an intense passion fruit sorbet. But my favorite is the little rectangular plum tart with slices of fruit lined up like students at their desks -- it's embellished with a luscious cardamom plum compote and a toasted almond ice cream. That's the taste of summer.
As we leave that night, we walk past a window and catch a glimpse of the kitchen where young cooks, heads bent, are at work finishing the last orders. Further up the path, on the bluff, guests lounge around a blazing fire pit. We've come just for the evening but end up feeling we've gotten away for a weekend to the sea -- and the sheer indulgence of Strong's cooking.
---